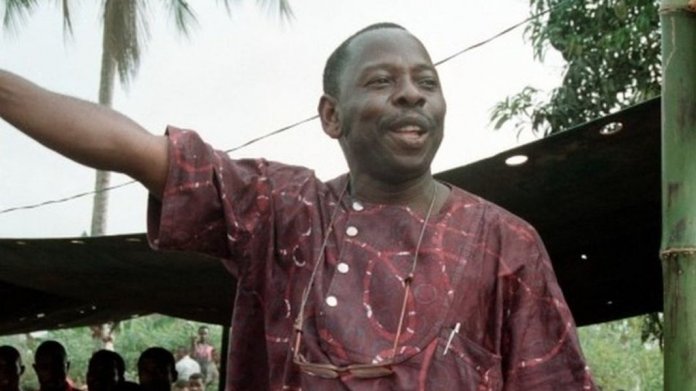 By Emmanuel Addeh
Twenty-seven Right Livelihood Laureates, comprising members from all over the world, yesterday sent a petition to President Muhammadu Buhari, demanding the exoneration of its 1994 laureate, Ken Saro-Wiwa, and the eight other Ogoni leaders executed 25 years ago by the General Sani Abacha's military government.
The 'Ogoni nine' were hanged on November 10, 1995, by Nigeria's military regime for allegedly protesting Shell's destructive environmental practices in the oil-rich Niger Delta.
The persons, who signed the petition on behalf of the body which supports people fighting for a just, peaceful and sustainable world, included Nnimmo Bassey, Daniel Ellsberg, Vandana Shiva and Bianca Jagger, among many others.
The eight others executed along Saro-Wiwa 25 years ago were Saturday Dobee, Nordu Eawo, Daniel Gbooko, Paul Levera, Felix Nuate, Baribor Bera, Barinem Kiobel and John Kpuine.
According to the signatories, 25 years later and despite recantations by witnesses who testified against the activists declaring that they had been bribed with money and job offers, justice had still not been served.
The body stated that the Abacha regime arrested, imprisoned and sentenced Saro-Wiwa and the eight Ogoni leaders to death under highly questionable circumstances.
It described the hanging of the nine activists as a culmination of the cruel crimes that were committed against the people as a result of extractive activities in their territory.
"We realise that your government has commenced the cleaning of the Ogoni environment following the August 2011 report of the United Nations Environment Programme (UNEP) that showed that the Ogoni environment was extremely polluted.
"That report validated the claims of the late Saro-Wiwa and others who the situation must be remedied," the group stated.
It, therefore, called for a posthumous exoneration of Saro-Wiwa and the other Ogoni leaders "of a crime they did not commit and provide their families with adequate, effective and prompt reparations."
The signatories further called for all necessary steps in consultation with relevant local communities to ensure the protection, promotion and fulfillment of the Ogoni people's human rights, including their right to a safe, healthy environment.
"This will be a clear statement that you embrace your human rights obligations and have the interests of the Ogoni people, whose territory is a metaphor of ecocide, at heart.
"Justice for Saro-Wiwa and the eight others would be a sign that you are committed to bringing justice for the environment, not just in Ogoniland, but everywhere," the signatories stated.