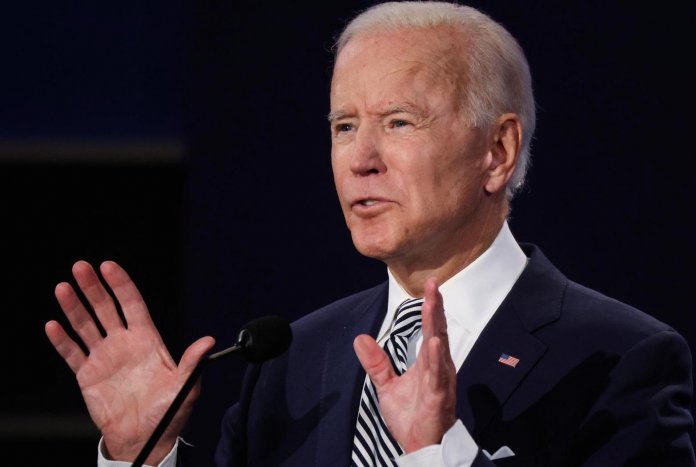 •Promises to have the back of African Americans who he says stood by him
By Tobi Soniyi in Lagos and Martins Ifijeh in New Jersey, USA
In his first speech as president-elect on Saturday, Joe Biden said he hoped to unify the nation after an especially bitter campaign with President Trump, who has so far refused to concede defeat in the race.
"Folks, the people of this nation have spoken," said Biden on an outdoor stage at the Chase Center in Wilmington, Del., as a crowd, with many people watching from inside their cars, honked and cheered approval. "They've delivered us a clear victory, a convincing victory, a victory for we the people. We won with the most votes ever cast on a presidential ticket in the history of the nation, 74 million!"
The former vice president repeatedly sought to reinforce his message during the campaign that he would seek to be a president to all Americans, regardless of whether they had voted for him.
"I pledge to be a president who seeks not to divide, but unify. Who doesn't see red states and blue states, only sees the United States," Biden said.
"All those of you who voted for President Trump, I understand the disappointment tonight. … But now let's give each other a chance. We need to stop treating our opponents as our enemies," Biden told the crowd. "They're not our enemies. They're Americans. This is the time to heal in America."
Biden was declared the victor in the particularly caustic race against President Trump on a date that holds personal significance for the Democrat: It was 48 years to the day that he was first elected to the United States Senate in his home state of Delaware.
Biden ran two failed campaigns for president — one in 1988 and the other in 2008. He served eight years as vice president under President Barack Obama from 2009 to 2017, and then, on his third try, he crossed the finish line.
As several major news networks called the race in Biden's favour late Saturday morning, Trump was playing golf at his club in Sterling, Va. The president vented his frustration on Twitter and still refused to concede.
After four days of anxious wait, in a bitterly contested election and a nail-biting finish, former United States Vice President, Senator Joe Biden, emerged the 46th President of the country, after a victory in the State of Pennsylvania, where he was born, put him over the 270 electoral votes needed to win. On the popular votes, Biden netted 74,872,687 million votes which translates to 50.6 percent of the total votes cast, while President Trump scored 70,602,144 votes as at last night, which translates to 47.7 percent of the votes.
With Pennsylvania's 20 electoral votes, Biden now has a total of 273 electoral college votes, even though votes count was still ongoing in many parts of the country, while the incumbent, Donald Trump still maintained 214 Electoral College votes. Hours after was projectetd by US networks to have won Pensylvania which clinched him the presidency.
World Leaders Salute Biden on'historic'win
From around the world, messages of congratulation and good will poured in for the US President-elect, former Vice President Joe Biden after US networks declared him the winner of the bitter nail biting race for White House over President Donald Trump.
Prominent political leaders, serving and former were quick to send congratulatory messages to Biden and Kamala Harris on their victory and expressed hope of a better working relationship with his administration when he takes office on January 20, 2021.
From Canada to Britain, to the European Union to Nigeria. It was a celebration of the Biden's historic win
Barrack and Michelle Obama
Former US president Barack Obama hailed Biden's win as "decisive" and "historic". While his wife, former US First Lady Michelle Obama, also tweeted, saying, "I'm beyond thrilled that my friend @JoeBiden and our first Black and Indian-American woman Vice President, @KamalaHarris, are headed to restore some dignity, competence, and heart at the White House. Our country sorely needs it."
Bill Clinton
In a tweet, former US President, Bill Clinton, said, "America has spoken and democracy has won. Now, we have a president-elect, who will serve all of us and bring all together. Congratulations to Joe Biden and Kamala Harris on your momentous victory".
Hillary Clinton
The voters have spoken, and they have chosen @JoeBiden and @KamalaHarris to be our next president and vice president.
It's a history-making ticket, a repudiation of Trump, and a new page for America.
Thank you to everyone who helped make this happen. Onward, together.
Ireland – Micheal Martin
Irish Prime Minister Micheal Martin was one of the first to take to Twitter and hail the Irish-America Democrat Joe Biden as "president-elect".
"I want to congratulate the new President-Elect of the USA @JoeBiden," the Irish leader tweeted.
"Joe Biden has been a true friend of this nation throughout his life and I look forward to working with him in the years ahead. I also look forward to welcoming him back home when the circumstances allow!" Martin added.
Canada – Justin Trudeau
Canada's Prime Minister Justin Trudeau was also quick off the mark.
Canadian Prime Minister, Justin Trudeau, in his tweet, wrote: "Congratulations @JoeBiden and @KamalaHarris. Our two countries are close friends, partners and allies. We share a relationship that's unique on the world stage. I'm really looking forward to working together and building on that with you both."–
Britain – Boris Johnson
British Prime Minister Boris Johnson congratulated Biden "on his election as President of the United States and Kamala Harris on her historic achievement.
"The US is our most important ally and I look forward to working closely together on our shared priorities, from climate change to trade and security."
France – Emmanuel Macron
French President Emmanuel Macron tweeted, "The Americans have chosen their President. Congratulations @JoeBiden and @KamalaHarris! We have a lot to do to overcome today's challenges. Let's work together!"
Germany –Angela Merkel
German Chancellor Angela Merkel congratulated Biden, saying Germany's trans-atlantic ties with the US were "irreplaceable".
European Union
In a joint statement, EU Commission President Ursula von der Leyen and Charles Michel, president of the European Council, which represents the leaders of EU member states, said: "We take note of the latest development in the electoral process.
"On this basis the EU congratulates President-elect Joe Biden and Vice President-elect Kamala Harris on reaching enough Electoral Votes."
Greece – Kyriakos Mitsotakis
Greek Prime Minister, Kyriakos Mitsotakis tweeted: "Congratulations to US President-Elect @JoeBiden. Joe Biden has been a true friend of Greece and I'm certain that under his presidency the relationship between our countries will grow even stronger."
Belgium – Alexander De Croo
Belgian Prime Minister Alexander De Croo tweeted: "Congratulations @JoeBiden with your election as 46th President of the United States. A record number of people have cast their vote in this election. This illustrates the vibrancy of the American political life and its democracy."
Olusegun Obasanjo
Joining other world leaders, former Nigerian President, Chief Olusegun Obasanjo, while congratulating Biden and Harris, tasked the newly elected President to restore confidence in the role of America as the largest economy in the world, which has a very significant responsibility for the peace, security, stability and progress of the world."
Obasanjo, in a message of congratulations, copy, which was made available to newsmen on Saturday by his Special Assistant Media, Kehinde Akinyemi, however, described the election as "a victory of good over evil", which was for most people of the world.
The former President lamented that the majority of the people had watched helplessly as the world was being pulled down, adding, "Not that the world was perfect and equitable but it was reasonably predictable with some measure of rule of law and respect for international agreements and treatise."
Obasanjo, in the one page letter, said he was reasonably sure that the first Africa-America female Vice President-elect of the US, Harris, "will have some Nigerian DNA in her as most of those taken to the Carribean from Africa went from Nigeria of today".
Biden, who turns 78 at the end of this month, will become the oldest president, when he is inaugurated in January in the midst of the worst public health crisis in 100 years, the deepest economic slump since the 1930s and a national reckoning on racism and police brutality that is still unresolved. His election will end Trump's hold on Washington.
The election, far closer than many experts had predicted, was history making.
Biden's triumph concluded an extraordinary election that was expected to set modern records for turnout, despite being held amid a pandemic that has upended life across the United States and brought a new level of complexity to the voting process.
Voters faced concerns about public health, long lines at the polls, and the vexing challenges of a transformed election system while rendering a verdict on Trump's chaotic and norm-breaking presidency.
In key battleground states, it took several days to process and count the flood of ballots sent through the mail.
In the end, the race was not the landslide many Democrats had hoped for. And the partisan wrangling is not over: the Trump campaign and Republican lawyers have already begun a wide-ranging legal assault to challenge Democratic votes and victories in swing states.
In a cinematic twist, it was Biden's boyhood state of Pennsylvania that put him over the 270 electoral vote threshold, and delivered the White House for him.
Trump had held a wide lead over Biden on the night of the election, but as election officials counted hundreds of thousands of mail-in ballots, the race shifted dramatically in Biden's favour, infuriating Trump and his allies, who knew the President's path to the White House was over without the commonwealth.
That the Keystone State was the last hurdle in Biden's path to the White House was a fitting end to a hard-fought race given that the former vice president has long cultivated his image as "middle-class Joe" from Scranton.
In a visit that now seems almost prophetic, he had made a final trip to his childhood home in the city on election day after spending much of the campaign promising to prioritize the livelihoods of the many working-class voters whom Hillary Clinton lost to Trump in her 2016 bid.
On one of the living room walls in the house, where he grew up, he wrote: "From this House to the White House with the Grace of God," signing his name and the date,"11.3.2020."
In the final days of the race, Biden's team redoubled their efforts to rebuild the Democrats' "blue wall" – and that gambit paid off with Biden winning Pennsylvania, Michigan and Wisconsin, according to CNN projections, while holding Minnesota, which the President made a priority in his reelection push.
As he watched his hopes of reelection being strangled with each tranche of votes in Pennsylvania, Trump lashed out on Twitter during the tense vote count, attempting to 'undermine' democratic institutions with demands like "Stop the Count."
The President had also claimed that the election was being stolen from him as many mail-in ballots, which were often counted after Election Day votes, landed in the column of his opponent.
Facing a deeply polarised country, Biden had tried to project comity and patience, and his desire to reunite America.
"There will not be blue states and red states when we win. Just the United States of America," Biden said Wednesday afternoon, adding: "We are not enemies. What brings us together as Americans is so much stronger than anything that can tear us apart."
Biden again asked for patience from his supporters on Thursday afternoon. "Stay calm. The process is working," he said in Wilmington, Delaware.
"Each ballot must be counted… Democracy is sometimes messy. It sometimes requires a little patience, as well. But that patience has been rewarded now for more than 240 years with a system of governance that is the envy of the world."
Part of Trump's frustration stemmed from the fact that his campaign's finely tuned ground game did in fact succeed in turning out many more of the so-called "hidden Trump voters" than expected, making the race a much tighter contest than pre-election polls suggested.
Ultimately, Biden carved out his route to 270 Electoral College votes by holding most of the states that Clinton won and adding Pennsylvania, Michigan and Wisconsin to his column. Ballots are still being counted in the key states of Nevada and Arizona.
But Trump has continued to cast aspersions on the electoral process, wrongly suggesting that there was something nefarious about the fact that the vote count in key states continued well after Tuesday night, as is customary in US elections.
Meanwhile, his team has mounted a series of lawsuits in several states, including Pennsylvania, looking to stop vote counting in some areas while challenging how closely observers could monitor officials counting the votes in others.
The Trump campaign also said it would demand a recount in Wisconsin, where Biden led Trump by some 20,000 votes, even though historically a margin of that magnitude is unlikely to be reversed.
A Career-long Quest Realised
The victory of Biden, who forged a 50-year career as senator and vice president from his Delaware homestead, is a full circle moment that comes more than 30 years after his first presidential campaign.
His running mate, California Senator Kamala Harris, will make history as the first woman, the first Black person and the first person of Southeast Asian descent to become vice president.
Biden's life of tragedy – he buried his first wife and his first daughter, and his adult son Beau, who died in 2015, survived two brain aneurysms and stayed in politics after two failed White House campaigns — shaped his image as a man of resilience and decency.
Those qualities made him America's choice as a president, who could shoulder the grief of a nation traumatised by the loss of more than 234,000 citizens to Covid-19, with millions unemployed in an environment of intense economic uncertainty.
Biden's victory means that Trump's rage-filled presidency — powered by his nationalism, toxic racial appeals, incessant lying and assault on democratic institutions — may come to be seen as a historical aberration rather than a new normal.
But Biden faces a huge task in uniting the country and addressing America's disillusionment with establishment figures like him, which led to the current President's political rise as an outsider, who was elected on a wave of populism in 2016.
Biden is pledging to restore America's "soul," which he claimed was compromised by Trump's divisive approach, and to purge the President's "America First" foreign policy and rebuild Washington's traditional position of global leadership.
But Democrats dreaming of a "New Deal" style era of reform on health care, the economy, climate change, race and possibly even expanding the Supreme Court will see their ambitions tempered by their lack of gains in the balance of power in Congress and the need for the Biden administration to halt a pandemic that is getting worse.
Health experts at the University of Washington's Institute for Health Metrics and Evaluation project said the virus could claim nearly 400,000 Americans lives by the time Biden is sworn in, January.
A Future Defined by Pandemic, Uncertainty
A country weary of nearly a year of lockdowns, separation from family and friends, and economic deprivation will need to be mobilised to adopt aggressive new steps to conquer a pandemic that Biden argued the Trump administration essentially gave up fighting.
The much-anticipated arrival of a vaccine, which experts hoped would be widely available in 2021, is a potential ray of hope, though it will be many months before life is back to normal. That means Biden's first year — the time when a new President's power is maximized — will be dominated by the coronavirus.
It also remains uncertain whether Biden's pragmatic instincts, his lonely belief that a new era of cooperation is possible with Republicans, and his desire to preserve a winning coalition that included moderates and Never Trumpers could lead to early clashes with Democratic progressives.
Biden's task is complicated by inheriting a political climate intensely polarised by Trump's presidency. After months of predictions by the President that the election will be "rigged," Trump's supporters see the Democrat's victory as illegitimate, confounding his hopes of forging national unity.
A battle for the future ideological direction of the Republican Party between the President's partisans and more traditional conservatives in the post-Trump era could sow further discord in Washington.
And the chances that Trump will simply fade into history seem minimal given the real estate mogul's history of controlling the news cycle as he weaponizes his Twitter feed to settle political grievances.
Biden's international aspirations also face challenges. The world appeared to have moved on since Trump's almost four years in office. China has accelerated its power plays in Asia and around the world, and a new Cold War looms.
US allies wonder whether America could be trusted anymore and how long the internationalist restoration in Washington could last. Confrontations with North Korea, Iran and Russia are even more acute than when President Barack Obama left office.
US Presidents Who Have Lost Re-election
Outgoing US President Donald Trump is the 11th sitting president in the nation's history to lose the White House in a general election.
While 10 of them were outright reelection bids, Gerald Ford, who ascended to the presidency following Richard Nixon's resignation, also lost his campaign to remain president in 1976.
George H.W. Bush was the last president to lose a reelection bid in 1992.
Although Grover Cleveland lost his reelection campaign in 1888, he won back the White House four years later by defeating sitting President Benjamin Harrison, making him the only president to have served two nonconsecutive terms.
Meanwhile, the list below does not include sitting presidents, who did not receive their party's nomination for the next general election.
10 elected presidents who lost their re-election campaigns
*John Adams (1797-1801; lost to Thomas Jefferson in 1800)
*John Quincy Adams (1825-1829; lost to Andrew Jackson in 1828)
*Martin Van Buren (1837-1841; lost to William Henry Harrison in 1840)
*Grover Cleveland* (1885-1889; lost to Benjamin Harrison in 1888)
*Benjamin Harrison (1889-1893; lost to Grover Cleveland in 1892)
*William H. Taft (1909-1913; lost to Woodrow Wilson in 1912)
*Herbert Hoover (1929-1933; lost to Franklin D. Roosevelt in 1932)
*Jimmy Carter (1977-1981; lost to Ronald Reagan in 1980)
*George H.W. Bush (1989-1993; lost to Bill Clinton in 1992)
*Donald Trump (2016-present; lost to Joe Biden in 2020)
*Gerald R. Ford, a non-elected president, who was in office between 1974 and 1977, lost to Jimmy Carter in 1976.
*Cleveland, also a non-elected president, won a second, albeit non-consecutive term. ButFord was not elected vice president or president.
Kamala Harris: Today, Every Little Girl Born in America Sees Possibilities
Californian Senator, Kamala Harris, is the next vice president of the United States and the nation's first female number two citizen.
Apart from being the first woman to hold the office, she will also be the nation's first Black and South Asian vice president.
Harris, daughter of Jamaican and Indian immigrants, who grew up attending a Black Baptist Church and a Hindu temple, has represented California in the Senate since 2017.
She was the first Indian-American and second Black woman to serve as a senator. She competed for the Democratic Presidential ticket and lost, but was picked as running mate by Joe Biden.
Here is a transcript of Ms. Harris's remarks as they were prepared for delivery.
Good evening.
Congressman John Lewis, before his passing, wrote: "Democracy is not a state. It is an act."
And what he meant was that America's democracy is not guaranteed.
It is only as strong as our willingness to fight for it, to guard it and never take it for granted.
And protecting our democracy takes struggle.
It takes sacrifice. There is joy in it and there is progress.
Because "We The People" have the power to build a better future.
And when our very democracy was on the ballot in this election, with the very soul of America at stake, and the world watching, you ushered in a new day for America.
To our campaign staff and volunteers, this extraordinary team — thank you for bringing more people than ever before into the democratic process and for making this victory possible.
To the poll workers and election officials across our country who have worked tirelessly to make sure every vote is counted — our nation owes you a debt of gratitude as you have protected the integrity of our democracy.
And to the American people who make up our beautiful country — thank you for turning out in record numbers to make your voices heard.
I know times have been challenging, especially the last several months.
The grief, sorrow, and pain. The worries and the struggles.
But we've also witnessed your courage, your resilience, and the generosity of your spirit.
For four years, you marched and organized for equality and justice, for our lives, and for our planet.
And then, you voted. You delivered a clear message.
You chose hope, unity, decency, science, and, yes, truth.
You chose Joe Biden as the next President of the United States of America.
Joe is a healer. A uniter. A tested and steady hand.
A person whose own experience of loss gives him a sense of purpose that will help us, as a nation, reclaim our own sense of purpose.
And a man with a big heart who loves with abandon.
It's his love for Jill, who will be an incredible first lady.
It's his love for Hunter, Ashley, his grandchildren, and the entire Biden family.
And while I first knew Joe as Vice President, I really got to know him as the father who loved Beau, my dear friend, who we remember here today.
To my husband Doug, our children Cole and Ella, my sister Maya, and our whole family — I love you all more than I can express.
We are so grateful to Joe and Jill for welcoming our family into theirs on this incredible journey.
And to the woman most responsible for my presence here today — my mother, Shyamala Gopalan Harris, who is always in our hearts.
When she came here from India at the age of 19, maybe she didn't quite imagine this moment.
But she believed so deeply in an America where a moment like this is possible.
So, I'm thinking about her and about the generations of women — Black Women.
Asian, White, Latina, and Native American women throughout our nation's history who have paved the way for this moment tonight.
Women who fought and sacrificed so much for equality, liberty, and justice for all, including the Black women, who are too often overlooked, but so often prove that they are the backbone of our democracy.
All the women who worked to secure and protect the right to vote for over a century: 100 years ago with the 19th Amendment, 55 years ago with the Voting Rights Act, and now, in 2020, with a new generation of women in our country who cast their ballots and continued the fight for their fundamental right to vote and be heard.
Tonight, I reflect on their struggle, their determination and the strength of their vision — to see what can be unburdened by what has been — I stand on their shoulders.
And what a testament it is to Joe's character that he had the audacity to break one of the most substantial barriers that exists in our country and select a woman as his vice president.
But while I may be the first woman in this office, I won't be the last.
Because every little girl watching tonight sees that this is a country of possibilities.
And to the children of our country, regardless of your gender, our country has sent you a clear message:Dream with ambition, lead with conviction, and see yourself in a way that others might not see you, simply because they've never seen it before.
And we will applaud you every step of the way.
To the American people:
No matter who you voted for, I will strive to be the vice president that Joe was to President Obama — loyal, honest, and prepared, waking up every day thinking of you and your families. Because now is when the real work begins.
The hard work. The necessary work. The good work. The essential work to save lives and beat this pandemic. To rebuild our economy so it works for working people.
To root out systemic racism in our justice system and society.
To combat the climate crisis.
To unite our country and heal the soul of our nation.
The road ahead will not be easy.
But America is ready. And so are Joe and I.We have elected a president who represents the best in us.
A leader the world will respect and our children can look up to.
A commander in chief who will respect our troops and keep our country safe.
And a president for all Americans.
It is now my great honor to introduce the president-elect of the United States of America, Joe Biden.