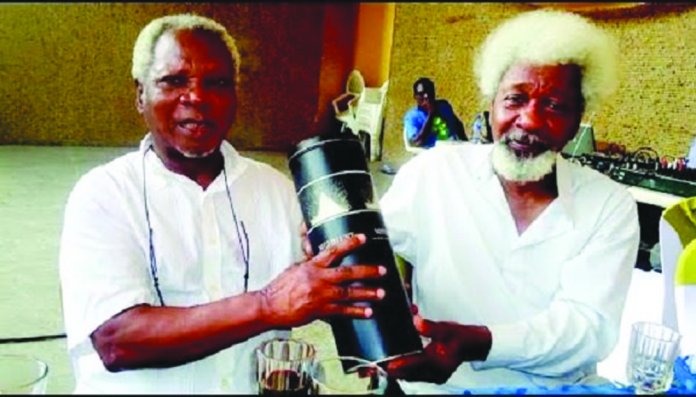 Besides being one of the surviving members of the initial contemporary Nigeria literature's pioneer quartet, Professor John Pepper Clark-Bekederemo remained one of the most memorable literary icons of recent memory until his death on Tuesday. Okechukwu Uwaezuoke reports
TRIBUTE
One by one, we shall all go! This title, which was for a tribute that he co-wrote with the Nobel laureate Wole Soyinka on March 23, 2013, proclaims John Pepper Clark-Bekederemo's acute consciousness of his imminent mortality. Not that any extraordinary prescience was needed for that. Nor could it have been prompted by a premonition. Physical death, as a natural end of an earth-life, has after all been generally accepted as an incontrovertible fact of life and, indeed, as an inexorable answer to nature's call.
Talking about Achebe's passage, it had further depleted the number of the original contemporary Nigerian literature's big four – called the "pioneer quartet" in the tribute – to two. Achebe, whom Clark and Soyinka had alluded to in the tribute as "a brother, a colleague, a trailblazer and a doughty fighter", had moved ahead of them to join the poet Christopher Okigbo, who departed this earth-life in 1967 during the Nigerian civil war, in the great beyond.
For Clark, the summon to the beyond came in the early morning of Tuesday, October 13, about seven years after. In a statement, signed by Professor C. C. Clark for the family, the Clark-Fuludu Bekederemo family of the Delta State town, Kiagbodo, disclosed that the revered literary icon "has finally dropped his pen" and "has paddled on to the great beyond in comfort of his wife, children and sibling, around him."
Until the announcement of his death, the emeritus professor of literature and the renowned writer seemed – albeit not by choice – to have gradually receded from the national consciousness. In a manner of speaking, news about him had been swept aside by the surging tidal-wave of the country's current challenges, bordering mainly on insecurity, the coronavirus pandemic and, recently, the nationwide protest against police brutality, extortion and extra-judicial killings, hashtagged #EndSARS. Yet, President Muhammadu Buhari alongside other eminent personalities like the Edo State Governor Godwin Obaseki rose to the occasion to pay tribute to the literary icon. In a statement, issued by his spokesperson Femi Adesina, the president acknowledged the late Clark, a recipient of the Nigerian National Order of Merit Award and "a serial award-winner in poetry", as one of Nigeria's finest poets and dramatist, adding that the repertoire of his published works attests to the hard work of a great man devoted to a lifetime of writing, knowledge and promotion of the indigenous Ijaw culture.
The deceased, who was the younger brother of the well-known Ijaw nationalist and polemicist Chief Edwin Clark, was best known for his poetic offerings. Indeed, he is easily remembered for his 1965 poem "Abiku", which explores the Yoruba concept of serial reincarnations after early physical deaths. To his credit are a 1961 collection of 40 lyrics that treat heterogeneous, titled Poems, as well as A Reed in the Tide (published by Longmans in 1965), which is a collection of episodic poems that encompass his indigenous African background and travel experiences in the US and other places; Casualties: Poems 1966–68, which was published in 1970 in the USA by Africana Publishing Corporation and chronicle the horrendous events of the Nigerian civil-war and A Decade of Tongues (published under the Longmans Drumbeat series in 1981) as a collection of 74 poems, all of which except for "Epilogue to Casualties" (dedicated to Michael Echeruo) were previously published in earlier volumes. There were also State of the Union, a 1981 collection which expresses the poet's fears over Nigeria's existential struggles as a developing nation and Mandela and Other Poems, a 1988 collection which revisits the continually recurring phenomenon of ageing and death.
Also renowned for his dramatic works, Clark wrote Song of a Goat, a tragedy cast in the mould of the Greek classical model, which premiered at the Mbari Club in 1961. In the drama, the protagonist Zifa because of his impotence causes his wife Ebiere to indulge in an illicit love relationship with his brother Tonye and this ends in suicide. A sequel of the play published in 1964, was titled The Masquerade.
There is also The Raft, also published in 1964, in which four men drift helplessly down the Niger aboard a long raft, Ozidi (published in 1966), which is a transcription of a performance of an Ijaw epic drama and the 1981 prose drama The Boat, which documents the Delta State community of Ngbilebiri's history.
Clark's forays into other literary genres included his 1977 translation of the Ozidi Saga, the articulation of his aesthetic perspectives on poetry and drama, titled The Example of Shakespeare (published in 1970 by the Northwestern University Press, in Evanston, Illinois, USA) as well as his essays in such Nigerian newspapers Daily Express and Daily Times, among others. In his well-known controversial travelogue, America, Their America (first published by Deutsch, 1964 and in the Heinemann's African Writers Series in 1969) he criticises the American society and its values.
He sustained his name in the literary community's consciousness through his many active roles in the industry. After his being conferred within 1991 with a Nigerian National Order of Merit Award for literary excellence, the US-based Howard University published his two works Ozidi Saga and Collected Plays and Poems 1958-1988. Two decades later – on December 6, 2011 – he was celebrated with the launch of the publication, titled J. P. Clark: A Voyage, The Definitive Biography of the Main Animating Force of African Poetry and written by the renowned playwright Femi Osofisan. The event, which was held at the Lagos Motor Boat Club along Awolowo Road in Ikoyi, Lagos, was graced by the local crème de la crème of the literary community. In 2015, the Wole Adedoyin-led Society of Young Nigerian Writers founded the JP Clark Literary Society to promote the readership of his works.
Recently, in February, he symbolically handed over the literary baton to the new generation of Nigerian writers, who was represented by the award-winning Chimamanda Ngozi Adichie, at a ceremony in the ARISE News Channel offices.
Clark, who was born on April 6, 1935, in Kiagbodo to an Urhobo mother and an Ijaw father, had his early education at the Native Authority School, Okrika (Ofinibenya-Ama), in Burutu Local Government Area (then Western Ijaw) of Delta State and later at the Government College in Ughelli. After his BA degree in English in 1960 from the University of Ibadan, where he edited various magazines, including the Beacon and The Horn, he had worked as an information officer with the old Western Region's Ministry of Information, then as features editor of the Daily Express and later as a research fellow at the Institute of African Studies, University of Ibadan.
It was during his years as a professor of English at the University of Lagos that he co-edited the literary magazine The Black Orpheus. Later, in 1982 (two years after he retired from the university), he founded the PEC Repertory Theatre in Lagos with his wife Ebun Odutola (a professor and former director of the Centre for Cultural Studies at the University of Lagos).
He had, besides, held several professorial appointments at several tertiary institutions, including the US-based Yale and Wesleyan universities.
Clark's earthly remains were interred on Thursday night at exactly 11.30 pm in his island country home in Kiagbodo. This was in adherence to his last wishes, which he had penned down in a poem, titled "My Last Testament". In that poem, he wrote: "Take me home to my own, and/To lines and tunes, tested on the waves/Of time, let me lie in my place/ On the Kiagbodo River."
Youths from his community had first brought the casket bearing his corpse to Kiagbodo town at about 8:48 pm from Asaba International Airport before it was conveyed in a boat to his home on JP Clark Creek Island, where it briefly lay in state for a handful of family members. Just before it was interred, a few words of prayers by Trinty House's Pastor Ituah Ighodalo, who was represented by pastors Jolomi Guoti and Ken Okochu, in the presence of the deceased's close family members, who included his wife and his children.
Pix: JP Clark.jpg and JP Clark with Soyinka.jpg
MY LAST TESTAMENT,
by JP CLARK
This is to my family
Do not take me to a mortuary,
Do not take me to a church,
Whether I die in or out of town,
But take me home to my own, and
To lines and tunes, tested on the waves
Of time, let me lie in my place
On the Kiagbodo River.
If Moslems do it in a day,
You certainly can do it in three,
Avoiding blood and waste,
And whatever you do after,
My three daughters and my son
By the only wife I have,
Do not fight over anything
I may be pleased to leave behind
Full Tide (Collected Poems),Page 385.