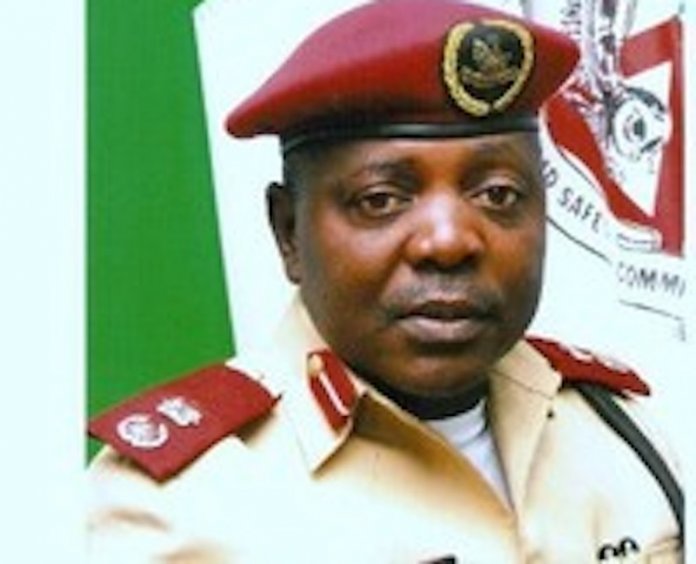 ROAD SAFETY ARTICLE
by Jonas Agwu
amnipr, mcipr,mprsa,arpa
Assistant Corps Marshal
Zonal Commanding Officer
On Monday, October 5, 2020, I strolled leisurely into my office with so many thoughts on my mind. The first thought was where to raise funds to sort out so many personal challenges and hopefully also meet the needs of some close friends and families as well as people I do not know. A handful of the people in question think that because I am an Assistant Corps Marshal in the Federal Road Safety Corps, I must be in the league of the Dangote's and the Otedola's. Even the educated ones assume that for every vehicle arrested for traffic infraction, somebody somewhere must be rubbing my palms. My new assignment as the Zonal Commanding Officer in charge of Zone 7 Abuja, comprising the Federal Capital Territory and Niger State further complicates the matter.
I also had thoughts on what topic to focus on this week. There were also thoughts on how to handle the numerous phone calls, text messages and WhatsApp chats for assistance on other issues such as recruitment into the Corps, processing of driver's License and even feeding in the face of the challenges associated with COVID-19. Like I said, I also had thoughts on what topic to focus on this week which for me was most disturbing because of the deadline required. I know I have heard people who are writers complain on what they call writer's block. If gifted writers would lament on what to focus on, what then should a bloody road safety officer like me trying to reach out to road users be going through, if you catch my drift. The reasons for a writer's block such as fear, timing and perfectionism were all starring me at the face.
Even when I tried some of the getaway tricks such as going for a walk, changing environment, reading a book, listening to music or staying with some colleagues who make me feel good just did not help me. When I could not make a headway on what to focus on, my mind suddenly flashed on the new normal because of COVID-19 and yet the challenges of ensuring safety on our roads. Even that was without form or substance. It was just then that a colleague walked into my office oblivious of my inner struggles and asked me if I had heard of the tragic death of the cousin of one of our senior colleague. I said no and with a somber look, asked him exactly what happened, where and how. Without knowing how much a savior he had become to me, he gave me a snippet of the incident.
According to his story, the young man named Jeffery Uwah (not real name) who is survived by a wife and a daughter was working with a private company in the Federal Capital Territory Abuja where according to his colleagues, he had carved a niche for himself as a disciplined and time conscious staff. On this faithful day, Jerry had left his house after pacifying his beautiful daughter with a promise to buy her favorite chocolate on his way from work not knowing what fate held for me. He hugged his daughter, gave her a kiss and waved as he opened the door and immediately flagged down a cab just in front of their two-bed room apartment in one of the estates in Abuja. He boarded the car and had a smooth and safe ride and alighted at the nearest junction to his office at the central business district without hiccups. He was crossing the road to the other side where his office was when he was knocked down by a car driven by a female driver. The impact of the hit was so heavy that despite being rushed immediately to the hospital, he died as a result of the bleeding from his head.
Just as I was struggling to process my thoughts on this tragedy, one of the On Air Personality(OAP) in one of the popular Radio stations in Abuja the Federal Capital Territory, who is like a sister to me then alerted me through a text message on a crash at Maitama in the same Abuja. Her text read thus;''vehicle just killed a man that was trying to cross the road beside Transcorp Hilton. Please call emergency service to carry the corpse as the situation is causing traffic now.'' I must confess that I became really scared but I was elated when I got the great and exciting news from the recue team that the victim survived the crash.
Despite this good news, Jeffery death brought to my memory a similar tragedy I shared a couple of weeks ago on this same page about the death of another young man even though his death occurred differently. According to the story, Frank Uzor (not real name), his wife and their one year and six months old daughter were heading to church on a sunny Sunday morning in their black Lexus Jeep. He stopped by a bank to make a withdrawal for offering. After parking his car at a spot he believed was safe enough, Frank crossed over to the other side of the road, made his withdrawal at the ATM before crossing back to his vehicle parked at the other side; he got into his car but before he could start his car and move, a Toyota Hilux lost control and crashed onto their Jeep. Frank who was anxiously waiting to lavish his beautiful wife on third-year marriage anniversary just few weeks ahead, died on the spot while his wife went into coma and was unconscious for two days before she eventually regained consciousness. Miraculously, their daughter who was strapped to a car seat behind came out unhurt-she was found just the way she was- strapped.