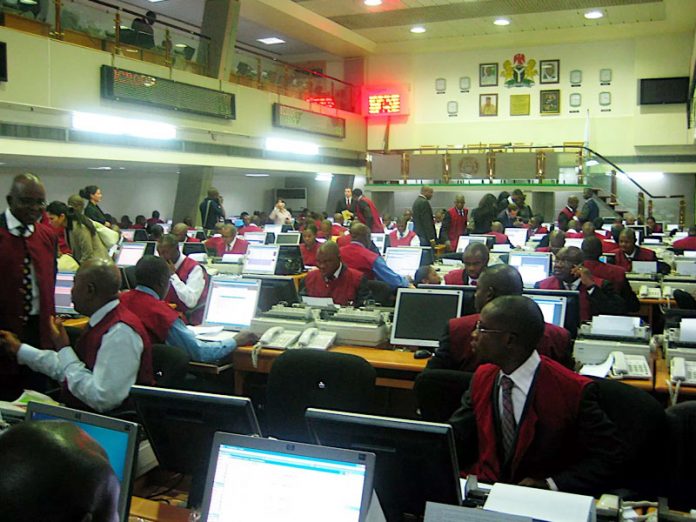 Goddy Egene
Trading value rose by 56.7 per cent as investors staked N5 billion on 342.2 million shares yesterday, up from N3.1 billion invested in 218.424 million shares on Wednesday.
The most traded stocks by volume were the United Bank for Africa Plc (92.9 million shares), Zenith Bank Plc (67.2 million shares) and Guaranty Trust Bank Plc (67.2 million shares) while GTBank Plc (N1.8 billion), Zenith Bank Plc (N1.4 billion) and UBA (N613.6 million) led by value.
However, the market ended flat for the second day as the Nigerian Stock Exchange (NSE) closed at 28,344.04, while market capitalisation remained unchanged at N14.8 trillion. Consequently, year-to-date growth remained at 5.6 per cent.
The price movement chart showed 13 gainers and 12 losers. Eterna Plc led the price gainers with 9.9 per cent, followed by Lafarge Africa Plc with 4.0 per cent. Guinness Nigeria Plc appreciated by 3.2 per cent, just as International Breweries Plc garnered 3.1 per cent.
PZ Cussons Nigeria Plc added 2.3 per cent, while Vitafoam Nigeria Plc and Livestock Feeds Plc chalked up 1.6 and 1.6 per cent respectively. Sterling Bank Plc and Redstar Express Plc went up by 1.4 per cent and 1.2 per cent.
Conversely, AIICO Insurance Plc led the price losers with 3.5 per cent, trailed by Glaxosmithkline Consumer Nigeria Plc with 3.4 per cent. Fidson Healthcare Plc and African Prudential Plc shed 2.8 per cent.
Guaranty Trust Bank Plc and Transcorp Plc went down by 1.6 per cent and 1.5 per cent in that order, just Access Bank Plc depreciated by 1.2 per cent.
Access Bank Plc said it recently received the Central Bank of Nigeria's Approval-in-Principle for the bank's restructuring to a holding company (HoldCo), saying that proposed HoldCo structure would enable it to further accelerate its objectives around business diversification, improved operational efficiencies, talent retention as well as robust governance.
The bank is also announced agreements to bolster its market position in Mozambique and enter the South African market. This followed the recent transaction with Cavmont Bank in Zambia and further embeds the bank's presence in the SADC region, one of Africa's most important trading blocs.
According to the bank, these transactions will result in a more connected African banking network that builds on Access Bank's existing foundation and enhances its value proposition to stakeholders, including customers and employees.