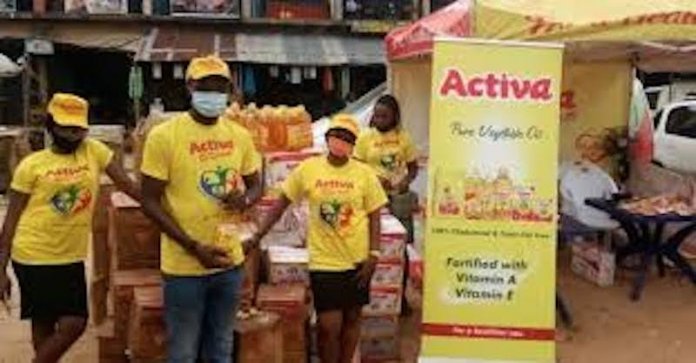 SNF Foods Limited, manufactures and marketers of Activa pure vegetable oil and Whippy mayonnaise, is currently on a free product sampling of its flagship product, Activa pure vegetable oil. The company said the product had been certified to be 100 per cent trans-fat and cholesterol free.
According to the General Manager Marketing, SNF Foods Limited, Mr. Goke Olaleye, the sampling activity is currently taking place in Nigeria, across open markets, retail outlets, motor parks and religious houses seeks to introduce consumers to the healthiest choice of cooking oil at no cost to them.
Hundreds of thousands of excited Nigerians have received free sachets of Activa pure vegetable oil in the last three months and many more in months to come, she said.
SNF Foods Limited is a wholly Nigerian owned company with a state-of-the-art factory in Onitsha, Anambra State and a corporate head office in Lagos Nigeria. The organisation through its energized workforce and premium brands, is working towards becoming the market leader in the edible oils category.