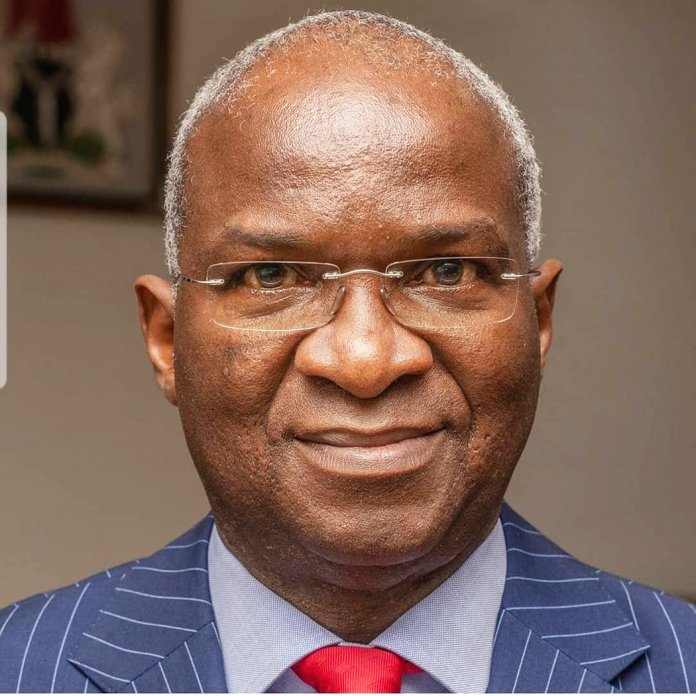 By Fadekemi Ajakaiye
Minister of Works and Housing, Mr. Babatunde Raji Fashola has commended Lagos' residents for their cooperation and tolerance so far as the ministry undertakes the maintenance and rehabilitation of the state's roads and bridges.
He stated this during his tour of the Third Mainland, Eko, and Marine Beach bridges in Lagos, recently.
"I want to thank the people and the Lagos State Government for their understanding and forbearance during the bridge maintenance and rehabilitation program, which is one of many being undertaking nationwide," he said.
"We have over 50 bridges receiving national maintenance, repair, and refurbishment across the country in conformity with the National Infrastructure Maintenance Programme and the National Infrastructure Renewal, Expansion, and Development Programme, which has been the focus of the Mohammed Buhari administration," he said.
"On this Third Mainland Bridge, we have seen the joint and bearing replacement at different stages, the freshly drilled, replacement, jet spraying for effective binding, and lastly the pouring of concrete to protect the work done. We regrettably have to close down the bridge between Adeniji Adele and Adekunle for 48 hours, that is, Friday midnight till Sunday midnight in order to allow for curing of the concrete," he said.
He stated that the bridge will be opened to users by Monday, and the diversions will return, as work has not finished. "We are going to finish this program in January next year," he said.
"We are going to have some more closures, until we get to the end of the project. Ideally, we are supposed to close every time we get to each joint, but we have minimised the inconvenience. This is the first closure which is coming after 3 joints. We will be back again when it is time to close, but we will try and work with what we think is the most optimal time, that is, Friday to Sunday," he stated.
Fashola stated that part of the National Asset Maintenance Programme approved by the Federal Executive Council, is not just to restore national infrastructure but also to provide employment opportunities for the people.
The closing of the Alaka-end of the bridge was to prevent accident as a side of the bridge was already collapsing. The current maintenance work undertaken to fix the expansion joint at the bridge has already reached 83 percent completion stage, he said.
He enjoined all that after the project is completed, that the assets should be protected and traders be prevented from selling under these bridges as their activities cause damage to them.