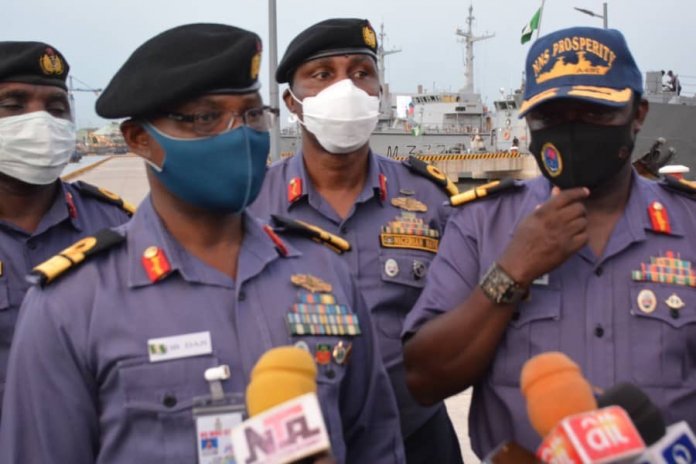 By Rebecca Ejifoma
As part of the Nigerian Navy (NN) Schedule of event for this year, the Flag Officer Commanding (FOC) Western Naval Command, Rear Admiral Oladele Daji, recently inspected ships in Lagos to ascertain it's state of readiness, and level of training of personnel in conducting various operations.
The FOC, in company of Principal Staff Officers (PSOs) from the command and Western Fleet, embarked on a one-day 'Return to Harbour on Completion' (RHOC) to ascertain the overall operational preparedness, efficiency and state of ships, units and establishments in the command.
Speaking after the 10 hours inspection at sea, Rear Admiral Daji told newsmen in Lagos that, "the inspection of the fleet at sea achieved the desired objective, which is to assess the state of equipment as well as the level of training of personnel in conducting various operations in different operational scenarios that were simulated at sea to prepare for the real time operations as they come."
Hence, he expressed, "I'm very satisfied with the conduct of the exercise."
The inspection tour, which started in Lagos area from September 7, 2020, began with the inspection of the NNS BEECROFT, and the inspection of ships under the Western Fleet to mark the conclusion of the FOC WEST second bi-annual inspection tour for the forthcoming Chief of the Naval Staff Sea Inspection.
For the sea inspection exercise, the participating ships include: NNS Ekun, NNS Prosperity, NNS Nguru, NNS Ekulu, NNS Ose, TUG Ugwu & TUG Rima, Detachment of Special Boat Service (SBS) and Nigerian Navy Helicopters.
The FC Western Fleet, Rear Admiral Danjuma Moses; the Fleet Operations Officer, Rear Admiral Danjuma Moses; Command FSG WEST, Commodore EE Ebe and the Chief Operations Officer (COO), Commodore Livingstone Izu, joined the FOC during the inspection of ships at harbour.
The FOC proceeded to Mobil Road Naval Barracks where he inspected the Obisesan Naval Medical Centre, Nigerian Navy Ship WEY, Nigerian Navy Reference Hospital, Ojo, Nigerian Navy Primary School, Ojo, Naval Airbase Station, Ojo and conclusively for Lagos area. The FOC WEST further inspected the Naval Barracks, Okokomaiko and Forward Operating Base Badagry.
On Thursday 10 September, 2020, the Flag Officer Commanding Western Naval Command departed Lagos area for further inspection of Units, Bases and Establishments under the command.
Rear Admiral Daji proceeded to Abeokuta where he inspected the Nigerian Navy Secondary School Abeokuta, thereafter proceeded to Ogbomoso where he inspected the Nigerian Navy Secondary School Ogbomoso.
The FOC WEST upon arriving Akure paid a courtesy call to the Commander Headquarters 32 Artillery Brigade Nigerian Army and thereafter proceeded to Nigerian Navy Secondary School, Imeri where he inspected the Nigerian Navy Secondary School there. The FOC WEST thereafter departed Imeri for Lagos on Thursday 24 September, 2020.
During the exercise, manoeuver and evolutions were conducted which included; Vessel Boarding Search and Seizure (VBSS), launching and recovering of boats, high speed fleet manoeuver, gunnery exercise, and action station drills among others.