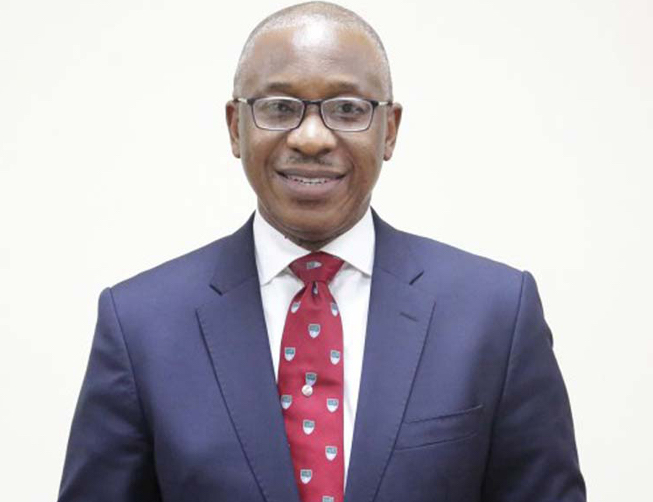 The Executive
Thirty six years of his working life, Mr. Alex Ayoola Okoh straddled the private sector for over 32 years, rising to the top as chief executive officer of one of the foremost commercial banks in the country. However, in the last three and half years, national service beckoned, where he currently savours the taste of public service as the Director General of the Bureau of Public Enterprises (BPE). But on October 1, 2020, Okoh had the rare coincidence of marking his 60th birthday same day Nigeria celebrated its 60th independence anniversary. In this interview, the DG relives his experience so far with the privatisation agency. Ndubuisi Francis provides the excerpts:
Your 60th birthday which coincides with Nigeria's 60th independence anniversary makes you a very special person. What message do you have for both Nigerians and your staff?
I just feel like using the opportunity of this interview to reflect on the fact that I celebrate a milestone birthday, which they refer to as diamond jubilee, with Nigeria. I have always considered it a special privilege to be born on the same day that Nigeria gained independence, and I think that it's not just a coincidence, it is some sort of divine ordination for one to be able to realise that there is a purpose for God making you a Nigerian and a Nigerian that shares the same birthday with the nation. It's always giving me an opportunity on such days to reflect on what my contributions to the general well-being of Nigeria should be. A 60-year-old man, especially is not really a young man anymore and I think that a 60-year-old country should also, at least, be exhibiting certain attributes of maturity of having come into an age of wisdom. So, there are certain things that should accompany a state, an individual, an enterprise at such an age. I reflect on my country and I am thankful for what God has done so far, but I am also thinking that perhaps, it could have been a lot better than where we are now.
There are certain things that ought to be happening in the life of a nation at 60 that you don't see now, and it is also an opportunity for us not just to criticise what has not happened, but to begin to look for how there can be solutions in creating that desire, and what we expect our country to look like. For me, it's a personal reflection. I have had that opportunity for the past three years in public office to be able to contribute my own quota, but I think that it should be an opportunity for all of us, whether you were born on October 1 or not to look at the day and say, hey! Is this where the country should really be at 60 or perhaps there are things that we could have done differently that we should start considering now to do at least so that the future looks much brighter than the past, That's my reflection and message to my country at 60 even as I turn 60 myself.
It is good that we stay together as a nation. Certainly, we could have achieved a lot more than we have done, but it gives us an opportunity to begin to rejuvenate Nigeria.
We have followed your progress as a banker up to this period. Having come this far in running the affairs of the BPE, what has been the experience?
I have been here for three and half years and during this period, we have renewed the mandate of the Bureau not just in terms of reforming the economic sector of the Nigerian economy, but also some of the enterprises. We have done some of the concessioning of the old Warri port while I have been here. Some of the quarry companies have also been privatised.
It has been a very interesting experience, very rewarding and for me, quite illuminating and I will explain what I meant by that. Just as you said earlier, all my career life, I have been in the private sector. I actually started banking at a very young age; I was about 24 in 1984 and I rose through the ranks, of course, to become the managing director of NNB (New Nigeria Bank) in 2001. So, all my career life, I have worked in the private sector. In April 2017, I was appointed by His Excellency, President Muhammadu Buhari, as the DG, Bureau of Public Enterprises. That gave me a completely different opportunity to experience life and work in the public sector and I must tell you that for me, it has been a very rewarding experience. You really don't know how much the nation (the government) works fully from the private sector, but I have balanced my perspective having the opportunity to work with the BPE. So, for me, to answer your question directly, these three and half years have been a very rewarding and illuminating experience for me.
What have been the challenges?
The challenges essentially stem from how things get done in the public sector as opposed to how things are done in the private sector. In the private sector you need to build a coalition of stakeholders who support whatever programme you are prosecuting. The public sector by nature is a very bureaucratic set up. Public sector by nature is not very warm towards embracing change, and because of the fact that our core mandate in the Bureau involves change (reforms); transformation, whether it is the reform of government-owned enterprises or the reform of sectors in terms of how sectors are structured to deliver on the social services of values that they are supposed to deliver. Reforming those enterprises and sectors involves change and the civil service, the way it is structured is designed to conform to rules and procedures not to embrace change. So, for me that has been the major challenge, at least at the macro-level; looking at it conceptually. Of course transaction by transaction, reform by reform, programme by programme, you have specific challenges driving those programmes. Reprivatisation of Afam and Yola Discos, for example; they will have their own specific challenges. On the general side, the major challenge is that you are going against the grain or norm of the very sector that created those institutions, in the first place.
Earlier this year, the BPE projected to remit to the coffers of the federal government the sum of N267 billion. With the impact of COVID-19, does this look feasible? What are you expecting?
I am happy that you asked that question because the health pandemic has not only disrupted the global economic environment, but our specific local or national economy. When we made those projections, of course, we did not envisage the disruption that would come from COVID. We projected to add to the fiscal purse this year about N260 billion. It is looking highly unlikely that the entire projection can be realised this fiscal year. But we are still pursuing the programme. It means that more of the financial proceeds and the revenue expectations may be coming in later as envisaged, perhaps by the end of the first quarter next year. Two of the transactions that should be contributing more than 50 per cent of the N260 billion, we have almost already concluded. In the next few weeks we should be able to conclude on these two transactions.
Which transactions, sir?
The reprivatisation of Afam Power Plant and Yola Disco. We should be able to conclude on those two, in the next two to three weeks we should be able to conclude those two transactions. So, I am hopeful that before the end of this particular fiscal year, we should be able to realise at least 60 per cent of our initial estimate or target.
You were quoted at a time to have stated that only 10 per cent of all the privatised government enterprises are doing well. Is that a true representation?
No, that was a wrong quote. What I said was that about 67 to 68 per cent of the 234 privatised or commercialised or concessioned enterprises are performing and the balance of those enterprises, may be another 20 per cent, are not performing due to various reasons. That was my comment then and the non-performing enterprises of course have various challenges and reasons why they are not performing. So, even if they were not privatised, what I have always maintained is that they would have still faced those challenges, whether they were privatised or not. Once the macroeconomic conditions changed against the operations of those enterprises, they were always going to have problems. But the important thing is that we have not left those enterprises to their own fate. So, we are consciously and continuously engaging with various agencies of government in terms of reliefs–tax reliefs, duty waivers and all of those other fiscal measures that can create a better operating environment for those enterprises. So, these are some of the inconsistencies that make some of the privatised enterprises non-performing–not just because you privatised them but because the macroeconomic situation shifted.
You are looking at the health sector for reforms. What's your projection? Are the reforms coming up this year or next year?
That is going to be a major reform. You know we have carried out several sectorial reforms before. We reformed the pension sector such that you now have a contributory scheme through, which workers can look forward to a decent retirement arrangement post-service. We've done several sectorial reforms in the past. For me, the health sector reform is essentially important because like they say, a healthy nation is a wealthy nation. Now, you don't want a situation where people fall sick, your citizens fall sick and the question of who survives depends on how wealthy or how much that particular individual can afford the medical aid or treatment that they need. Most advanced countries have moved beyond that. The decision to fall sick is not made by you, so it should not be left to your own capacity or affordability to be able to determine whether you survive that sickness or not. So, that is what the health sector reform programme that is being anchored by the BPE and the Federal Ministry of Health is geared towards. We want to be able to provide universal health coverage and access to every citizen of this nation in such a way that they don't have to bother about paying for the care. It will be based on single payer system which means that the federal government, through a particular agency will be responsible for paying for the health care of every citizen who needs it. So, access to medical and health treatment and intervention will no longer be dependent on whether you are rich or whether you are poor. We are going to more or less aggregate the services and aggregate the payment system or the process for that particular service.
In what way does this differ from the National Health Insurance Scheme (NHIS)?
The National Health Insurance Scheme, first and foremost, depends on your subscribing to the health insurance. So, for those who are not formally engaged (those who are in the informal sector), and that constitutes over 80 per cent of the population, what's their assurance of getting health care when they fall sick? It is different in that this coverage is for the entire population. The health insurance system itself as it currently exists, we are looking at how to accommodate it within that larger framework to provide funding for the single payer who will then be responsible for paying for the health insurance because for every health insurance scheme if you are not paying for the premium then you are not entitled to treatment. How many people are paying premium?
Let's talk about the unbundling of NIPOST. When are we having the NIPOST Microfinance Bank coming on stream?
The NIPOST Microfinance Bank is perhaps one of the latest companies that will go into operations out of the unbundled entities. We envisage that may be before the end of the year, NIPOST Property Development Company, the first subsidiary company should be able to go into operations. Also, NIPOST Transport and Logistics Company should also be able to go into operations. For the microfinance bank, we have just gotten the approval of the Federal Ministry of Finance, Budget and National Planning to go ahead with the incorporation of the bank, and we have also just gotten what you can call a sort of an indicative approval from the Central Bank of Nigeria with regards to what it will require for the Bank to grant a licence- the National Microfinance Banking licence to NIPOST. So, we are putting all of those things in place to be able to comply with the requirements of the CBN and for the bank to go operational. So we believe that that will come on later in the year, perhaps ending, early or mid-next year.
Before your emergence as the DG of the BPE, there were allegations of political interference, which tended to mar the process. Since you're coming, what have you done differently to insulate the privatisation exercise against any form of interference?
I think that the outcome of any engagement that any one goes into depends on, first, the character of the leader, what his value system is and how he sets the rules of engagement in that particular venture. For us in the Bureau of Public Enterprises, I think in the past three and half years, we have been very clear in terms of what the value system of this organisation is, and that value system is acronymed in what we call the IPART (Integrity, Professionalism, Accountability, Result-orientation and Transparency). That is what has defined the Bureau of Public Enterprises for the past three and half years. So, once that culture becomes embedded in the very fabric of the institution, it begins to guide behaviours and how you approach your transactions and your activities.
That is one point. The second one, and perhaps more critical reason why we have been able to maintain that level of integrity and transparency is because we have a political leadership that also signals that for the Bureau and for our activities. So, I have never gotten a call from the president either to say I am interested in this or that or that any enterprise should be handled this way or that way. Not at all! And the Chairman of the NCP (National Council on Privatisation), who is also an embodiment of integrity and transparency himself–the Vice President, Prof. Yemi Osinbajo, has never given us any reason for us to even think that he is interested in any manner on the outcome of any of our transactions. Not at all! So, I think that the signal from the top always matters and conditions how things get done down the line. So, we have always been extremely fortunate that the political leadership that we have now has just decided that they are not going to interfere in our activities and they want to be able to signal the issue of transparency and integrity because we are dealing with very sensitive issues here. We are in charge of what you call family jewels, the national patrimony. The enterprises that are being privatised are regarded as national jewels and patrimny .
What safeguards have you put in place to ensure that government assets that are being sold do not go into wrong hands?
First, pre-sale or our bidding process is so rigorous that even in selecting those who bid for those assets you ensure that they are the people who have the capacity, the integrity, and the intention to run those assets as they were originally procured or installed to do. So, there is a very rigorous pre-acquisition process. We evaluate your expression of interest in those assets; request for your expression of interest, both technical and financial which are so comprehensive and so detailed and so rigorous that before you go through the selection process, you are coming out with the best. Now, post-acquisition, we also have covenants (agreements) that are signed to ensure that those assets are managed in line with our own expectations and the country's expectations for the utilisation or the management of those key infrastructure and utilities, and we monitor your compliance with those agreements in such a way that any deviation attracts the requisite sanctions, including the recovery of the assets from you. We are very particular about how you emerge as the preferred buyer or the acquirer of that asset, and then, how you manage those assets and infrastructure, post-acquisition. This is to ensure that you continue to deliver the services for which the government put those assets and infrastructure in place in the first place, and that you do not deviate in whatever manner, in line with the agreement or covenant that we go into.
Are there specific examples of such deviations and sanctions?
Yes, we have such examples. Let me use the example of the Lagos International Trade Fair Complex as a case. The concessionaire went serially against the covenant of the concession agreement, and in 2017 when I came, we reviewed the matter, took it to the National Council on Privatisation and Council decided to revoke the concession. We revoked the concession, and we are in the process of recovering the outstanding fee from the previous concessionaire, and we are about to re-concession the facility now. We did the same thing with Tarawa Balewa Square; we revoked that concession. In any case where we see a concessionaire or core investor going against the covenant of the agreement, we move in to invoke the necessary sanctions.
You were quoted to have said that some of the privatised entities would be quoted on the capital market. How far have you gone in realising this?
I think that is the ideal situation. As far as I am concerned, ultimately, we have to be encouraging wider public participation in the acquisition of government assets–what you call the national patrimony. That is one of the best ways in which every citizen will feel that privatisation has been fair to them, If you're able to buy, may be 1,000 units as your resources can afford you in a national asset that has been privatised, then you feel a sense of common ownership of the privatised entity. I think that public offers are the most democratic way to go about divestment in government assets. However, recently we have seen how the stock market and the capital market have performed. It has been extremely challenging for the capital market, and values have been compromised even for existing businesses in the stock market. Share prices have fallen significantly. So, it's a matter of timing.
Some of those privatised entities we will take to the capital market, but are being watchful of the appropriate time to take those assets to the market so that they can get good value and not the depressed value that the market currently has. We tried a test case with SAHCO (Skypower Aviation Handing Company) about 18 months ago. The response wasn't too encouraging, and for us it was a reflection of the kind of appetite that investors have for the capital market right now. Although, we have listed some entities that we should be taking to the capital market, but we want the market itself to recover before we bring those enterprises to the market.
Could you tell us some of those enterprises?
It may be premature to mention the companies, but we have at least four of those companies that are ready to come to the capital market. So, we don't want to pre-empt the market and we are in consultation with the stakeholders; revelant agencies, including the Securities and Exchange Commission, the Nigerian Stock Exchange, even the stockbrokers association, for them to understand that we will bring these enterprises to the market once the market shows signs that it could adequately provide value for the stocks.