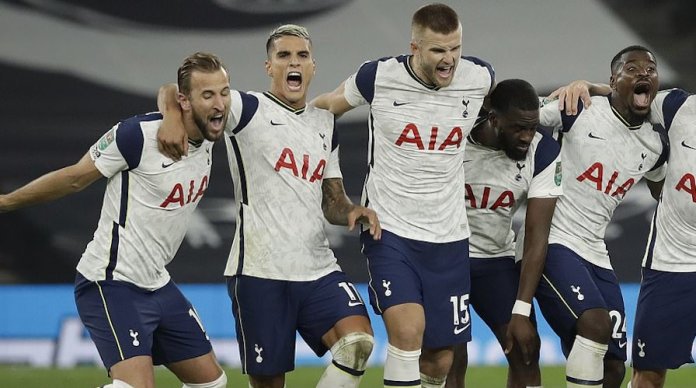 Tottenham reached the last eight of the Carabao Cup on Tuesday night after beating Chelsea 5-4 on penalties. Scores tied 1-1 at full time before going into the shootout.
At the end of an absurd tie, Mason Mount missed the 10th kick of the shootout and Spurs went through in a competition written off by Jose Mourinho.
The Tottenham manager had bemoaned a fixture schedule that left them unable to compete for the lesser pickings. But, having gone behind to Timo Werner's first-half strike, they levelled through Erik Lamela before triumphing in the shootout.
Penalties was an appropriate end for a berserk match of drama, tantrums and, in the case of Eric Dier, an unscheduled toilet break.
It started with Werner's first goal for Chelsea on 19 minutes, which for the better part of an hour appeared to be enough to put his side through.
Spurs had been dreadful for much of the first half but finally managed to apply pressure in the second. They had a flurry of chances, two of which were well saved by Chelsea's new goalkeeping hope Edouard Mendy, but appeared to be heading out in a blitz of anger.
Mourinho seemed ready to blow, but they were saved by Lamela's equaliser seven minutes from time.
Despite Tottenham's win, there will be further questions over the future of Dele Alli. In the ongoing saga of his place at Spurs, he was dropped for a fourth matchday squad out of four. If it is the end for Alli, then what a shame. And what a waste, too.
Of course, it could be just one more twist in the Mourinho shuffle — another cold shoulder to make Alli run hot. Or maybe it is just what it looks like — a loss of trust and the start of a goodbye. With Mourinho, in his world of thick smoke and circus mirrors, it really is so hard to tell.
But the brighter prognosis, that this is all a prelude to a grand revival, does feel a little like wishful thinking. Just as it felt timely when the stadium staff decided partway through the warm-ups to show footage of Alli's magnificent lob over Arsenal in this competition two years ago.
While that homage to the past played out on the big screens, the newer blood had their chances below. For Spurs, featuring nine changes to cater for their third game in five days, that meant a debut for Sergio Reguilon, at left wing back next to three centre halves in a tweaked system.
Only Dier and Hugo Lloris were retained from the Newcastle draw, but no towels were being thrown in. In the context of selection, they were weakened, but far from weak. So perish the thought that Mourinho may have attempted to mislead with a few of his pre-match comments, but the waiting presence of Harry Kane on the bench suggested his manager held more than a passing interest in going through.
Lampard made eight changes but also put out a strong side, with Mendy given his debut in goal and Ben Chilwell handed a first start.
The upshot of that tinkering? Chelsea dominated. And Spurs let them. Or perhaps that is the kind interpretation of a Mourinho strategy that seemed geared towards counter-attacks but which didn't deliver on the second part of the brief.