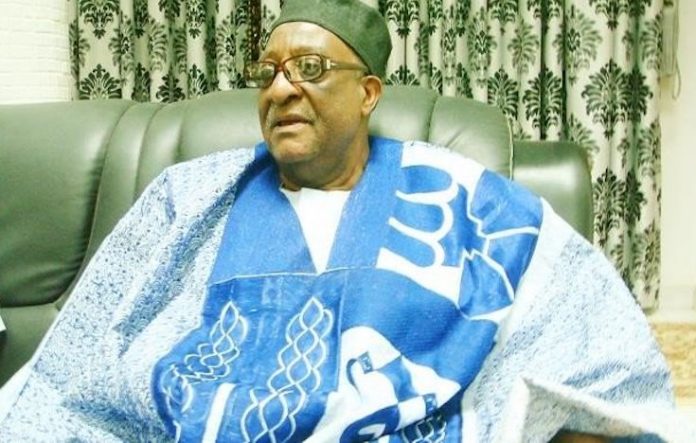 John Shiklam in Kaduna
The Chairman of the Board of Trustees (BoT) of the Peoples Democratic Party (PDP), Senator Walid Jibrin, has posited that the party is set to take over most of the states in Nigeria given free, fair and credible elections, like the recently concluded Edo State governorship election.
In a statement issued yesterday in Kaduna, Jibrin said with the recent defeat of the All Progressives Congress (APC) in Edo State, the PDP is set to take over 90 per cent of the states in the country in the next elections.
According to him, "After our victory in Edo State, PDP presently controls 16 states, while APC controls 19. This is therefore a good sign that PDP is on its way to controlling over 90 per cent of the states in Nigeria given free, fair and transparent election as conducted by the Independent National Election Commission (INEC) in Edo State."
He said the failure of the APC to address the problems facing Nigerians, especially the economic and security challenges, has made the party unpopular among the people.
Jibrin noted that "the current security problems in Nigeria is a matter of concern to all, as Nigerians now live in serious fear."
"Road and rail transportations are insecure, while landing at the airports and proceeding to one's destination is problematic as a result of insecurity."
He said the PDP was strategising to take over power in 2023, adding that aggrieved members of the party across the states were being reconciled to ensure unity and cohesion within the party.
Jibrin urged PDP members to remain united and steadfast and avoid unnecessary suspensions and dismissals of members at the slightest disagreement.
"The doors are always opened to everyone who wants join the party. The National Working Committee (NWC), the BoT and the PDP Governors' Forum are determined to continue with their roles to move the party forward," the party BoT chairman said in a statement.
Jibrin added that the BoT, as the conscience of the party, was determined to continue playing its roles, noting that "it is obvious that there is no party to govern Nigeria again but the PDP."
He urged Nigerians to emulate the people of Edo State who stood their ground to elect the candidate of their choice in the governorship election.