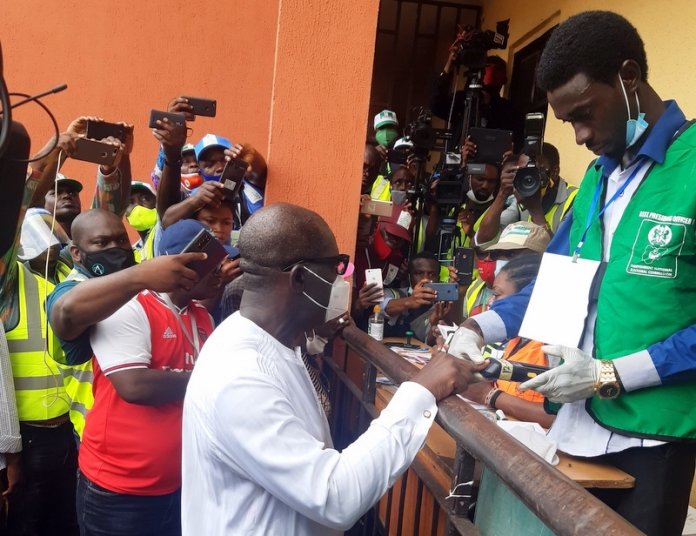 •With over 60% results in, his lead seems insurmmountable
•Edo gov, main challenger, Oshiomhole, Shaibu, Akerele deliver polling units
•Election peaceful despite skirmishes
Nseobong Okon-Ekong, Chuks Okocha, Adibe Emenyonu in Benin City and Adedayo Akinwale in Abuja
In a major upset, the candidate of the Peoples Democratic Party (PDP) and Governor of the state, Godwin Obaseki, may have done the seemingly impossible. The results of the election so far released by the Independent National Electoral Commission (INEC) reflects a pattern that might be indicative of the outcome of yesterday's fiercely contested governorship election.
As Obaseki very early yesterday opened what appears to be an insurmmountable lead over his rival and main challenger, the candidate of the All Progressives Congress (APC), Osagie Ize-Iyamu, with well over 60 per cent of the results published by INEC on its result portal.
The electoral commission, as at 4.46am this morning had released results of 1,858 polling units' out of the 2,627 in the state and the APC candidate was clearly trailing in many of the polling units state wide.
Polling units' results from seven local government areas of Igueben, Esan Central, Esan North-east, Esan South-east, Akoko Edo, Ikpoba Okha and Owan East, gave Obaseki an early advantage over his main rival, APC's Ize-Iyamu.
According to tally of results on INEC portal, in Igueben, the incumbent, who is seeking re-election, polled 7,870 votes, while his main rival garnered 5,199 votes. In Esan central, Obaseki secured 10,964 votes while Ize-Iyamu trailed with 6,719 votes, and in Esan North-east, the PDP candidate polled 13,579 votes, leaving his APC counterpart with 6,559 votes.
In Akoko Edo, APC made a good showing by leading the PDP in 38 polling units with 6,289 while the ruling party trailed with 5,441 votes. In Esan South-east, PDP has 10,565 and APC, 9,237. Also, in Ikpoba Okha, the PDP polled 41,030, while the APC had 18,218. In Owan East, APC polled 19,295, while the PDP had 14,762.
At press time, the total votes of the candidates in the seven local governments left the PDP with healthy margin over the APC .
However, contrary to some of the many doomsday predictions, yesterday's governorship election turned out a peaceful, free and fair exercise as Obaseki and Ize-Iyamu fought to the finish.
This is as INEC has begun to collate results in other local government areas of the state, with either of the two leading parties boasting strengths and advantages in their respective strongholds.
A majority of the political actors in the state, also delivered their areas, including Obaseki, Ize-Iyamu, Deputy Governor Philip Shaibu; former governor Adams Oshiomhole and former Chief of Staff to Obaseki, Taiwo Akerele, who had defected to the APC in the thick of the crisis that characterised the countdown to the election.
National Chairman of INEC, Professor Mahmud Waziri, who spoke on some of the challenges allegedly encountered at the start of voting said in some places, said, "I haven't heard reports of people being allowed to vote without facemasks.
"However, we will pay particular attention to situations, where some people give out facemasks with particular colours apparently to achieve a partisan end.
"We have gotten reports about Ward 9, Unit 15 in Egor LGA, where it was alleged that electoral materials were hijacked and taken to a hotel called 'Playhouse'. I have gotten in touch with the Pop CE to salvage the situation so that even though it is called 'Playhouse', that they do not play with our materials," he said.
He added that the Commission might have to take decisive action on results from the unit if it was established that the materials were tampered with.
In the same breath, INEC's National Commissioner in charge of the South-south states May Agbamuche-Mbu, who spoke from the collation centre in Benin said, all the faulty Smart card readers had been replaced.
Obaseki Protests Initial Card Reader Hiccups
Candidate of the Peoples Democratic Party (PDP), Governor Godwin Obaseki, who arrived his polling unit at 10: 53am with his wife, Betsy Obaseki to vote, expressed disappointment over the initial failure of the card readers in several wards across the state.
The governor, who won his Unit 19, Oredo Local Government Area, in the Saturday's gubernatorial election, however, scored 184 votes to Ize-lyamu's 62 votes.
Speaking to journalists shortly after casting his vote on Saturday, in Oredo Local Government Area of the state, he noted that after spending several hours on the queue due to card reader issues, the failure of the card readers shows the unpreparedness of INEC.
"I expected better preparation on the part of those saddled with the responsibility to conduct this election. To wait for one and a half hour on the queue before exercising my franchise is a bit disappointing.
"Given that this is a sole day's election, I expected better planning and preparation and resources should have been put into this election.
"At the last presidential election, in my polling unit, there were two polling points which eased the burden on voters. You all are witnesses to how long it has taken.
"The card reader here is working slowly, and this is the situation in all the major voting centres in Oredo Local Government Area of the state as I speak.
"At Garrick Memorial School, I understand that over 500 voters are already stranded, because they can't vote due to slow processing of the card reader.
"One would have expected that INEC would have deployed more card readers and more voting points in high density polling centres," he said.
Responding to the issue of vote buying at polling units, the governor said the security agencies are not doing what they assured the Edo people and Nigerians before the election.
"The security agencies assured us that they won't allow anybody, who doesn't have business of voting, into a particular place, but they are working contrary to what they promised us.
"You can see cars parked with a lot of cash being disbursed to people buying votes, and it seems to be normal practice, but we are not perturbed as people know what to do. Cash can't buy their future," Obaseki noted.
He accused security agencies of indifference towards alleged vote buying by foot soldiers of Pastor Ize Iyamu.
"You have to ask the security agencies, who told us that those who have no Permanent Voters Cards would not be allowed near voting centres but what is happening is different from the assurance they gave us. They told us adequate security measures have been taken. But a lot of cash distribution has been going on, a lot of cash for votes."
Ize-Iyamu: Exercise Is Peaceful, Commendable
Candidate of the All Progressives Congress (APC) in yesterday's governorship election in Edo State, Pastor Osagie Ize-Iyamu, after voting at Ugboko ward 4, unit 26, Orhionmwon Local Government Council of the state at about 9: 25 am, commended INEC for a peaceful conduct of the electoral process and also for adhering to the Covid-19 protocol.
"The process is good and going on smoothly. There is no thuggery and violence. The place is peaceful and calm. I am happy that INEC has a thermometer to check temperature and they also give out facemasks to our people. We encourage our people to come out in batches so they can strictly adhere to the Covid-19 protocols of social distancing," he said.
According to him, he was unable to get information about the conduct of the election across the state due to the poor network at his voting community.
He expressed optimism that he would emerge victorious in the election saying, "I am confident of victory across the 18 LGAs of the State."
Oshiomhole Happy Election Is Violence-free
Former National Chairman of APC and immediate past governor of Edo State, Comrade Adams Oshiomhole, yesterday, expressed optimism that his party would prevail in the 2020 governorship election in the state.
He told journalists at his Polling Unit in Iyamho Primary School that he was a consistent voter in Nigeria and he had performed his civic duty again at the Edo 2020 governorship election.
Oshiomhole was particularly happy that the anticipated violence predicted by many analysts did not happen at all.
Okunbo Satisfied With Process
Chairman and Chief Executive Officer, Ocean Marine Solutions Limited, Captain Idahosa Wells Okunbo, expressed satisfaction with the conduct of the Edo gubernatorial election and called for calmness as the process continued in order to be able to elect a governor that would bring about a better Edo State.
Okunbo, who spoke to newsmen shortly after casting his vote at George Idah primary School, Ihama, G.R.A Benin City at about 11.58am, said he was satisfied with the peaceful process so far.
"I am very happy, because everywhere is calm; everywhere is peaceful and this is what we have been praying for. No antagonisms, no oppression as far as I can see around here. I thank God for today. It's a day we have all waited for.
"I pray that God will do his own. That's what I am praying for – a better Edo State – Edo State that is devoid of oppression, Edo State that our children can be once more employed in the real way, positively and a positive change for our children," he said.
Election Highly Successful, Says Airhiavbere
Major General Charles Airhiavbere, one of the APC aspirants, who spoke at Oredo Ward 1, after casting his vote yesterday observed that the initial apprehension about the security situation in the state was not there, and that the election was conducted under a peaceful atmosphere.
"As you can see, voting is going on under a peaceful atmosphere with no violence, and casualty as expected before the election," adding that, since 2012 that he began voting in the ward, this was the first election that has witnessed large turnout of voter
"This is the highest success INEC has recorded as various units were broken down and people are voting on point," Arhiavbere said.
PDP Alleges Moves to Replace Results in Edo North
The Peoples Democratic Party (PDP), Saturday, alerted the Independent National Electoral Commission (INEC) and the Department of State Services (DSS) of plots by agents of the All Progressives Congress (APC) to replace election results of places the PDP was leading, particularly in Edo North.
In a statement by Kola Ologbondiyan, the National Publicity Secretary of the PDP, said, "While we charge our members to remain vigilant and follow their results "bumper to bumper" to all the collation centers, we however caution the security agencies against being used to replace results that have already been declared at the respective polling units.
"Already, we are aware that results are being manufactured in Kogi State to be used as replacements for already declared results, particularly in Edo North," the PDP reiterated.
"We draw the attention of INEC to such results being bandied by the APC, including the fake result claimed to have emanated from Etsako West, where a vote of 914 was allocated to the APC, as against the genuine declaration at the polling units," he said, noting that a cursory look at the results in circulation by the APC failed a litmus test of the identification numbers of INEC declaration of results.
"Whereas polling unit results are identified as Form EC8A, the results being paraded by the APC carry a fake identification number of Form EC60E.
"Our party expresses concerns that this sinister adventure of the APC is being encouraged by the slow pace of uploading already declared results in INEC's virtual portal," he said.
The party said it was standing with the people and called on the Inspector General of Police to protect innocent Nigerians from the electoral defeat response by the APC.
"We charge the INEC Chairman, Prof. Mahmood Yakubu, to ensure that his officials are not compromised to replace results, as the people of Edo State have spoken loud and clear with their votes in their respective units, and they are already aware of the authentic results," the PDP stated.
Ex-APC Chair Dissociates Self from Tweet on Wike
A former Acting National Chairman of the All Progressives Congress (APC), Hon. Victor Giadom, has dissociated himself from a tweet on a twitter handle purportedly owned by him condemning the alleged police siege on the hotel, where Rivers State Governor, Nyesom Wike and other PDP chieftains lodged.
Wike, who was in Edo State for the governorship election was allegedly prevented from moving out of his hotel.
However, Giadom was alleged to have tweeted from @_victorgiadom, saying, "stopping a sitting @GovWike that has immunity to move freely till at least 11:59pm yesterday should be seen as an infringement on the constitution and could be seen as a treasonable act. I am an @officialAPCNG chieftain and I won't be part of illegality."
But Gaidom, in yet another tweet from his verified handle, @victorTGiadom, urged politicians and their supporters to apply dignity in playing politics as maligning an individual could not be said to be part of good politics.
"My attention has been drawn to a tweet purportedly to have emanated from me. Please note that this account is impersonating my person and all tweets from this account @_victorgiadom should be disregarded. This account and tweet is intended to cause mischief and should be disregarded by the public."
Pockets of Violence, But Generally Peaceful
Staff of the Independent National Electoral Commission (INEC) and their ad hoc counterparts, had taken positions at their different stations as early as 7.45am, in readiness for the exercise, off-loading election materials to commence accreditation and voting by 8:30 am.
Although in and around many of the voting areas, policemen were on ground to enforce law and order, there were however pockets of violence in some areas especially, at Egor Local Government Area, where the wife of APC local government chairman was said to have been beaten and subsequently hospitalised, while resisting some thugs, who wanted to snatch election materials.
Also, voting at the different wards visited by THISDAY at Oredo, Egor and Ikpoba-Okha local government areas were characterised by massive vote buying by all the contending political parties.
There was a shooting incident recorded in Orhionmwon Local Government Area in Edo south senatorial district.
INEC also confirmed the shooting incident, saying it was working with the police and other security agencies to ensure the peaceful conduct of the election.
The Commission noted that it was in receipt of images showing the alleged hijack of electoral materials in Ward 9, Unit 15 of Egor local government area, saying while it was working to salvage the situation, it might be forced to take decisive action against results generated from the affected unit.
The electoral body, which condemned reports of vote buying and selling, also frowned at the violation of Covid-19 safety protocols especially, with regards to the social distancing rule.
The commission added that in places where some Smart Card Readers malfunctioned, it had had to activate its backup system and had replaced all faulty card readers.
It added that the few ad hoc staff, who could not get their stipends the previous day had now been settled and were at their work stations, conducting the elections.
At Emokpae Model School, where the governor voted, there was a mild security breach but the local vigilante group averted crisis before the arrival of the Inspector General of Police Intelligent Response Team arrived the scene.
One street urchin wanted to take pictures with the governor, but the locals in the area prevented him. It was later learnt that his intention was to cause crisis and cause INEC to cancel the votes at the polling station.
Generally, voters arrived on time, queued and waited to cast their ballot at the Emokpae model primary schools, Mission road, Oredo, Benin city
At the Edo Development Property Agency, which has five voting units with 632 registered voters, the environment was peaceful with the presence of security personnel
Also at the Arinze Primary School in Ikpokpan unit 13 and 14, voting commenced on time and was peaceful. It has 619 registered voters.
All places visited witnessed massive turnout with heavy security, although many people had no facemasks and failed to maintain physical distancing. The weather was however good.
In Esan West Local Government Area of the state, voting was calm and peaceful and most of the voters arrived the various polling units before officials of INEC.
There was reported sporadic gunshots at Uneme-Nekhua, ward 1, unit 9 in Akoko-Edo Local Government Area of Edo State, where the Deputy Majority Leader, House of Representatives, representing the constituency, Peter Akpatason, voted.
Akpatason blamed the ugly situation on the security personnel for not showing up on time, when they were needed most. He said the delay by security agents almost led them to resorting to self-help but he was able to calm his people down.
Akpatason, who is a member of the APC, said one of the known thugs hauled pebbles at voters with the intention to discourage them but that the pebbles eventually shattered the windscreen of his car.
"Well, I think the first thing we need to look out, is the level of political consciousness in the place, the turnout. Two, you can see that people are still voting. We are a community that is highly politically conscious."
"It is not unusual that sometimes, people disagree but it becomes worrisome, when it is obviously politically motivated with the view of discrediting, creating a ground for the cancellation of this genuine and legitimate results.
SGF Passes Edo Election as Satisfactory
The Secretary to the Government of the Federation, Boss Mustapha has expressed satisfaction with the conduct of the governorship election in Edo State.
Mustapha, in a statement last night, said against the grain of popular predictions, the election was quite peaceful except for a few and isolated skirmishes.
"Nigeria has disappointed those who predicted massive disruption. The elections went well but for few hiccups," said Mustapha as he monitored early returns from the field.
He said the Independent National Electoral Commission did fairly well and could improve on its performance.