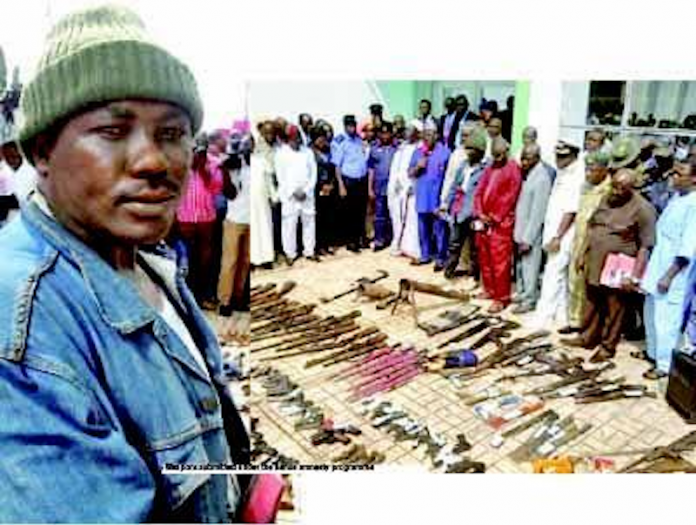 By George Okoh
For several years, Terwase Akwasa popularly referred to as Gana, was a wanted man around the North-east area of Benue State, where he orchestrated a reign of terror on his own people. He was known as the king of the underworld.
He was said to have controlled a large portion of land stretching to Katsina Ala, Ukum, Logo and parts of Taraba State and was said to have been responsible for most of the crimes committed in the area including kidnapping, robberies, assassinations, cattle rustling and communal clashes. He was feared and dreaded by the inhabitants of the area and was courted by government, politicians, security operatives and locals. He was venerated for having a fetish power that elevated him to a cult figure that must be obeyed or death will befall who ever dared him.
According to a local source, Gana was a normal young man from Gbise in Katsina Ala Local Government Area of the state who grew up in Makurdi, the state capital. He was said to have attended primary school like his peers from 1985 to 1990 before leaving for his hometown in Gbise.
While in Gbise, he reportedly joined a militia group that defended his community against series of Fulani herdsmen and Jukun militia attacks. His heroic feats during these series of attack brought him to limelight as he was admired by locals, traditional chiefs and even the government.
According to a source, Mr Terhemen Timothy, Gana's heroic feat of defending the Tiv people against the Fulani's and Jukun aggression came with an accolade of a saint, saviour and messiah of a sort.
The source believed that after his victories in many battles, local priests from the area decided to fortify him with some fetish power that enabled him to disappear and turned into a different human being whenever attempts were made on his life. "He was also fortified with charms that protected him against weapons and bullets," Timothy stated.
There were speculations that Gana was involved in human sacrifices which some claimed included burying his own daughter alive in the presence of his wailing wife.
In all these, he was celebrated more for his achievements against the Fulani herdsmen who terrorized the people for long. They also confiscated and destroyed their farmlands.
Outside, this he was also known for his philanthropy. A sort of Robin Hood who stole from the rich to give to the poor. He built schools and gave out scholarships to less-privileged pupils.
Many of the beneficiaries of his sponsorship programme are said to have graduated from the universities and are currently lawyers, doctors, engineers and teachers. He also empowered people of his community with cars, motorbikes, grinding machines and money for businesses.
However, Gana's actions and motives reportedly changed as from 2011. Having conquered external aggression, He was said to have become a tyrant to his own people and crime rate suddenly increased in his domain. He was said to have held everyone to ransome. Royalty and tax were paid to him for protection and peace. His gangs became a terror group committing very terrible and heinous crimes against his own people.
One of such crimes was the invasion of Zaki Biam yam market where over 50 people were killed following a supremacy fight between Gana and his deputy. The market, which was the biggest yam market in the country fell under the control of Gana as local and state government owners of the market became helpless. The three council areas, which were the economic hubs for agricultural produce became deserted as Gana and his gang terrorized who dared them.
Several people, including top politicians, were killed and many were reported missing within the area.
The situation got worse when he attempted to sponsor his wife into politics. She contested for a seat in the the state house of Assembly but failed.
Gana was said to have be miffed by his wife's rejection and he reportedly unleashed more terror on the people.
According to an observer of his reign of terror, Terna Iornem, Gana was so upset that he stopped some politicians for daring to participate in the 2019 election.
It was at the height of this that Governor Samuel Ortom in 2016 tried to negotiate with Gana by granting amnesty to him and his gang in exchange for peace. A truce was agreed and he surrendered his weapons under the governor's amnesty programme. However, shortly after the amnesty, he was accused of masterminding the killing of Ortom's Special Assistant on Security, Denen Igbana. He was yet again declared wanted by the governor but he ran into hiding and returned to his past ways. A N10 million bounty was placed on him but no one could find him.
To assist the state in tracking Gana, the Federal Government sent a special military operation known as Operation Whirl Stroke (OPWS) to track him down.
His hideout in Gbise was bombed and destroyed, but he was said to have narrowly escaped.
The hunt for him continued for four years but due to his mastery of the area, he couldn't be caught until Tuesday when he showed up in Katsina Ala.
His coming and the manner he was received by residents was heroic at the Akume Atongo stadium. He surrendeted his arms and charms and declared his intention to embrace a second amnesty offered by the state government.
It was while he was being escorted to meet the state Governor that he was intercepted by the military forces and killed. Ironically, condemnation has continued to trail his death.
Both Governor Samuel Ortom, Senator Gabriel Suswam, religious bodies and socio-cultural organizations have all condemned the killing.
Ortom expressed shock over the interception of a government convoy, and the subsequent arrest and killing of Gana by military authorities. Also, the former state Governor, Senator Gabriel Suswam, condemned the alleged extra-judicial killing of Gana.
A community leader, who pleaded for anonimity, said Gana was in a government convoy when he was dragged out of a car by soldiers at a checkpoint in Gbitse in the Gboko Local Government Area of the state. But the Commander of Operation Ayem A. Kpatuma, Major General Ali Gadzama, said on Tuesday that Gana was killed in a gun battle with soldiers.
One of Gana's wives, Wantor said her husband was in a convoy of government officials, traditional rulers and clergymen, heading to Makurdi, the state capital, to finalise the amnesty deal he had with the state government before he was killed.
The 34-year-old, who spoke in Abuja, said Akwaza only accepted the state government's offer of amnesty and came out of his hiding after a former governor of the state, Gabriel Suswam, visited and assured him that he was involved in the deal.
She said her late husband whom she last spoke with on Saturday, accepted the government's amnesty offer because he was tired of living in hiding and wanted to start living as a freeman. Wantor said, "He said he had worked for the world for too long; so he wanted to work for God. He said he wanted to be a free man."
She wanted government to "bring the people" who killed her husband to justice. She also wanted a compensation of N5bn to be paid to the family.
Pix: Akwasa.jpg