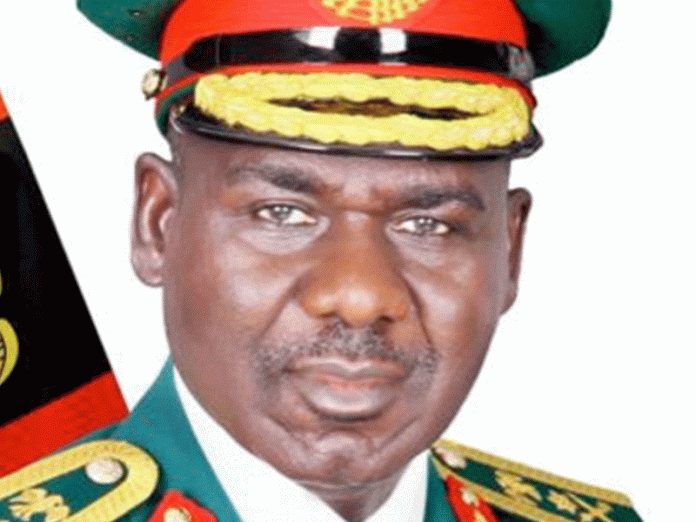 By Francis Sardauna
The Chief of Army Staff (CAS), Lt. General Tukur Baratai, on Saturday said the Nigerian Army will continue to be ruthless, decisive and aggressive against the marauding bandits terrorizing the North-west region of the country.
Buratai, who stated this while briefing journalists at the Special Army Super Camp IV, Faskari, Katsina State, said the army would continue to adopt evolving security strategies to end bloodletting facing the region.
The CAS was at the Special Army Super Camp to access the progress of Operation SAHEL SANITY in the North-west region.
He said the troops of Operation SAHEL SANITY have showed courage and determination to tackle prevailing cases of banditry, kidnapping, cattle rustling and smuggling of firearms bedevilling the region.
Buratai explained that the Nigerian Army is determined to work hard with civil administrations to have a country devoid of acrimony or rancour.
He said: "So far with the brief I received this afternoon (Saturday), I am highly impressed with the level of commitment, dedication and loyalty of the troops.
"Be less assured that we will be ruthless to all those criminals who are bent on disturbing the peace and security of our country. We call on the people of the states to support the troops collectively to achieve the desired objectives of having a secured Nigeria.
"We will not tolerate this attitude or conduct of molesting, kidnapping, killing and raping of innocent girls and women. We are determined to work hard with civil administrations to have a secured and peaceful Nigeria."
Earlier, Major Adamu Ngulde, while briefing Buratai on the achievements recorded by troops of Operation SAHEL SANITY, said they had killed 103 bandits and rescued 137 kidnapped victims in the last two months of the operation.
He said the troops arrested 149 bandits, recovered 3,948 rustled cows, 1,627 rustled sheep and 39 bandits' logistics suppliers within the period under review.