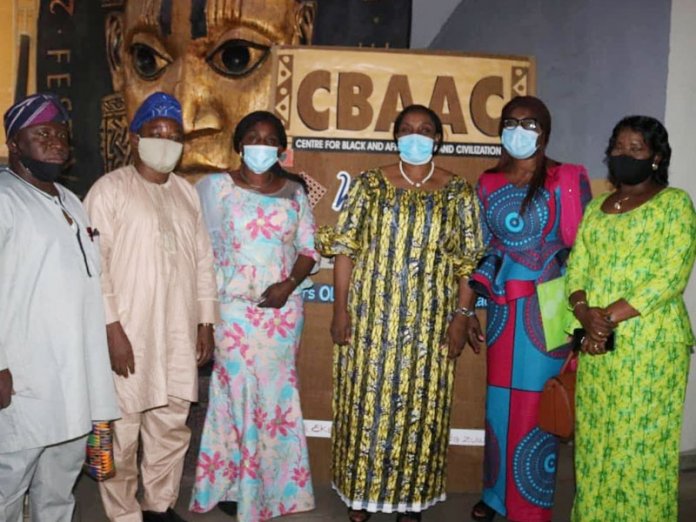 Chiemelie Ezeobi
On Tuesday, September 1, 2020, Ms. Oluwabunmi Ayobami Amao assumed office as the new Director-General of the Centre for Black and African Arts and Civilisation (CBAAC).
The appointment took effect in accordance with a statement released in Abuja on Wednesday, August 26, 2020 by the Special Assistant to the President (Media), Office of the Minister of Information and Culture, Segun Adeyemi.
With the appointment, Amao became the sixth substantive DG of the centre. She took from Mrs Osaro Osayande who served in the capacity of the director overseeing the office of the Director-General between December 2019 and August, 2020.
While in office, Osayande successfully organised and hosted series of programmes on Black and African History and Civilisation.
These programmes include the 2020 edition of the Black History Month with the theme: Black History: The Triumphs and Struggles (February 11-13, 2020); a collaboration with Voice of Nigeria (VON) and Nigerian Film Corporation (NFC) to celebrate the 2020 UNESCO International Mother Language Day (February 21, 2020); a Webinar Public Lecture on Sexual Violence in Nigeria with the theme: 'Breaking the Jinx: Reflections on the Culture of Silence and the Rising Wave of Sexual Violence in Nigeria'; the 2020 International Conference on Africa's Creative Energy which held in collaboration with the Faculty of Arts, University of Benin, Benin City with the theme: Sharing Black and African Creative Energy; Consolidating Africa's Heritage and Identity in the 21st Century (August 17-20, 2020); Publication of the Abstract of papers arising from the International Conference and a partnership with the Edo Global Royal Arts and Culture in Canada.
In her remarks, Amao appreciated Osayande for the laudable achievements she recorded in just eight months of her directorship.
While appealing for maximum cooperation among members of staff and the management team, she sought for their full support, team work and utmost synergy in order to accomplish more feats for the centre in the next four years of her tenure.
Before her appointment, Amao was a Special adviser on Culture and Tourism as well as Special Adviser on Establishment and Training under the administration of the erstwhile Executive Governor of Oyo State in 2011 to 2015.
Born in Kano, Mrs Olubunmi Amao is an indigene of Ibadan in Oyo State, Nigeria. Her educational background spanned through England and America, where she obtained B.Sc (Business Admin and Accounting), MBA ( Business Admin and Finance) in 1981 and 1982 respectively.
Upon completion of the mandatory NYSC, she worked as the first Accountant with Joas Group of Companies, where she eventually rose to the post of Group Managing Director of the companies.
Amao has vast experience in different capacities in various fields. She is a Fellow of the Institute of Tourism Professional (FITP) and was also a co-founder of the House of Furniture and Designs Ltd in Nigeria.