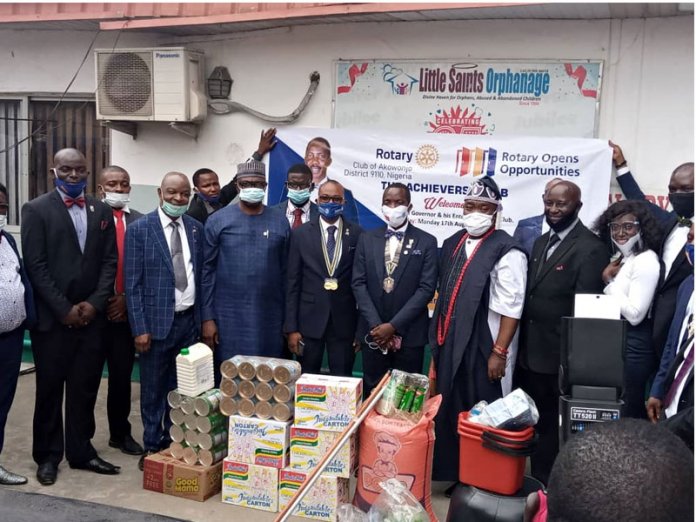 Fadekemi Ajakaiye
The membership of all the Rotary Clubs in Lagos and Ogun states is being developed, and targets $1 million contribution to the Rotary Foundation, a larger organisation within Rotary International that supports their charitable activities and educational programmes, among others.
The Opportunities District Governor of Rotary 2020 to 2021, Mr. Bola Oyebade stated this when he led his entourage on a visit the Rotary Club of Akowonjo, recently.
Rtn. Oyebade said, "We are developing clubs to make more contributions to the Foundation. Our target is to contribute a minimum of US$1 million and we have been receiving support from everybody. In respect of membership, our target is to hit about 4,800 from about 3,200 we started. We're developing all the clubs financially, in terms of membership so that they can do bigger projects that are significant and specific."
The team visited the local government chairman and performed tree planting, which according to Oyebade, was very important considering the fact that tree releases oxygen to the environment for people to breathe, and that it also had aesthetic value.
"We need to support afforestation so that our environment does not become a desert and this is what this Rotary Club has done right now.
Rotarian Olamide Abegunde, Opportunities President 2020 to 2021 stated this when the District Governor and his entourage visited the Rotary Club of Akowonjo District 9110, recently.
He said Rotary has seven areas of focus, explaining that it used to be six areas but that last year, one more was added, which is 'Save Planet Earth'. "Whatever you're doing as the president or even as a member of the club, you have to ensure you touch all the areas of focus. All our plans take care of all the areas of focus."
Abegunde, who listed some of the areas of focus as education, sanitation, water provision, saving the earth, added that in the next five years he sees the Rotary Club of Akowonjo becoming a mega club.
Akowonjo club, he said had 62 members but that a new member would join during the governor's visit, stating that their target of this year was to grow the membership to about 50 per cent. "So, I'm hoping that by the end of this Rotary year, the membership of Akowonjo would have risen to 93."
He said in the process, there are plans to attract young members in to the club, using what he described as Club-in-Club. "Basically, those of us that are young are trying to reach out to our friends to tell them the advantages of membership.
He said annually, the District Governor visits each club to see what they are doing in terms of activities and projects and in what area(s) the District could be of assistance.
He said it was an opportunity for them as they were able to do their adult literacy programme and visit to an orphanage, this time it was Little Saints Orphanage. "We always do this about two or three times in a year, but we always do one visit whenever the District Governor visits."