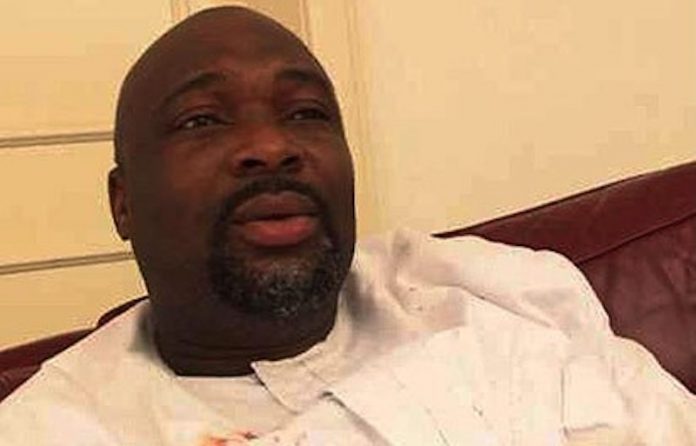 *  Politics of bitterness hampers progress, says Wike
Ernest Chinwo in Port Harcourt
Former Leader of the Rivers State House of Assembly and Chieftain of the All Progressives Congress (APC), Dr. Chidi Lloyd, has apologised for his role in the crisis that engulfed the state Assembly in 2013, which led to the injury on the head another Assembly member, Michael Chindah.
Lloyd has also dumped the APC and pledged allegiance to the Peoples Democratic Party (PDP) and the state Governor, Nyesom Wike.
The former APC man made the apology yesterday when he, in company of his traditional ruler and political leaders from his native Akpabu and Itu communities of Emohua, paid a courtesy visit on Wike at the Government House in Port Harcourt.
On July 9, 2013, crisis erupted in the state House of Assembly as some members loyal to Wike and the PDP wanted to impeach the then Speaker, Rt. Hon. Otelemaba Amachree, who was loyal to then Governor Chibuike Amaechi.
The attempt led to a free-for-all that resulted in serious bodily harm on some members, especially Michael Chindah, in effort to take control of the mace.
Addressing Wike yesterday as he declared for the PDP, Lloyd expressed regret of his role in the crisis, and apologised to the people of the state and Chinda.
He said he has learnt how to be benevolent in politics among other things from Wike, declaring that henceforth, he and members of his community would work for the PDP.
In his address, Wike said politicians who bear bitterness in their minds against others hardly make progress, adding that his success in politics and governance is because he carries no grudge against anybody.
He said during his second term inauguration, he asked for forgiveness from those he offended and also promised to forgive those who hurt him.
Wike said, today, Dr. Chidi Lloyd has publicly expressed regret of his role in the 2013 crisis at the state House of Assembly and apologised.
"Forgiveness is key for every Christian. God has forgiven me, why can't I forgive others? We have also met with Hon. Michael Chinda and others, and got their approval for reconciliation.
"I love to attract people to our party because I am not a greedy politician. I believe that the more the merrier. I will do what is in the best interest of the people and the party.
"Politics of progress does not undermine the importance of friendship. I believe that we must forget yesterday, and put ourselves together for a better tomorrow," he said.
Meanwhile, the state Chairman of PDP, Desmond Akawor, who received Lloyd into the party, noted that he is an asset.
He thanked Wike for being an excellent statesman who has made it easy for the party to retain its foothold in Akpabu and Itu communities.