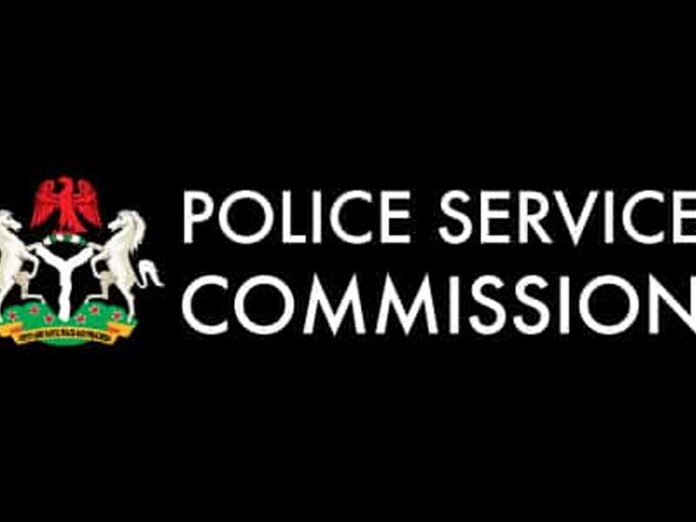 *We produce guns for self defence, suspect claims
By Chiemelie Ezeobi
The Lagos State Police Command has smashed a local gunrunning syndicate that are also notorious for manufacturing pistols, AK47, Sub Machine Gun (SMG), revolvers and pump actions.
The suspects, 19-year-old Shapraku Umade and Moses Anzuur, as well as 20-year-old James Tsebee, were arrested at Jakande Estate, Lekki, after they were allegedly found with locally made pistols.
They were alleged to have brought the pistols to Lagos for sale to suspected armed robbers and cultists at N30,000 each.
In his confession, Umade, who is a blacksmith, said
he learnt gun fabrication skills in his community where they were forced to defend themselves against killer herdsmen.
Umade, a native of Adipo in Benue State, said he learnt how to manufacture pistol, AK47, Sub Machine Gun (SMG), revolver and pump action guns from a book he bought, adding that he started the trade under his late father when he was 15-year-old.
On his relocation to Lagos to ply the trade of gunrunning, Umade who was paraded Tuesday, said he came in search of one Miyaki who bought both pistols from him in Adipo but did not pay for them.
He said: "I did not bring the guns to Lagos. I came to Lagos two weeks ago with my brother, Moses (Anzuur) to look for Miyaki. Miyaki sometime ago, came to our community and collected the two guns for N30,000 each but he did not pay.
"So, I needed money because my wife is heavily pregnant and we called Miyaki on phone that I was coming for my money. It was Moses that borrowed me N20,000 in the hopes that once I collect the money from Miyaki, I will pay him back.
"But, Miyaki did not bring the money and I did not know that he gave the guns to James who dropped the bag it was inside the hotel and police came and arrested us.
"It was desperation that made me sell the guns to Miyaki. He did not tell me it was for robbery. He said he was buying it to do politician work because election was near.
"I am not happy because I have disappointed my community. Our chiefs warned us to never give the guns away to criminals. We produce guns in our community to protect ourselves from herdsmen attacks.
"My father used to produce hunters' gun and he had licence. I bought a book on gun production, read through it and learnt how to do pistol, AK47, SMG, revolver, pump action and others.
"I usually buy metals from scrap collectors and then, cut them to suit the gun I want to produce. Also, community people usually bring rifles for us to produce. The AK47 rifle I produce, I construct it like SMG but it uses the same magazine.
"In our village, we usually come together to produce guns that we use to fight those herdsmen. I dropped out at JSS3. I am very sorry for my action. I will like to learn more in this trade and be producing for government."
Parading the suspects, the state Commissioner of Police, Hakeem Odumosu said the suspects had been involved in alleged gunrunning for over two years.
"Investigation is ongoing, the suspects will be charged to court as soon as the investigation is completed," he added.
In a related development, operatives of the Anti-kidnapping unit on surveillance patrol on August 15, arrested one Moshood Tiamiyu, 27, with a pistol at Mile 12 while one Nurudeen Eshinrogunjo, 21, was also arrested with a pistol at Jakande.
Giving details of other arrests made in the state, Odumosu said: "Three armed robbery suspects were also arrested in Ojo on August 16 and two US made Berretta pistols with 41 rounds of live ammunition recovered from them.
"Operatives from Raiders, State CID Yaba, foiled a robbery attempt at Ojo area and arrested the suspects namely, Dare Hassan, 35, Ajanaku Azeez, 35, and Clarkson Oritshejubemi, 36."