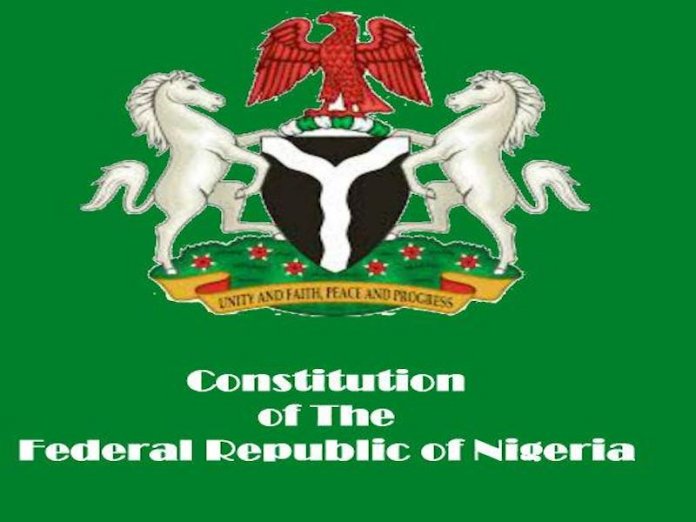 Unconstitutionality of Police Incursion into Peaceful Protests
Recently, members of the #RevolutionNow Movement organised a peaceful protest, to mark the first year anniversary of the Movement. I believe that the plan was to simultaneously stage the protest in major Nigerian cities like Lagos and Abuja, but the Police somehow disrupted the protest, tear gassing some Protesters in Ikeja, while arresting others, both in Lagos and Abuja.
Section 39 of the 1999 Constitution of the Federal Republic of Nigeria (as amended) (the Constitution), guarantees the right of every person to freedom of expression and holding opinions, while Section 40 entitles every person to assemble freely and associate with other persons for the protection of their interests. Chapters 8 Article 10 and 9 Article 11 of the African Charter on Human and Peoples' Rights which Nigeria has domesticated as the African Charter on Human and Peoples' Rights (Ratification and Enforcement) Act, also provide for the freedom of right to association and assembly, respectively.
Sections 1(2-6), 2-4 of the Public Order Act, Laws of the Federation 2004 which sought to "maintain public order" by regulating and stopping meetings/assemblies – achieving this by providing that a licence to conduct an assembly must be sought and obtained from the Governor of the State in which the event is to hold, by means of Police Permit – was shot down by the Court of Appeal and declared to be unconstitutional contrary to Section 40 of the Constitution, in a matter filed by Learned Senior Advocate, Femi Falana, Inspector-General of Police v All Nigeria Peoples Party & 11 Ors 2007 18 N.W.L.R. Part 1066 457 CA (per Adekeye JCA), after a violent disruption of a rally held in Kano in 2003, because the Police maintained that no permit was obtained by the Conveners, enabling them to hold the event. Adekeye JCA also held that, the aforementioned African Charter was now part of the domestic laws of Nigeria, which the court must uphold.
The role of the Police in any protest is not to prevent people from protesting, but only to provide security to all, Protesters inclusive. So, why the constant Police harassment at any hint of a protest brewing, when such censorship has been declared to be unconstitutional? This type of intolerant behaviour, goes hand in hand with the Federal Government's fine of N5 million to be imposed on those who are said to disseminate hate speech. I will not bother to go into this hate speech issue which we have debated thoroughly in the past; about the fact that there are enough laws on defamation of character, libel, slander etc; about the subjective nature of hate speech and the difficulty in defining same; about the fact that the NBC or Government has no right to slap fines on people without going through a credible court process, unless of course, we are in a Police State; about the fact that the N5 million fine is simply a way by which Government is seeking to gag Nigerians and drown dissenting voices; about the fact that such a directive is unconstitutional, as it runs foul of Section 39 of the Constitution. It is quite sad and sickening when you watch many talk shows these days, and the interiewee makes a comment which is perceived to be anti-Government or anti-a Government Official, with alacrity – the interviewer more or less scolds the interviewee and is quick to dissociate their television station from such utterances, for fear of being sanctioned by the Federal Government.
The sum and substance of all this – with Government's clamp down on free speech and peaceful protests is that, as I have maintained for quite a while – we are no longer in a democracy, but some form of dictatorship.
RevolutionNow Protest
The video of the Lagos protest which I viewed, had Protesters carrying different placards making references to issues which they are dissatisfied with, and asking Government to do the needful. They demanded for things which really should be basic in any functional society – safety and security for all (Section 14(2)(b) of the Constitution); qualitative healthcare to be achieved by an increase in funding (Section 17(3)(d) of the Constitution); cessation of the destruction of Mechanic Villages (which obviously is the source of many of their livelihoods), and investment in work clusters for Mechanics instead (Section 16(1)(b), (d) & I6(2)(c) of the Constitution); investment in social welfare programmes for the people (Sections 16 (2) (d), 17 (2)(c) & 18 of the Constitution). The Protesters demanded for the jettisoning of the 1999 Constitution which was forced on us by the military, and a referendum for the people to decide on a replacement Constitution.
Most importantly, the Protesters chanted that the people are hungry. In short, what the Protesters were agitating for, is akin to the scrupulous implementation of Chapter 2 of the Constitution, that is, the Fundamental objectives and Directive Principles of State Policy.
What else could they lawfully do to ventilate their grievances, but embark on a peaceful protest and hope to be heard? Or are people no longer allowed to express their dissatisfaction? Is there any falsehood in what they Protesters said? It is condemnable that Section 6(6)(c) of the Constitution has ousted the jurisdiction of any court in respect of the implementation of the said Chapter 2, and those in office cannot truly be held accountable for their lapses; should we then also allow Government to further deprive us of our constitutionally guaranteed rights? No. What other lawful options, are open to those who want to keep the institutions and have them improved upon, but get rid of the crop of people who are presently running them (and ensure that they never return to office)? The answer is, peaceful protests until Government responds appropriately.
The electorate must not tarry until the next general election in 2023; they should commence a strong credible anti-incumbent campaign revealing the corruption and non-performance of those in power, not a campaign of calumny, but one that is based on true and verifiable facts; exposing as many as can be exposed from now, starting from the upcoming Edo and Ondo elections, to hopefully, ensure that only the right type of people are elected, going forward. These are some of the lawful ways, in which we can secure a change in leadership.
Nigerian Politicians: Motivated Purely by Self-Interest
Nigerian politicians have treated we the electorate, as if we are foolish; and it is time that we show that, on the contrary, we are sensible. Take for example, Edo State; Section 182 of the Constitution sets out the reasons why a candidate running for the office of Governor, may be disqualified from participating in the election. It is obvious from the provisions that, such a person should possess a good measure of competence, integrity and moral standing. Though he does not fit into the disqualification category per se, one of the candidates in the Edo gubernatorial race today, was denounced by the main Edo Campaigner in a video which went viral during the 2016 gubernatorial election campaign (when they were members of opposing political parties), as a violent individual who permanently maimed someone by pouring acid on him. Today, now that they are in the same party, the same Campaigner who disparaged the candidate is actively campaigning for him, and holding him out to be the best thing after sliced bread! Why? Because the Campaigner is involved in a melee/battle royal with his former protege, the real reasons for which, if they were to be investigated, would not be altruistic but about control and selfish interests.
What does that Campaigner take the electorate for? The answer to that question in my opinion is, not much – he certainly believes that the electorate is a switch which can simply be turned on and off at his will, to be easily manipulated to suit the Campaigner and whoever's whims and caprices! It is more than an insult on the intelligence and sensibilities of Nigerians, for any Campaigner to think he or she can treat us in such a shoddy manner. Politicians quarrel amongst themselves because their egos are bruised, or for other reasons which have nothing to do with the welfare of the people, and they expect the people whom they obviously see as robots or zombies to blindly follow their new choices, good or bad. In a civilised society, the hint of such a horrible allegation against anyone would prevent them from ever thinking about holding any political office, let alone running in an election, while the Campaigner would never be bold enough to consider fielding a candidate who has had such a violent allegation levelled against him, unless the allegation is completely unfounded.
Likewise, during the same 2016 election, the other candidate's educational qualifications/credentials were questioned by the opposition. However, now that he has defected to that same opposition, his credentials have become automatically unimpeachable!
It is time that the electorate scrutinises candidates thoroughly, for suitability. It is crystal clear that most of the decisions as to fielding candidates has little to do with competence and integrity, and is only about the interests of the politicians and their cronies, not that of the electorate. As the saying goes," if you pay peanuts, you get monkeys"! Translated to the context of this discourse, if we keep allowing unsuitable candidates to run for election while accepting inducements to vote for them, we cannot expect to get any dividends of democracy like the type that the #RevolutionNow Protesters are seeking.
Nigerian Politicians: Drug Trafficking and Criminality
We have several Politicians who have been accused of drug trafficking, or have equally nasty skeletons in the cupboard of their backgrounds. In the past, some of them have even gone to prison abroad. And, even if they may not fit into the Section 182 disqualification criteria because the 10 year intervening period after their convictions may have lapsed, or they have been sleek enough to evade the law, there's almost no chance that such a person can make a positive impact or deliver any democratic dividends to anybody, but him or herself. A drug dealer is one of the lowest of low types of criminal – if there's a hierarchy in criminality, possibly only a notch up from child molesters. They are usually ruthless and will do anything to make money for themselves, including killing and ruining the lives of those who are unfortunate enough to become addicted to their poisonous drugs – because the greater the addiction, the higher their revenue.
Nigerian Government: Cost of Governance
I was quite amused last week, when I saw a videoclip of the Speaker of the House of Representatives saying that the cost of governance in this country is too high. Did the National Assembly realise this fact before or after the House of Representatives took delivery of the 400 or so vehicles, at a whopping cost of over N5 billion?! I believe that a similar amount would also have been expended, to purchase vehicles for the Senators.
Though Section 16(1)(a) & (2)(c) of the Constitution directs that the resources of the nation be harnessed and national prosperity promoted; and that the economic system must not be operated in a manner that concentrates wealth or the means of production and exchange in the hands of a few individuals or of a group – that is exactly what obtains today. While apart from oil, not much else is being harnessed, the wealth of our nation is concentrated in the hands of politicians (and government officials) who couldn't really care less about the people, but are more consumed with enriching themselves; and that is why staying in government till the Apocalypse, is a do or die affair for them.
A Governor who all he did during his eight years in office was to loot his State blind, delivering little in terms of progress to his people and State, then executes his succession plan by going to the Senate or becoming a Minister of the Federal Republic, using those vast looted funds as his platform! This cycle needs to end. Of course, there would be nothing wrong in seeking further political office after Governorship, if the Governorship scorecard was impressive. Alas! this is the case, in only very few instances.
Conclusion
Nigeria is definitely suffering from a chronic case of over-governance and extremely low productivity, or productivity that is certainly not commensurate to the astronomical cost of its over-governance. The level of corruption in the country which has contributed in no small measure to fiasco/catastrophe, is past alarming. My conclusion is that, even before applying any economic or good governance principles, the first step to progress and rebuilding our great nation, is to be circumspect about whom we give our votes to. 21 years of democracy has shown that, receiving inducements from Politicians in return for our votes, is clearly, a losing formula. If we as a people, do not change our mindset, Nigeria will continue its descent into the abyss of failure and retrogression.
Quote
"THOUGH HE DOES NOT FIT INTO THE DISQUALIFICATION CATEGORY PER SE, ONE OF THE CANDIDATES IN THE EDO GUBERNATORIAL RACE TODAY, WAS DENOUNCED BY THE MAIN EDO CAMPAIGNER…..AS A VIOLENT INDIVIDUAL WHO PERMANENTLY MAIMED SOMEONE BY POURING ACID ON HIM…… TODAY…..THE SAME CAMPAIGNER WHO DISPARAGED THE CANDIDATE IS ACTIVELY CAMPAIGNING FOR HIM, AND HOLDING HIM OUT TO BE THE BEST THING AFTER SLICED BREAD!"