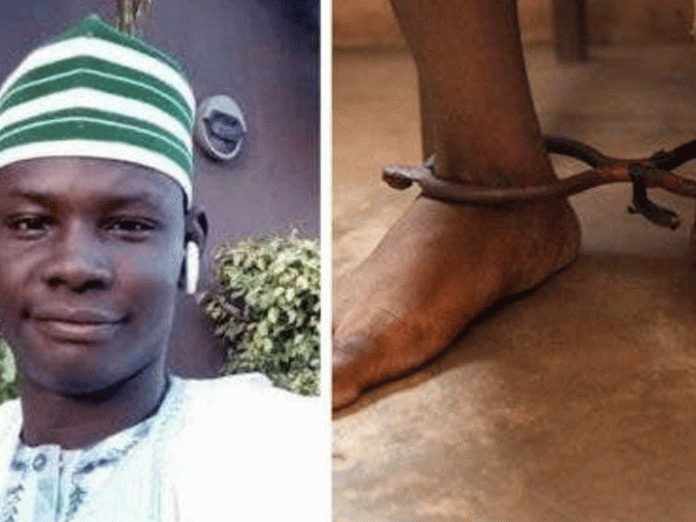 By Yinka Olatunbosun
A coalition of civil society comprising Committee for Relevant Art (CORA), African Defenders and Arterial Network Nigeria has condemned the conviction and death sentence on a young Nigerian gospel singer, Yahaya Sharif Aminu, for allegedly insulting Prophet Muhammad in a song he published.
In a statement issued by the group, it was observed that the court judgement violates Nigeria's regional and international obligations to respect, protect and promote freedom of expression, opinion and belief. In addition, the death sentence on Mr. Sharif amounts to a cruel and inhumane practice, which has no place in modern society.
On August 10, 2020, an Upper Shari'a Court sitting at Hausawa Filin Hockey in Kano State, Nigeria, sentenced the singer to death by hanging. According to a First Information Report viewed by the press, he was charged on one count of insulting the religious creed, contrary to Section 382 (6) of the Kano State Sharia Penal Code Law of 2000, for a song which became a public knowledge in March after he allegedly circulated it on WhatsApp in February 2020.
It has been reported that while Mr. Sharif was legally represented during the trial, the proceedings were closed off to the public, which raises fair trial rights concerns. The right to a public trial which is guaranteed under Nigeria's constitution and the International Covenant on Civil and Political Rights and the African Charter on Human and Peoples' Rights, both of which Nigeria is a signatory to, ensures transparency and guards an accused against secretive, corrupt or unfair proceedings. We are further concerned that since his conviction, it has been reported that Mr. Sharif is being held in incommunicado detention with no access to legal representation and to his immediate family. This is a further violation of his due process rights and potentially jeopardizes his right to an appeal for which he has 30 days from the date of sentencing,'' the statement reads.
The case of Mr. Sharif is not in isolation as there have been several other artists in Nigeria who have been arrested and criminally charged in relation to their artistic works. For over a year, Nigerian singer and activist, Mohammad Yusuf Yakasai, popularly known as A.G.Y, was imprisoned at Goron Dutse Correctional Centre following his conviction on June 19, 2019, for a song that criticized Governor Abdullahi Ganduje of Kano State. In June 2020, a Federal High Court ordered the remand of poet and broadcast journalist Rotimi Jolayeumi, a.k.a Oba Akewi, after he was arrested for sending a poem to a WhatsApp group which was highly critical of Nigerian Minister of Information and Culture, Alhaji Lai Mohammed. In December 2019, eight musicians from Kebbi State were physically assaulted for a song critical of Governor Atiku Badugu. In September 2019, famous Kano singer, Nazir Ahmad, popularly called Sarkin Wakan Kano, was arrested for allegedly releasing two uncensored musical albums and operating an illegal studio. The albums reportedly criticized the State Governor, Abdullahi Ganduje.
"No one should be arbitrarily detained or arrested for expressing peacefully their opinion, thought and conscience. The United Nations Special Rapporteur on Freedom of Religion or Belief has called on all States with blasphemy laws on their statute books to repeal the same in order to increase freedom of religion or belief, as well as encourage a healthy dialogue about religion. Furthermore, artistic expression which is also guaranteed under international law, opens space for citizens to "reflect upon their society, express their fears and grievances in a non-violent manner, develop resilience after violent or traumatic experiences, including human rights violations, and imagine the future they want for themselves," the coalition stated..
Having been signatory to many international treaties that protect human rights, Nigeria has an obligation to respect freedom of expression which includes that right to seek, receive and impart information and ideas, including through art and culture. The state also has an obligation to ensure that all arms of government and national laws uphold this right.
The group called on the Nigerian authorities to immediately and unconditionally overturn Mr. Sharif's conviction and ensure his immediate release.
"Pending his release, he must be guaranteed access to his lawyers and his family while in detention. We also call on the Nigerian government to urgently repeal all blasphemy laws, and to ensure that all individuals under its jurisdiction are afforded the right to freedom of religion, expression and opinion including through art and culture,'' the group said.