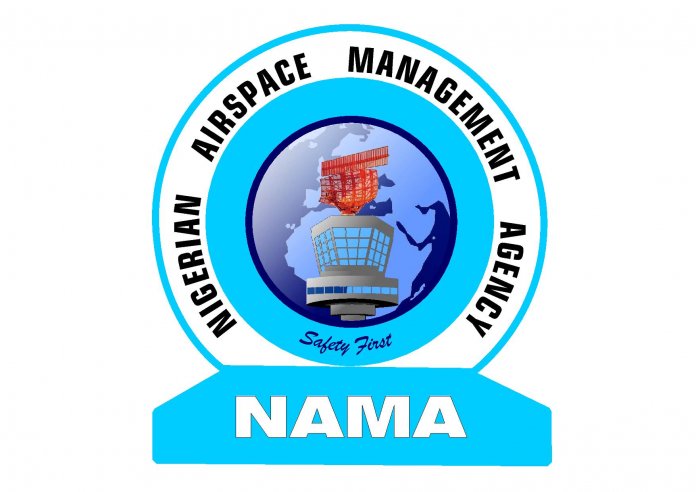 By Chinedu Eze
The Nigerian Airspace Management Agency (NAMA) is broke and in desperate need for operational funds.
To this end, the agency has cried out for an urgent bailout from the federal government.
This was disclosed to THISDAY, by the Managing Director of the agency, Captain Fola Akinkuotu, who confirmed that NAMA was able to pay salary of workers in July due to the effort of the Minister of Aviation, Senator Hadi Sirika, who facilitated a loan that the agency added to its existing funds to pay its personnel.
"NAMA is facing financial difficult so we need bailout in order to survive. Last month we took a loan to pay salaries and this month too we will need another loan to add to what we have in order to be able to pay salaries.
"So we need the bailout in order to sustain our service. We earn revenue from the passenger service charge, which is collected by NCAA and shared by the agencies. We also earn revenue from en-route, terminal and navigation charges.
But domestic airlines don't pay us so we rely on international carriers, which pay us through IATA," the NAMA boss told THISDAY.
With about 3,000 workers, NAMA needs about N1.5 billion monthly to pay its workforce and this is in addition to the urgent financial need to sustain its service because it powers most of its aeronautical installations with generators, as most of the equipment are located in remote areas, in order to ensure total radio and radar coverage of the nation's airspace.
Akinkuotu, explained that like some other aviation agencies, NAMA barely generated revenue during the lockdown period, saying to make its case worse, it does not make much money from domestic airlines. The agency, however, relies on terminal and navigational charges paid by foreign airlines and collected for it by the International Air Transport Association (IATA) for its main revenue, he stressed.
Since the closure of the airspace on March 23, 2020 only cargo and evacuation flights have been operating.
Evacuation flights don't pay the needed charges to the Nigerian Civil Aviation Authority (NCAA) and others because evacuation flights are deemed emergency flights.
The NAMA Managing Director also told THISDAY that the agency earns revenue from the five per cent passenger service charge, which is collected by NCAA and shared by the aviation agencies and the other sources are en-route, terminal and navigational charges. So, it only anticipates to start earning revenue once more, when international flight operations resume.
He explained that without international airlines operating it would be difficult to earn revenue.
"We long for international flights to resume but that is dependent on the Minister of Health because coronavirus is a health issue; it is not an aviation issue. Until the Minister certifies it healthy for international airlines to resume they cannot resume.
"So we need to borrow money to pay salaries because we are broke. They should give us bailout. If bailout does not come we will have to continue to borrow to add to the little that we have. We are trying to very frugal. What we have can't pay the salary of NAMA personnel," he added.
About two months ago, the federal government hinted that it would give Nigerian airlines and aviation agencies palliative so that they would be able to sustain their operations.
THISDAY also learnt that NAMA is earning some revenue from cargo flights and over fliers, which is aircraft that fly through Nigerian airspace to other destinations.
The agency provides them weather reports, which they also pay for through IATA. An agency official explained that as long as NAMA radio communication system is working it would continue to serve over fliers, but aircraft movement is low generally as airlines are just resuming full operation in many countries.
Maritime Workers Threaten Showdown with Foreign Shipping Firms
Eromosele Abiodun
Maritime Workers Union of Nigeria (MWUN), the umbrella body of maritime workers in Nigeria, has vowed to resist attempt by foreign shipping companies to circumvent the recent marine notice issued by the Nigerian Maritime Administration and Safety Agency (NIMASA).
President General of MWUN, Mr. Adewale Adeyanju, in a statement said the government notice No. 106 as well as the Associated Stevedoring regulation 2014 were operational guidelines issued by NIMASA to all dock labour employers and private operators of any work location including ports, jetties, onshore or offshore oil and gas or bonded terminals, inland container depots (ICDs), off dock terminals, dry ports and platforms has been flouted.
"We have noticed with dismay that some of the stakeholders mentioned above have continued to flay this government directive by their blatant refusal to grant the government appointed and NIMASA registered stevedores and dock workers access to the operational areas allocated to them by the Nigerian Ports Authority (NPA).
"This is not acceptable to us as we cannot seat back, fold our arms and watch our members being disallowed to perform their statutory duties that fetch them their daily bread.
"We therefore use this medium to sound a note of warning to those stake holders who feel that they can always flout government directive with impunity and in effect expose our members to starvation, to have a rethink and allow the government approved and NIMASA registered stevedores and dock workers access without let or hindrance, the operational areas government allocated to them to perform their legitimate duties."
The workers, he stated, shall not hesitate to engage in a manner that has never been witnessed in Nigeria, with stakeholders that see themselves above the law.
He added: "However, we would like to use this medium to request the Managing Director, NPA to look into the lingering issue of dredging the Calabar channel which contract we are reliably informed had been awarded many years back. We believe dredging the Calabar channel will positively boost trade and commerce in the Niger Delta area and further help boost revenue to the Federal government while also creating employments for Nigerians."
Adeyanju assured members of the public of maritime workers' readiness to partner with the government agencies in maintaining peace and industrial harmony in the maritime sector, "and we will continue to do so as long as fairness, equity and justice which they have brought to bear in the system is maintained."
NIMASA had recently directed all duly registered stevedoring companies with operational areas allotted by the NPA to mobilise to their work locations.
The directive, contained in a marine notice issued stated that the affected companies should report any encumbrances to the Agency. This is in line with the Stevedoring Regulation, 2014, gazetted by the Federal Government of Nigeria, developed pursuant to the NIMASA Act, 2007.
The agency equally notified all operators of ports, jetties, onshore or offshore oil and gas or bonded terminals, Inland Container Depots (ICDs), offshore dock terminals, dry ports and platforms, and other work locations to grant duly appointed stevedoring companies access to their premises for commencement of operations.
It said only corporate bodies duly registered in Nigeria would be allowed to employ dock labour or engage in stevedoring work on board or from ships. Such corporate entities must have satisfied the requirements for registration specified in the Stevedoring Regulation, 2014, and obtained a Stevedoring license from NIMASA.
"Every dock labour employer or stevedoring company shall provide proper and safe working conditions for the convenience and proper working of its employees and ensure that all stevedoring plants and equipment supplied and being used in their operations are safe and in good condition," the agency stated.