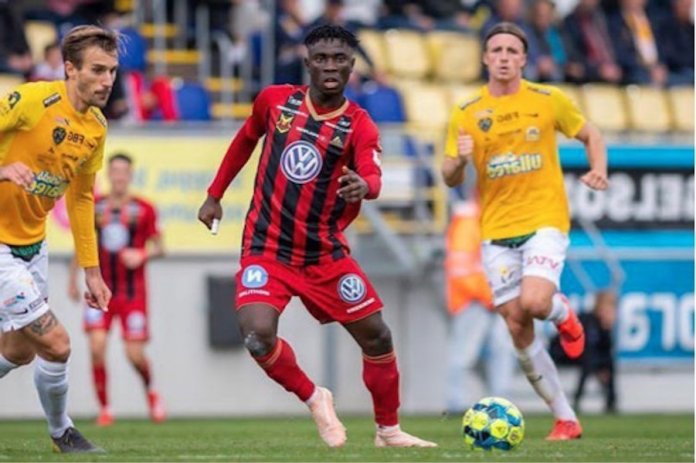 Belgian First Division B side Lommel SK is on the verge of completing a move for Nigerian striker Kadiri Attah from Swedish side, Ostersund, for a reported fee of €1.3m.
Attah has been impressive for Ostersund this season scoring six goals and providing three assists in 11 appearances so far.
Media reports had earlier suggested that Swedish club Ostersund FK are ready to sell Kadiri for SEK 10 million (more than a million dollars) to Belgium.
Belgian champions Club Brugge was then mentioned in connection with the striker.
Footbalnieuws.be said Kadiri was closer to a transfer to Club Brugge, who have offered him a four-year contract.
Kadiri's agent, Atta Aneke, is believed to be studying several offers.
OFK coach admitted the club was desperate for some cash as the Coronavirus pandemic had hit their finances very hard.
According to Belgian website, www.voetbalnieuws.be via Expressesabout, the attacker played his last game with Östersund against Helsingborg on Monday, before proceeding to Belgium to have his medicals.
Attah last played for Nigeria Professional Football League side, Nasarawa United, before making the switch to Ostersund in the summer of 2019.
However, Kadiri has revealed his dream was to play in the Premier League in England with Arsenal his favourite club just as he has been lifted by his idol Odion Ighalo.
"I love the Premier League and I hope I will get to play there," he said in an interview on the Ostersunds TV.
"Arsenal are my favourite team because they encourage a lot of young players."
Former Sunsel FC star, Kadiri, has already received a huge boost from the English top flight from no other person than his boyhood hero Ighalo, who is on loan at Manchester United.
"I have followed Ighalo since he moved to Europe and it was great when he called and advised me to work hard in Europe," Kadiri said.
"I celebrate my goals just like he does. Incidentally, we share the same agent (Atta Aneke)."
The boy from a family of 11 also revealed he has always loved to score goals.
"I love scoring goals, I am happy when I score goals because it is my job to score goals," he said.
"I remember when I was younger I would be crazy if I didn't score a goal within the first 15 minutes."
Kadiri was initially bound for Norwegian club Lillestrom before he landed in Sweden, where he has defied the cold and snow to fire goals for OFK.
Meanwhile, Ostersund FK had earlier rejected a bid by Premier League giants Manchester City for Kadiri. A top source said City wanted to sign the striker and then loan him to a club in Belgium.
City have already bought Belgian second division Lommel and have understanding with some other clubs in Belgium.
It was further gathered that The Citizens will most likely come up with an improved offer for Kadiri.
Belgian champions Club Brugge, as well as Maccabi Tel Aviv from Israel, are among the clubs reported being interested in Kadiri.
Ostersund coach Ian Burchnall has admitted interest by other clubs.
"I get many phone calls from many who are interested. I'm not surprised by it and think it will be so this summer," he told Ostersund Post.
"The fact that top clubs in Europe look at our talents is proof of our work. But obviously it must be a very good offer for us to lose him. We wait for it."