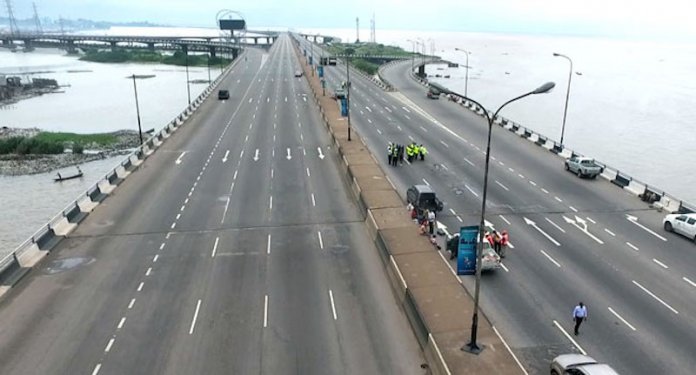 Fadekemi Ajakaiye
The Federal Ministry of Works and Housing has advised motorists to use the open lanes of the Third Mainland Bridge as they would be available during peak hours both in the morning and evening.
The few vehicles that will be going off peak periods will now have to make use of all the alternative routes given out to the public, said the Director, Federal Ministry of Works, Abuja, Engr. Adedamola Kuti, during a Press briefing at the 3rd mainland bridge recently.
Since the closure of the Oworosoki-bound lane of the bridge, there has been grueling traffic in most parts of Lagos, particular in areas like Oyingbo, Iddo, Ijora, stretching to Costain, among others.
The Commissioner, Ministry of Transportation, Dr. Frederic Oladehinde, stated that the diversion would affect 25% of traffic using the 3rd Mainland Bridge, while the other 25% will be diverted to the other routes earlier stated, and they will be well catered for.
"We also have Water Transport, and a number of boats made available, so that people can have options. We have also increased the number of high capacity buses that will ply 3rd Mainland Bridge and the alternative routes," he said.
Only 30% of the bridge will be closed, after which the other sections are still available. Lagosians need not panic, "as we can manage the other options available," he said.
Information would be made available via the provided gantries on the bridge, the social media, traffic radio and other radio channels that have also tuned in, he said.
The Assistant Corps Marshal, Federal Operations, FRSC Headquarters, Abuja, Mr. Hyginus Omeje stated that the FRSC in collaboration with other Agencies like LASTMA, and the Police, will ensure that there is effective traffic management during this exercise.
"On our part, we are deploring about 250 officers and men for this assignment to complement what LASTMA and the Traffic Police is also providing," he said.
"Synergy is the key thing here, as agencies are coming together and we will not want to wear out our personnel out, so we will be running 2 shifts within 24 hours. Personnel will be deplored to manage the choke points," he said.
Omeje stated that the cooperation of the motoring public and relevant agencies was very important in attaining success during the exercise.
The Lagos State Deputy Commissioner of Police, Operations, Mohammed Ali stated that the police would be on ground 24/7 not just to control traffic but also to ensure that criminals do not have their way in the course of this exercise.
"Traffic breeds criminality. Once a vehicle slows down, particularly in Lagos, where you have thousands of vehicles on line, criminals will always want to operate, and that we will not allow," he said.
"The Commissioner of Police has directed that DPOs and their men must be out all day as we will be running 3 shifts, morning afternoon, and night, so that we take care of all motorists and Lagosians," he said.
"We will be deploring about 1000 men, not just for 3rd Mainland Bridge but also other routes that we will be diverting traffic to. All routes will be fully covered," he said.
The Special Adviser to the Governor on Works, Engr. Aramide Adeyoye stated that other alternative routes are already in motor able state, starting from Oyingbo to Carter or Eko Bridge, and the roads linking them have been repaired.
From Iddo market – Oyingbo- Herbert Macaulay – Jibowu – Empire – Olorunmibe, and up to Mushin junction have been fixed. Also for people coming from Soluyi Gbagada in the mornings will notice that the potholes experience is being worked on as the contract has been awarded to provide stability, and that residents there can have smooth rides, she said.
Adeyoye stated that LASEMA, which is the emergency response unit of the government, has also been activated just in case there are people who would not adhere to the strict guidelines of the water transport. "We can assure Lagosians that we will make the journey comfortable for them," she said.
"We are grateful to the Federal Government for responding to our plights, despite the pandemic, it is better to repair all these now than having disaster on our hands," she said.
The LASTMA GM, Mr. Olajide Oduyoye stated that "motorists should not have any apprehension or fears that perhaps Lagos is going to shut down as a result of the works, as it is temporary and movement is still allowed especially during peak periods, both mornings and evenings."
Officers would be on ground at strategic points to ensure free flow of traffic and smooth drive. If there is a high volume of traffic movement, for whatever reason it may be, it doesn't necessarily mean it's caused by 3rd mainland bridge, it just implies that people are exercising their constitutional right of free movement, he said.
He advised that if motorists do not have anything major to achieve, it is much better to plan, put things together and save oneself from the need to travel the road. LASTMA and other Agencies are on ground to ensure stability.
He advised motorists not to break traffic laws, as the law has not changed, and we will be enforce, educate and make motorists to be aware that it is better to have good behaviour on the road, and avoid accidents.
"We are ready to be of assistance but motorists should avoid willful negligence and acts of irresponsibility like frivolous excuses. We will have more of human face but we do not want people to violate traffic laws," he said.
The Comptroller of Works, Lagos State, Engr. Olukayode Popoola stated that work is ongoing on the Marine Beach Bridge, Apapa, with the replacement of expansion joints and worn out piers.
"The project, which commenced in May, was never stopped as stated by some people, and they are currently ahead of the scheduled time. Currently over 60 bearings have been fixed compared to what was envisaged, and soon asphalt will be laid on the bridge," he said.
"The bearings which we are changing now are has been there since the construction of the bridge, which is over 40 years, and that is why they are flat. The new one with its thickness allow flexibility of the load impact on the piers. This does not allow for direct impact on the piers as could result in damage, which we do not want," he said.
"We are also thinking of completing this project ahead of the scheduled time, which is March 2021. The completion of the 1st section of 200m is due by August 2020. We have achieved about 30% completion, after changing the bearing of these bridges," he said.
"We are appealing to the motorist to cooperate with us, and allow the contractor to work. Some unknown persons removed the barriers where work is ongoing, and thereby endangering the lives of road users," he said.
Government is trying to ensure that these structures are in good shape and proper maintenance is carried out to sustain the serviceability of the bridges, we should all give our cooperation, he said.
"We check all our bridges nationwide periodically. We carry out periodic, routine, and special maintenance on all our roads and bridges as at when due," he said.