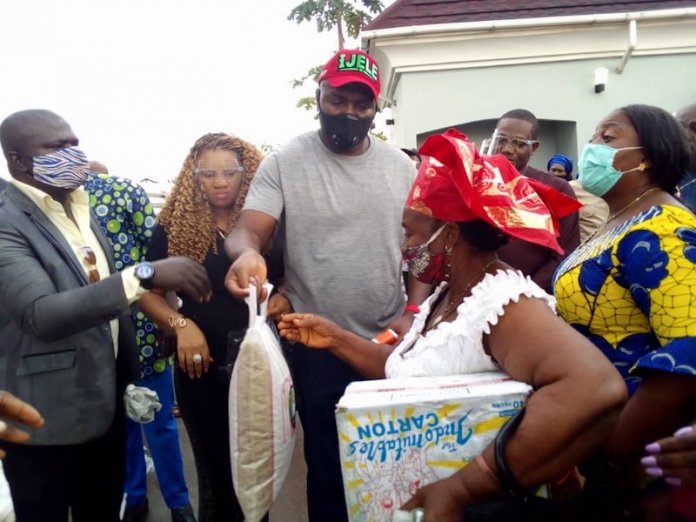 David-Chyddy Eleke reports that given the critical economic condition caused by the COVID-19 pandemic, few individuals in Anambra are championing the cause to help the poor
Mr Ambrose Egwuonwu is a businessman who deals in electronics and power generating sets in Calabar, Cross River State. Even though he is a politician who has vied for a seat in the House of Representatives to represent his people, Orumba North and South Federal Constituency and failed, he has no political aspiration immediately, as he said, but recently, he thought it wise to support the people of Orumba North and South Local Government Areas with food stuff, and other equipment.
Hon Obinna Emeneka on the other hand is the lawmaker representing Anambra East constituency in the state House of Assembly and recognises the need to be good to the people, so they can always spare him their votes during elections, but on the occasion of his provision of palliatives to women of his area, he stated that he was not considering their votes in providing for them, but was considering their welfare first, as they must be alive and in good health- body and mind- to see the next election season to consider who to vote for.
The coming of the COVID-19 disease which forced countries to lock down their borders, markets and offices, resulting in harsh economic condition has made it necessary for people, especially those who have, to think of a way of helping those who do not. This is because with the shutting of markets and various businesses, many low income earners and petty traders who survive through the transactions they carry out daily have had their income cut, resulting to sufferings.
Egwuonwu who saw the need to help his people, during a distribution exercise in Awa, Orumba North LGA said, "I am here to give a token as a blessing to people because of the blessings God has given me. I am not here to give people what they do not have but to give them what they had but could no longer afford because of the pandemic. I want to give them hope and help keep people alive."
Egwuonwu who is also a Senior Special Assistant to the governor of Anambra State on Community Liaison, during the exercise donated 1,000 bags of rice, 1,000 pieces of facemasks, 500 hand sanitizers, bags of garri seven pieces of motorcycles, sewing machines, dryers and grinding machines to women and men in his community, as a way to cushion the hardship among the people.
He said, "I live in Calabar, Cross River State, where I do my business, but I thought it wise to come back home at a time like this to take care of my people. I am not doing this because I have enough. I think every person who can should look around and find someone they are better than, and help them. It is better for me to give these out than have my family waste food at home because they feel we have too much.
"People may be wondering why I added motorcycles, sewing machines, dryers and other non edible items to the gifts I presented to people, but let me tell you why. The motorcycles are for my classmates, who schooled with me here in this very compound during our primary school days. I looked at the plight of those of them who are still in the village and their mobility, and decided that if the motorcycles are the least I can do, then, I should help them. As for the sewing machines, dryers, grinders and others, I am donating them to the wife of the governor of Anambra State, Mrs Ebelechukwu Obiano who has dedicated her life to providing such things for indigent people. The food items are for women of Orumba North and Orumba South local government areas," he said.
Similarly, Emeneka, an influential member of the Anambra State House of Assembly, recently assembled women from his area to hand out food items as support, to help them cushion the effect of hard condition in the country.
He reminded them that times are critical for both the rich and the poor alike, and that this was the only period where the rich also cried. "If the rich can cry amidst the COVID-19 pandemic, what happens to the downtrodden? That is why I am here to give the little I can to you people because if I can feel the impact of the harsh economy this way, how much more will the downtrodden feel it?"
Emeneka said he was using the occasion to celebrate his 42nd birthday. He said at a time when the entire world is experiencing hardship, it would be unreasonable for him to think of throwing a party in celebration of his birthday, rather he choose to celebrate with widows, sickle cell patients and other vulnerable members of the community. Beyond this, the pharmacist turned politician added that he had also signed a N20million deal with a pharmaceutical company for the supply of drugs to his constituents to ensure their good health and wellbeing was not compromised by the economic condition in the country.
The lawmaker who said he had previously conducted free medical services for his constituency and beyond, said he understands the plight of the vulnerable groups but emphasised that he would not renege on his works of mercy because the poor and downtrodden deserve the very best of care and social welfare scheme. Over 500 widows were empowered by the lawmaker at the event, including sickle cell patients and other group of needy people.
Egwuonwu and Emeneka who held their well attended events separately were well appreciated by dignitaries who expressed joy over their gestured to the people.
Mrs Obiano who was represented at Awa for the event by Asha Nnabuife, an SSA to Governor Obiano said, "Thank you for the gesture to Awa community today and to the entire Orumba North and South. You were not only thinking of your community people, but the people of your local government and the federal constituency. It is difficult to find people like you. You are a government official in this administration, but what you have done today you did not do as a government official, you did at a private businessman. We urge others to emulate you."
Speaker of the state assembly Rt.Hon. Uche Okafor who was at Emeneka's distribution exercise said, "What Emeneka just did is outstanding. Vulnerable groups are special class of people with special needs, and helping to ameliorate their situation is worthwhile."
The Speaker noted that the state assembly stands against any form of ill-treatment against women especially widows. He said, "We have a law in the Anambra State House of Assembly that every woman has right to life as enshrined in the constitution of the Federal Republic of Nigeria. That a woman is a widow does not make her less a citizen of the Federal Republic of Nigeria or make her less a citizen of Anambra state. No woman should be subjected to any cultural or traditional malpractice because she lost her husband. There is also no justification for rape because rape is evil."