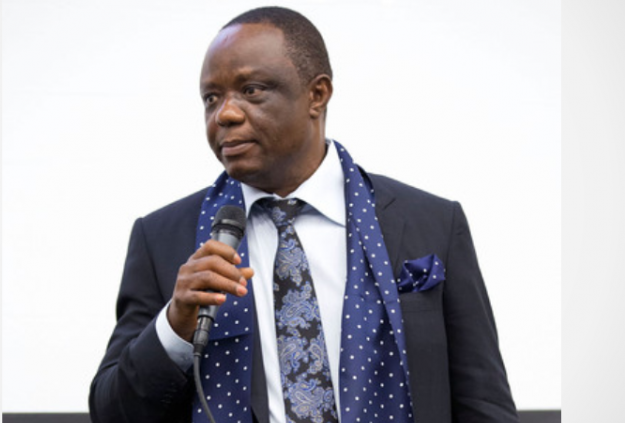 By Peter Uzoho
Renowned entrepreneur and philanthropist, Capt. Idahosa Wells Okunbo, has appealed to President Muhammadu Buhari and the people of Edo State to prevail on Governor Godwin Obaseki to "leave him alone".
Okunbo, in an open letter to President Buhari and the people of Edo State yesterday, accused Obaseki of serially attacking him through orchestrated campaign of calumny to damage his reputation.
He said those attacks were being executed by attack dogs hired by the Edo State Government under the watch of Obaseki.
Okunbo said: "I have, for some time now experienced an unprecedented dose of orchestrated bashings and campaign of calumny calculated to malign my person and cast aspersions on my hard-earned reputation.
"This spate of coordinated attacks, with their attendant mode of vicious execution, can best be described as the unconscionable actions by attack dogs and hireling of desperate Edo State Government on the watch of Governor Godwin Obaseki.
"After a deep evaluation of these seamless attacks and poisonous bitterness against my person, I have come to the conclusion that, as a good-hearted Edo son, I do not deserve the embarrassing treatment.
"My pedigree will never ever allow me to deliberately concoct any wrong against my state and its Governor, Mr. Godwin Obaseki who, today, by the grace of God, enjoys the mandate of the good people of Edo State to preside over their affairs.
He also said: "I am, however shocked, bewildered and pained to observe that despite this very sincere, robust and stated commitment to support the anticipated pace of infrastructure development, progress and other social investment initiatives through the deployment of my modest goodwill and network of capital, for which I am eternally grateful to God, alas, the response has been to paint my person with tar brush of public odium that verges on mischief."
He said he had vowed to remain a lover and promoter of peace and to be at peace with himself and most members of the society, despite the unpleasant experiences, but that the governor through his actions and inactions, had made that impossible.
He maintained that his contributions to peace, progress and visible development of the economy of the state, pursuant to their collective aspirations and shared commitments remained a fait accompli.
According to Okunbo, "these contributions are self-sacrificing without necessarily expecting any iota of reciprocal gesture or patronage from the Government of Edo State.
"I, therefore, find it sickening and incomprehensible to understand or accept any justification for the series of sustained virulent attacks against my person in the social and print media by some agents of Edo State Government."
Okunbo, who listed efforts he made towards supporting Obaseki to deliver dividends of democracy to the people of the state, wondered what wrong he had committed "for identifying with Governor Obaseki and galvanising support for his administration?".
He said all the moves he made to settle the quarrel between the governor and the immediate-past Chairman of the All Progressives Congress (APC), Mr. Adams Oshiomhole, was rebuffed by the governor, who said "he was embarking on a fight to finish with Comrade Oshiomhole."
According to him, the governor sent a message to him with a "warning that I should steer clear from the ensuing fight between him and Oshiomhole, else he would inflict severe collateral damage on me," a threat he said the governor confirmed to him personally on phone.
Okunbo also accused Obaseki of severally mocking and persecuting him when he thought he was going to run for governorship in the state, citing attacks targeted at his company as examples.