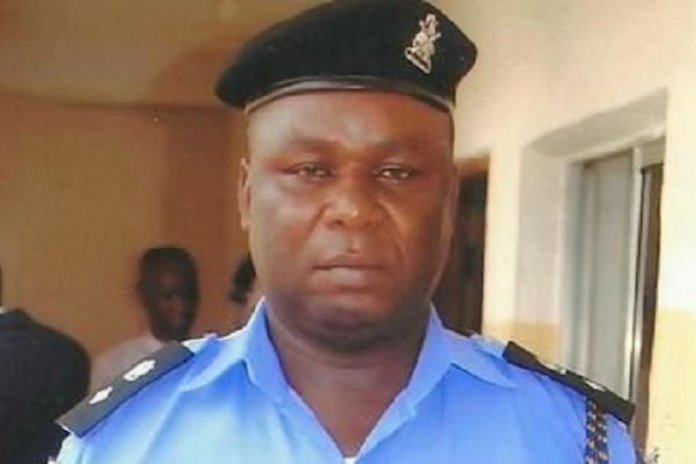 David-Chyddy Eleke in this report looks at allegations of human rights abuse against retired Chief Superintendent of Police, James Nwafor, who served as commander of the dreaded police arm of the Special Anti-Robbery Squad in Awkuzu, Anambra State
Amansea community in Awka North Local Government Area of Anambra State is an agrarian border community that serves as a gateway into Enugu State. Even though the community is part of the Anambra State capital territory, the development that comes with the creation of a state capital did not in any way rub off on her.
She lacks basic amenities and infrastructure, just like other far-flung parts of the state. One of its major lacks is portable water. Its indigenes drink from a river, whose bridge separates Anambra and Enugu States (Ezu river). The river also serves for recreation like swimming, just as for fishing too. To get drinking water, the indigenes of the area throng Ezu river every early morning before fishermen and swimmers arrive to stir up the dirt from under the water while carrying out their activities.
It was a normal morning like every other morning on January 19, 2013 that the indigenes went to get drinking water when they discovered over 35 corpses floating on the river and they raised the alarm. Though it was not clear whose corpses they were, no one could recognise any of the corpses that were said to have been offloaded into the river in the dead of the night, but many accused the Special Anti-Robbery Squad (SARS), which was then headed by CSP James Nwafor of being responsible for the corpses, but a panel of enquiry instituted by the senate was unable to prove so, and the matter died.
Recently, there have been allegations of atrocious acts and human rights violation against Nwafor who has retired from the force. It would not be the first time such allegations would be leveled against him, but some members of the human rights society have vowed to ensure that Nwafor is made to account for his actions while in office.
A twitter user, Miss Obianuju who started the fresh round of allegation after seeing Nwafor on the social media site accused him of killing her brother, Chijioke in 2012, and daring his family to do their worst. Obianuju lamented how police operatives from SARS Awkuzu, Anambra State arrested her brother, branding him a criminal, and that was the last they saw of him.
"When my parents went to see Nwafor, he told them that Chijioke had been killed, and that there was nothing they could do about it." She further lamented that some other officials told her parents to raise money for her brother's release, which they did by selling a landed property, yet her brother was not released. "My father in 2013 even went to Ezu river and swam in the river when he heard that some corpses were dumped in the river, just to look for my brother among the corpses, but could not see him."
Obianuju's allegations have stirred a fresh round of trouble for Nwafor, who had retired in 2016 and is now living a private life. Nwafor who hails from Ebonyi State had been appointed by the Anambra State governor, Chief Willie Obiano as his Special Adviser on Security. However, a nameless human rights group had gone online, claiming to have petitioned the Inspector General of Police Mohammed Adamu, calling for investigation into the allegations against Nwafor. The group also circulated a message online, asking people who had fallen victim to Nwafor's recklessness while in service to call and testify about their experiences with him.
Though it is not certain if there is truly a petition against the policeman, online messages have also been circulated that Nwafor has been invited to Abuja to answer to allegations against him. A lawyer who spoke to THISDAY on condition of anonymity corroborated Obianuju's claims about Nwafor's propensity for extra-judicial killing. He said, "Nwafor shot my client before me. The family of a young man briefed me after he was arrested allegedly for armed robbery or so. When I went to the SARS office, Nwafor ordered that the client be brought into his office. Nwafor pulled out some papers containing a statement which he said was his client's confession. Looking at the client who had been badly injured probably from torture, I told Nwafor, – this statement must have been made under duress and cannot be acceptable."
According to him, Nwafor retorted: "Okay you said under duress?" and immediately pulled out a gun from his drawer and gunned down the young man, and said "counsel do your worst." The lawyer said he became scared that Nwafor might murder him as well for being a witness to an extrajudicial killing. He hurriedly ran out and when the boy's parents saw him and were wondering what was happening, he merely urged them "let's leave this compound immediately. This matter has come to the public domain, and I have pursued it with several petitions to the police authority. Mine was also among the deluge of petitions against the aborted redeployment of Nwafor to Anambra in 2016 after he had been earlier transferred. Nothing has happened till today, anyway," he said.
When THISDAY called one of the phone numbers provided in the material circulated online asking people to call and testify against Nwafor if they have had bitter encounter with him, a man who simply identified himself as Gayu said he was not a member of any human rights group and never authored any petition against anyone. "I don't know how they put my name in the petition, I am not from Anambra State. I am an Hausa man, I live in Kaduna and have never been to Anambra before. People have been calling me about the petition, but I know nothing about it."
Also, Anambra State Police Command Public Relations Officer, Haruna Mohammed, a Superintendent of Police while speaking to THISDAY said he was not aware of any petition against Nwafor. "Investigations are not just opened like that. There must be a petition against someone before we can start investigating. If anyone feels they have something against any police office, whether serving or retired, let them petition the commissioner of police and the matter will be investigated."
Haruna said he was not aware if a petition has been sent to the Inspector General of Police. When THISDAY made efforts to find out from the Force Public Relations Officer, DCP Frank Mba, calls to his phone number was not taken nor returned.
Meanwhile, Nwafor has gained support from some groups and individuals who lauded him for his dedication to service, while working as SARS commander. To those who lauded him, Nwafor was instrumental to the extermination of violent criminals and kidnappers in the state. One of them, Mrs Aisha Edward Maduagwu, coordinator of Association of People Living With Sickle Cell Disorder in a letter to the Executive Secretary, National Human Right Commission, Abuja said, "It is with dismay that I bring to your notice the scandalous activities of some persons parading as human rights activists on social media and soliciting for people allegedly dehumanised by the former OC SARS Awkuzu, CSP. James Nwafor (rtd), to come foward with petitions against the former OC SARS.
"These faceless individuals have no official address were they operate as activists. The phone numbers they provided in their social media publications is the only legitimacy that represents their image, aside telling callers to come to Abuja to lodge their complaints. This continuous pestering of people to come up with any kind of petitions against the former OC SARS Awkuzu is not only unprofessional, but a calculated attempt to infringe on his fundamental human right, and also endangering both his life and his family's.
"Those who had served Anambra State meritoriously through dedication to duty like CSP James Nwafor (rtd), should be respected and honoured for putting their life in line to fight kidnappers and armed robbers to a standstill. Such heroes should neither be maligned nor hunted for pecuniary gains. Anybody with issues of abuse against CSP James Nwafor (rtd), should approach the right channels for a fair hearing, rather than resorting to the social media and defrauding members of the public with sweet promises of compensations.
"CSP James Nwafor (rtd) has been walking with a free conscience ever since he left police service. He is presently an SSA on security to the Governor of Anambra State. James Nwafor is neither on the run nor has the police authority invited him for any questioning. It is pertinent to inform the authorities and the general public that all the main allegations against CSP James Nwafor has been duly investigated countless times and nothing was found on him," the letter stated.