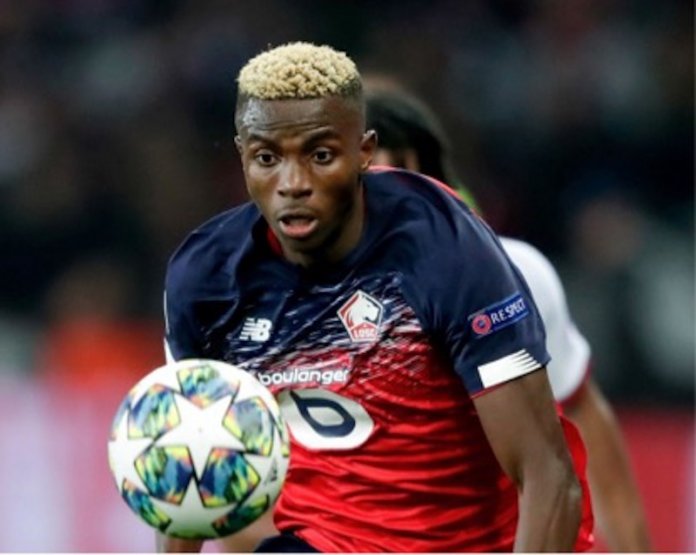 Duro IKHAZUAGBE with agency report
French Ligue 1 outfit Lille and Italian Napoli appears to have finally settled on a transfer fee believed to be in the region of 50 million Euros plus a player, Adam Ounas, before Nigerian international, Victor Osimhen, will make a switch to the Serie A club. The total amount Napoli is expected to pay Lille to conclude the deal was put at 81 million Euros.
French top media, L'Equipe reported yesterday that both teams are believed to have finalised on this on Monday when they met.
The worth of the much-discussed transfer has varied from 50 million Euros to as much as 85 million Euros depending on various sources.
The 2015 FIFA Under-17 World Cup winner in Chile along with his management team were in Naples last week to meet Napoli chiefs and manager, Gennaro Gattuso.
But shortly after the visit, speculations were rife in Italian and British tabloids that Osimhen was not interested in Napoli but transfer to a big English club like Arsenal of Manchester United.
The meeting between Lille and Napoli officials has sort of put paid to all the speculations, with Gattuso in particular reported to be willing to take pay cut to attract Osimhen to Naples.
Osimhen, according to scorenigeria.com.ng, will enjoy much-improved personal terms put at around four million Euros a year.
He has been Gattuso's No 1 choice to replace Poland star Milik, who is set to quit Napoli in this transfer window.
Gattuso only took over the Naples team in December 2019 from Carlo Ancelotti.
On Monday, Napoli President, Aurelio de Laurentiis, assured Gattuso will keep his post for next season even though the club will not qualify for UEFA Champions League from Serie A this season.
A formal announcement of the transfer is now due on Thursday.