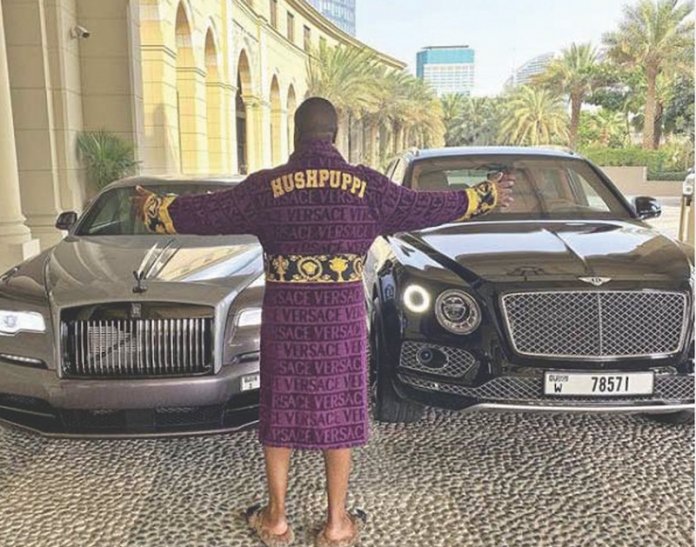 Demola Ojo
Earlier this month, a photo from Nigeria's past circulated on social media, bringing back great memories of how the affairs of this troubled nation were run in the 1970s.
The picture of former Head of State, Murtala Mohammed, his aide de camp, Lt. Akintunde Akinsehinwa and Prof Bolaji Akinyemi, three gentlemen in their 30s, is instructive in many respects. It is a clear reminder that the affairs of Nigeria have not always been in the hands of tired old men.
Mohammed was 37, his ADC 31, and Akinyemi as the chief executive of a strategic think tank (The Nigeria Institute of International Affairs) was 33 when the picture was taken in 1975. All were already accomplished in their respective careers and in respective positions of leadership.
Their generation didn't embark on lamentation, nor did they make a fetish of age. The young people of the old days understood that power is not served a la carte. They simply rose to the occasion, after being equipped by their backgrounds to do so.
The generation before that of Murtala and Akinyemi also began to run affairs of Nigeria at a relatively young age. Some of them held crucial positions in their 20s. Mathew Mbu became High Commissioner to the UK at 24 while Richard Akinjide became a minister at 29.
Further back into history, the generation of Nnamdi Azikiwe took over the leadership of the anti-colonial agitators from the Lagos elite at a relatively young age.
Unfortunately the case is starkly different today, with the values of hard work, excellence, seeking education, dignity in labour and concerted nation building – which propelled the above mentioned to their lofty achievements – almost completed eroded.
In its place is the celebration of instant riches without any care in the world about its source. This switch in values breeds a lazy and visionless populace with a puzzling sense of entitlement to others' resources, which they covet and aim to acquire through handouts, fraud or by any means that bypasses the universal law of sowing and reaping.
This worship of material and superficial acquisitions has been exacerbated by the primacy of social media in the lives of the modern youth. It has led to vain and conceited exhibitionists, who are adored by fans whose only plan is to "tap into the blessings" through wishful thinking.
Many of these social media "influencers" and "celebrities" have no verifiable sources of income, yet they enjoy the adulation of millions, to the detriment of their hardworking and creative counterparts who need to wait years to see and enjoy the fruits of their labour, if ever.
The case of Ramon Olorunwa Abbas, popularly known as Hushpuppi, is an indication of a much deeper malaise that betrays the values being upheld by the youth of today. Hushpuppi was notorious for flaunting his flamboyant lifestyle, with posts showing him in luxury cars, private jets, and designer clothes, as he globe-trotted to fashion shows and dined with celebrities, soccer stars and Nigerian politicians.
He had millions of fans across various social media platforms and his adorers did not care that the only explanation for his stupendous extravagance was, in his own words, as an influencer.
Last month, Hushpuppi was among 12 alleged fraudsters arrested by the Dubai Police Force in the United Arab Emirates as part of a now-viral special operation. Six raids were conducted concurrently while the suspects were asleep. Among several items, Dubai police reportedly seized more than $40 million in cash and hard disks containing the addresses of nearly two million victims.
The arrest was part of a United States' FBI investigation that unveiled Hushpuppi as one of the kingpins of a transnational cybercrime network specializing in Business Email Compromise (BEC) scams, a fast-growing form of cyber-fraud that involves hacking corporate emails and sending fake messages to clients in order to redirect financial transfers and steal bank details.
The 37-year-old has been extradited from the UAE to the US to face criminal charges for allegedly conspiring to launder hundreds of millions of dollars through online heists, including those targeting a US law firm, a foreign bank and an English Premier League soccer club, according to a criminal complaint filed in a US federal court last month.
In a twist of fate, Hushpuppi was undone by the social media he used to show off his opulent lifestyle, primarily Instagram and Snapchat.
An FBI affidavit details how the Bureau initially discovered Hushpuppi and his social media handle through two co-conspirators. The FBI found and reviewed his Instagram account—where he styles himself as a real estate developer. The account gave the detectives insight into their target's lifestyle of "substantial wealth."
According to the FBI, Hushppuppi was a key player in a large conspiracy that provided "safe havens for stolen money around the world."
Hushpuppi taking to social media to flaunt material acquisitions is not an isolated case. One of his accomplices, Olalekan Jacob Ponle, popularly known as Woodberry, who was also arrested in the Dubai raid, is just as ostentatious on his social media platforms. Same goes for Ismaila Mustapha, alias Monpha, an internet celebrity with a similar profile.
Earlier this year in March, Mopha was arraigned before a Federal High Court in Lagos by the Economic and Financial Crimes Commission (EFCC) for N32.9bn fraud. After Hushpuppi's arrest, Mompha deleted pictures from his Instagram account.
The Hushpuppi case is reminiscent of last year's FBI arrest of Obinwanne Okeke, another fraudster who posed as a successful entrepreneur and was featured on the Forbes 30-under-30 magazine cover, spoke at the London School of Economics Africa Summit and was lauded by the BBC as a "rising star." Okeke has pleaded guilty to an $11 million fraud scheme.
Probably the most unfortunate aspect about these incidents is the apparent celebration of fraud by a substantial number of the youth who view it either through the lens of "reparation" or justify it by pointing to public officials who loot the nation's treasury to the detriment of ordinary citizens.
Those who attempt to denounce fraud as a way of life are shouted down, mocked and vilified. The comments sections of influential blogs and social media handles are replete with these attacks on those who denounce fraudulent activities. In recent cases, artistes such as Falz and Simi bore the brunt of a social media backlash because they dared to speak up against internet fraud.
The elevation of Hushpuppi and his like as examples worthy of adoration and emulation, points to a morally bankrupt culture enabled by Nigeria's perennially corrupt political elite, many of whom evade punishment for pilfering public funds. It is a state and situation that has taken years – probably decades – to plunge to, and would take as long to reverse.
While the most desirable solution would be for the older generation in positions of authority to lead by example and pull the nation back from the precipice which this erosion of values will ultimately lead it, it is more practicable for the youth to take their destiny in their own hands and plot the future that only they would live in.
Like their forebears in the 50s, 60s and 70s, they must define their mission for progress and development and seek leadership to actualise it. For as Franz Fanon puts in his The Wretched of the Earth, "Each generation must, out of relative obscurity, discover its mission, fulfill it, or betray it in relative opacity."