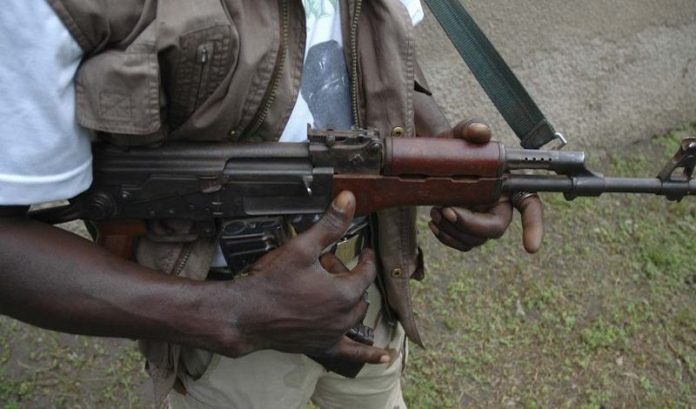 *Police vow to rescue him
By Omon-Julius Onabu 
Chairman, Delta State Chapter of the Nigeria Labour Congress (NLC), Comrade Goodluck Ofobruku, has reportedly been kidnapped by unidentified gunmen near Asaba, the state capital.
Ofobruku was said to have been abducted while driving on the Ibusa axis on the Asaba-Ogwashiuku-Ughelli Road Saturday night near Asaba, the state capital.
Delta State Commissioner of Police, Mr. Hafiz Inuwa, while confirming the kidnap of Comrade Ofobruku on Sunday in Asaba, said that the police command had already spread its dragnet in an effort to rescue the victim unhurt and apprehend the criminals.
Rescue efforts by the police included the combing of the bushes in the area as well as security surveillance across Asaba/Kwale/Ughelli axis, Inuwa said.
The NLC state chairman was reportedly whisked away on Saturday night by unknown gunmen that intercepted his official Toyota car with registration number, 'NLC 01' along the Ibusa Road portion of the Asaba-Ughelli road.
The state labour leader was said to have driven out of his house behind Immigration Office off Ibusa Road, Asaba, and was intercepted near a drinking joint in the area by the hoodlums who reportedly had a free time robbing customers at the joint wielding guns.
They criminals were said to have been immediately attracted to Comrafe Ofobruku's vehicle as he drive out of his street, immediately swooping on him; forcing him out of the car and leading him away I to the nearby bush.
The NLC Delta State secretary, Comrade Innocent Ofuonyeadi, who also confirmed the abduction, explained that the NLC state chairman drove out to buy drugs when he was armbushed.
Ofobruku's car was intercepted by the hoodlums along his street, Ofuonyeadi further said, noting that the abductors were yet to establish contact with the family of the victim as at Sunday afternoon.
The victim's phone lines had been switched off since his abductors, who are suspected to be criminal herdsmen, forcibly took him into the surrounding bush, with family and friends being unable to speak with him, he added.
The kidnappers abandoned their victim's vehicle at the spot he was abducted.
Nevertheless, CP Inuwa cautioned residents, particularly VIPs, to be conscious of their movement, and advised for more discreet use of official vehicles in order to ward off unnecessary prying eyes of kidnappers and other criminals.