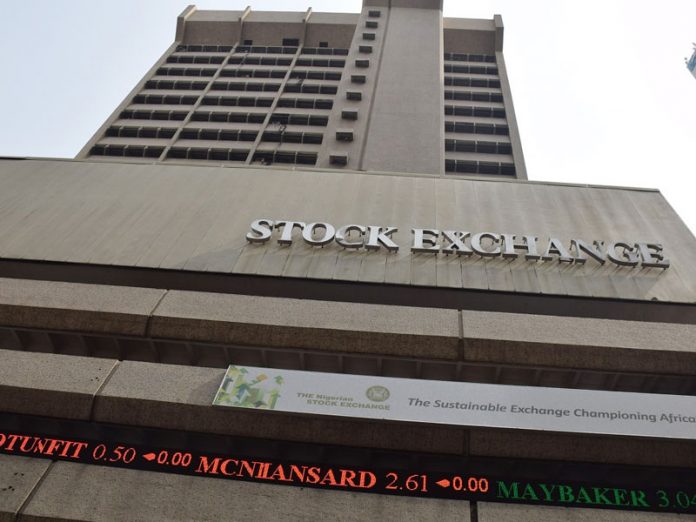 By Goddy Egene
The stock market recorded a marginal gain last week despite a decline in volume and value of shares traded.
Precisely, the Nigerian Stock Exchange (NSE) All-Share Index (ASI) appreciated by 0.01 per cent to close at 24,829.02, while market capitalisation gained N1.2 billion to close at N12.952 trillion. The performance was a recovery from a depreciation of 1.4 per cent suffered the previous week.
However, volume of trading fell to 739.375 million shares worth N8.563 billion in 17,248 deals, from 1.050 billion shares valued at N10.125 billion that exchanged hands in 19,576 deals two weeks ago.
Just like Nigeria, Mauritius' SEMDEX also gained. Closing 0.4 per cent higher. Egypt's EGX 30 went up by 0.3 per cent. Conversely, Ghana's GSE Composite declined by 2.5 per cent, while Morocco's Casablanca MASI index shed 2.3 per cent. Similarly, Kenya's NSE 20 index lost 1.6 per cent.
A look at the performance in the BRICS markets showed that India's BSE Sens and China's Shanghai Composite indices gained 1.3 per cent and 0.4 per cent respectively.
On the negative side, Brazil's Ibovespa index recorded the highest decline of loser with 1.5 per cent due to the economic slowdown brought by the surge in COVID-19 cases. South Africa's FTSE/JSE All Share lost 0.9 per cent, while Russia's RTS index dipped 0.5 per cent.
In the Asian and Middle East markets, performance across indices was poor with Turkey's BIST 100 index closing as the lone gainer, appreciating by 0.9 per cent.
Thailand's SET and Saudi Arabia's Tadawul ASI indices pared 3.0 per cent and 1.7 per cent respectively. Qatar's DSM 220 and UAE's ADX General fell 1.5 per cent and 1.4 per cent in that order.
Also, the developed markets were largely bearish as Japan's Nikkei 225 index was the lone gainer, up 0.1 per cent. In the United States, the S&P 500 and NASDAQ indices declined 2.1 per cent and 0.9 per cent in that order amid weak investors' sentiment. The United Kingdom's FTSE All Share, Germany's XETRA DAX and France's CAC 40 indices fell 2.2 per cent 1.8 per cent and 1.2 per cent respectively. Similarly, Hong Kong's Hang Seng index lost 0.4 per cent.
Market turnover
A breakdown of the market turnover showed that the Financial Services industry remained the most active with 457.851 million shares valued at N3.773 billion traded in 8,062 deals. Thus, the sector contributed 61.9 per cent and 44.1 per cent to the total equity turnover volume and value respectively. The Consumer Goods industry followed with 66.668 million shares worth N2.015 billion in 3,486 deals. The third place was occupied by the Oil and Gas industry, with a turnover of 63.255 million shares worth N380.146 million in 963 deals.
Trading in the top three equities namely FBN Holdings Plc, Guaranty Trust Bank Plc and Zenith Bank Plc accounted for 211.351 million shares worth N3.042 billion in 3,623 deals, contributing 28.5 per cent and 35.5 per cent to the total equity turnover volume and value respectively.
Top price gainers and losers
Meanwhile, a total of 18 equities appreciated higher than 14 equities in the previous week, while 43 equities depreciated in price, lower than 47 equities in the previous week. Airtel Africa Plc led the price gainers with 9.9 per cent, a development some market operators attributed to investors' reaction to the company's full year results ended March 31, 2020. According to some operators, discerning investors could be taking position with hope that the performance could be replicated at the end of the current year.
Airtel Africa Plc reported a revenue of $3.422 billion for the year ended March 31, 2020, showing an increase of 13 per cent from $3.077 billion recorded in 2019. Profit before tax rose 77 per cent from $348 million in 2019 to $598 million in 2020.
However, a higher tax payment that jumped by 330 per cent, made the telecommunications firm to end the year with a profit after tax (PAT)of $408 million in 2020, compared with $426 million in 2019.
The Chief Executive Officer of Airtel Africa Plc, Mr. Raghunath Mandava, had said these were a strong set of results which were delivered against their aspirations set out at the time of the Initial Public Offering (IPO), with performance sequentially improving during the year.
"These results also demonstrate the strength and resilience of our business and the effectiveness of our strategy – with all three business services, voice, data and mobile money, contributing to revenue growth. We have also continued to invest in future growth opportunities as we expanded our distribution, modernised and expanded our network with 65 per cent of sites now on 4G, acquired new spectrum in Nigeria, Tanzania, Malawi and Chad, and entered into strategic partnerships in our mobile money business," he said.
Associated Bus Company Plc closed as the second highest price gainer for the week, chalking up 9.8 per cent. Nestle Nigeria Plc went up by Wema Bank Plc, while UACN Property Development Company Plc garnered 8.7 per cent. Also, Japaul Oil & Maritime Services Plc appreciated by 8.7 per cent, just as FCMB Group Plc chalked up 8.1 per cent.
Other to price gainers included: Champion Breweries Plc (7.9 per cent); Sterling Bank Plc (7.5 per cent) and UAC of Nigeria Plc (6.4 per cent).
Conversely, PZ Cussons Nigeria Plc led the price losers with 21.4 per cent, trailed by Glaxosmithkline Consumer Nigeria Plc with 17.6 per cent. Prestige Assurance Plc shed 17.5 per cent. Dangote Sugar Refinery Plc went down by 16.7 per cent, while Chams Plc and Guinness Nigeria Plc declined by 12 per cent and 11.7 per cent respectively.
Neimeth International Pharmaceuticals Plc shed 11.0 per cent, while Redstar Express Plc lost 10.2 per cent. Seplat Petroleum Development Company Plc shed 9.9 per cent, just as International Breweries Plc closed the week 9.8 per cent lower.