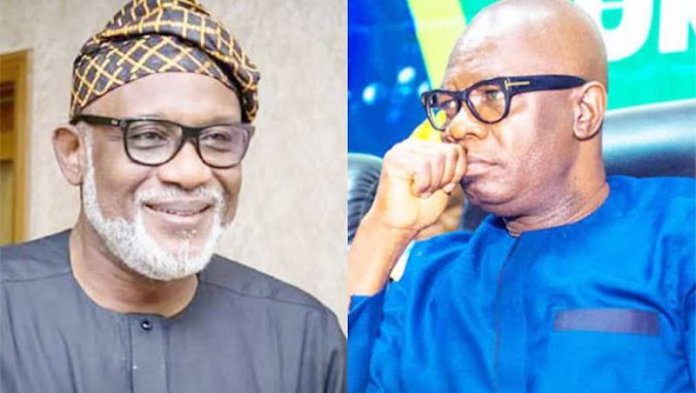 Ahead of the October 10 gubernatorial election in Ondo State, Governor Rotimi Akeredolu has decided to clip the wings of every rival within his reach, especially the ones he evaluates to be turncoats and backstabbers. In other words, Akeredolu has advanced the conflict between himself and his deputy, Mr. Agboola Ajayi by sacking every one of his latter's aides. (This is what it means to clear the cupboard of cobwebs and skeletons).
Every aide attached to Deputy Governor Agboola Ajayi has allegedly been sent packing by Governor Akeredolu. These include Samuel Ogunmusi (the Deputy Governor's Special Assistant), Babatope Okeowo (the Chief Press Secretary), Olomu Bayo (Special Assistant, Special Duties), Allen Sowore (Special Assistant, Media), Olawale Mukaila (Special Assistant, Photography), Omotunmise Tokunbo (Special Assistant to the wife of the Deputy Governor), and Erifeyiwa Akinnugba (aide in charge of Photography for the wife of the Deputy Governor).
Akeredolu's move is a follow-up on Ajayi's defection from the All Progressives Congress (APC) to the PDP. The rumoured rationale behind Ajayi's defection is a grab at Akeredolu's seat. This means that it is Ajayi's desire to be on equal footing with Akeredolu come October 10. If Akeredolu's response of firing Ajayi's aides is anything to go by, then Akeredolu isn't interested in being on any equal footing.
This is essentially Akeredolu's second move against Ajayi. The first one involved barring Ajayi from leaving the Government House in his official car. In response, Ajayi stated that the car was bought with his own money, and not the funds of the state. Moreover, Ajayi has also told whoever wants to listen that he isn't resigning until the end of their tenure. However, he has allegedly moved out of the State House. Akeredolu and Ajayi are thus currently engaged in a long-range battle.
Governor Rotimi Akeredolu has never been shy about his intention to be Ondo State Governor for another 4 years. In turn, several individuals, particularly members of the Peoples Democratic Party (PDP), have been just as bold in opposing this ambition. Although there have been obvious cracks in the relationship between Akeredolu and his deputy, few people expected Ajayi to completely and publicly oppose Akeredolu's second-term ambition; doing so is tantamount to him opposing himself, after all. So Ajayi embraced the only option available to him—he defected to PDP.
In a related development, the sacked aides have allegedly been reappointed by the Deputy Governor. This happened immediately after they were sacked by the Executive Governor. Long-range battle.