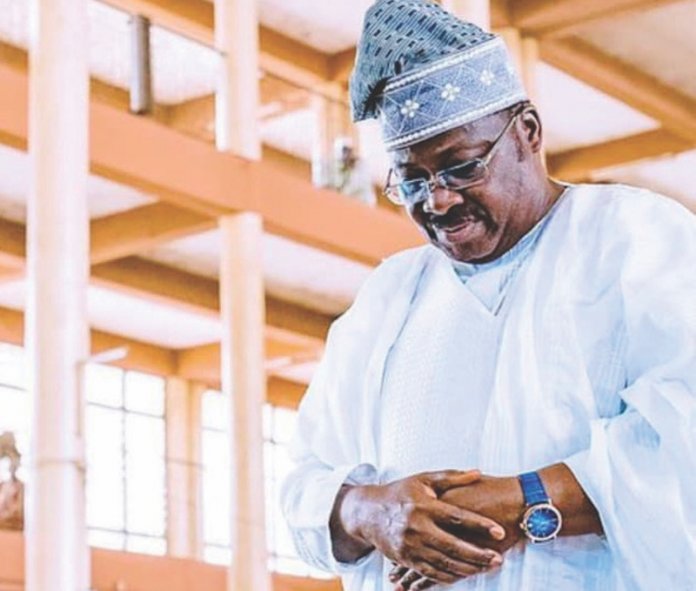 On the summons of the party leadership, former Oyo State governor, Senator Abiola Isiaka Ajimobi heeded a sudden call to serve and boarded 'that flight' to Abuja, the nation's capital. It turned out a journey of no return, writes Shola Oyeyipo, who pays tributes to one of the pillars of the ruling All Progressives Congress party
Those familiar with how the former Oyo State governor, Senator Abiola Isiaka Ajimobi, allegedly contracted the Covid-19 virus, which eventually claimed his life after triggering his other underlying health conditions, claimed it started with a journey he never knew would be his last on the planet earth.
After he was named the All Progressives Congress (APC) Deputy National Chairman, a call came that he had to make a very important journey to Abuja, where a meeting had been slated. A prominent chieftain of the party from his part of the country would later volunteer his private jet for the emergency trip, since the regular commercial flights were no longer for the asking as a result of the lockdown.
Although unconfirmed reports had it that he might have been infected on that flight, there were however two angles to this narrative. The first claimed he was infected by one of the crew on the flight, while the other contended he was the one that infected a member of the crew, coming from a state where the number of infected people was on the rise.
But whether the first or the second was the correct version, the summary of this back and forth was that the virus was contracted on that trip, which turned out his last journey on the planet earth, culminating in his passing on Thursday, June 25, 2020 as officially announced.
Until his death, Ajimobi was in the thick of the APC crisis, albeit reluctantly drafted into it. He was an important part of the plan to counter the anti-Adams Oshiomhole forces in the party and preserve his leadership till 2023, when another presidential election is billed to hold. But, not only have they eventually undermined his leadership, he too that was prepped as the likely acting National Chairman is no more.
As his famous appellation goes, 'Constituted Authority' obviously didn't see his death coming so soon. No one could have seen it anyway. Born December 16, 1949, he said during a radio interview marking his 70th birthday celebration that he prayed to live up to 120 years, even though he had earlier requested of God to make him live till 70, so he could break a generation jinx, which didn't let them turn 70 in their lineage.
"When I was 40, I used to tell God that when I am 70, it is enough. My dad, it was two months before he clocked 70 that he died. So, I used to say if I could attain 70, but after 70 came, I started telling God, this 70 is too small, help me make it 96. Now that you said 100, I didn't say 90 anymore, I said help me add 50; you know with that it is 120," he said, joking that the beauty and enjoyment in life made him ask for more years
That was however a dream that never saw the light of the day. God seemed to have acknowledged his first request to live up till 70. He only got just a little more days added, because about six months after his 70th birthday, Ajimobi died at a Lagos private hospital, from Coronavirus.
The Lagos State Commissioner of Health, Mr. Akin Abayomi, also disclosed said on his twitter handle on Friday, June 26, hinting that his death was due to multiple organ failures as a result of complications from the Covid-19 infection.
No doubt, Ajimobi came, saw and conquered. He lost some battles in his lifetime, but very importantly, the former governor attained the pinnacle of, even his professional and political careers. He became the Managing Director/Chief Executive Officer of the National Oil and Chemical Marketing Company, a subsidiary of Shell Petroleum, Nigeria. He was in the oil sector for 26 years.
When he quit the oil sector in 2002, he won an election as senator, who represented Oyo South senatorial district on the Alliance for Democracy (AD) platform in 2003. He ran for Oyo State governorship in 2007 on the All Nigeria People's Party (ANPP) platform but lost.
He eventually clinched the governorship seat in the April 2011 election on the Action Congress of Nigeria (ACN) platform. He was re-elected governor in 2015, but in 2019, when he attempted to return to the Senate, he lost the election. This, many also attributed to a public speech, where he said he had told God that after the governorship, he didn't want any more things.
Ajimobi will not only be remembered as the first democratically elected governor of Oyo to have a second term since the state was created in 1976 from the old Western state, his admirers and haters alike seem to agree on the commitment of his government to changing the face of the state through aggressive infrastructure development and his urban renewal programmes, especially, his beautification of the state capital.
His agricultural revolution, industrialisation drive, job creation and other achievements will immortalise his memory in the artery of the Oyo State politics.
What more? His undue interference in the traditional affair of Ibadan, where he crowned 23 new Obas, in what is believed to be an attempt to undermine the stool of the Olubadan and his earlier demolition of the property of a popular musician, Yinka Ayefele's Music House, will also form part of history.
When his death was announced, he was eulogised for what he stood for across the party lines and was variously described in glowing appellations by notable Nigerians.
President Muhammadu Buhar, speaking through his Special Adviser on Media and Publicity, Mr. Femi Adesina, acknowledged that Ajimobi's absence would be sorely felt by all his associates and the APC, stressing that, "He left the world at a crucial moment, when the party and the country needed his counsel to heal and grow."
In a condolence message made by his Chief Press Officer, Bode Durojaiye, the Paramount Ruler, The Alaafin of Oyo, Oba Lamidi Adeyemi, described Ajimobi as a good leader, who had the courage of not only taking actions but that he was equally ready to face the consequences of his actions.
One of the national leaders of the APC and political ally of the late Ajimobi, Asiwaju Bola Ahmed Tinubu, in a condolence message said Nigeria lost an outstanding statesman and one of its most able politicians, who would be remembered.
The Ekiti State Governor and Chairman of Nigeria Governors Forum, Dr. Kayode Fayemi said, "We have lost a star – a man of honour and a statesman. But we are consoled that Governor Ajimobi lived a good life, made his mark in his chosen fields, lifted many and left a good name and legacies of honour and industry. We shall surely miss him."
His predecessor, Governor Seyi Makinde of Oyo State, said Ajimobi was a "statesman, brother, friend and illustrious son of Oyo State." Osun State Governor, Gboyega Oyetola, noted that, "As a two-term governor, Senator Ajimobi redefined governance in Oyo State. His administration embarked on unprecedented infrastructure development in the State and redefined the urban status and development profile of not only the capital city, Ibadan but other major cities in the State."
Plateau State Governor and Chairman, Northern Governors Forum, Simon Lalong, in statement eulogised him, saying he was a man of integrity, who served the people of Oyo State and Nigeria with excellence.
Nigeria's main opposition party, the Peoples Democratic Party (PDP), jettisoned party fault lines, when its spokesman, Kola Olognondiyan, expressed shock and commiserated with President Buhari, the APC, and the Oyo State government over Ajimobi's death.
"Indeed, our party is still in shock and deeply saddened over the news of the death of Senator Ajimobi, especially at this time, when our nation needed his wealth of experience and statesmanship the most. Senator Ajimobi was an exceptionally brilliant administrator, outstanding legislator and a man of peace, who made immense contributions and sacrifices towards the unity as well as political stability and development of our dear nation, Nigeria," the PDP acknowledged.
PDP presidential candidate, Alhaji Atiku Abubakar also condoled with the Ajimobi family and the Oyo State government. He wrote on his twitter handle, saying, "I condole with the family of Senator Abiola Ajimobi over the passing away of its patriarch."
Former Nigeria's High Commissioner to Ghana and two times Minister, Senator Musiliu Obanikoro said, "Your departure is a big loss to humanity. I say this with conviction based on our friendship and bond over the past 20 years. I recall when we met at my re relative's burial in 1999.
"I took an unusual liking to you because of your abundant and uncommon jovial manners. We became very close during our four years stint in the senate. You earned my utmost respect and displayed utmost commitment to family, absolute brilliance and wisdom, which I often tapped into. For me, you have departed this sinful world to be with Almighty Allah, where you will live eternally."
Since his death, however, there has been a long list of condolences from past and serving governors, friends and associates, and sympathisers, who have continued to throng his family home to condole with them. In all, the consensus is that he was a statesman with purposeful leadership, who positively transformed the state and changed the lives of his people for the better.