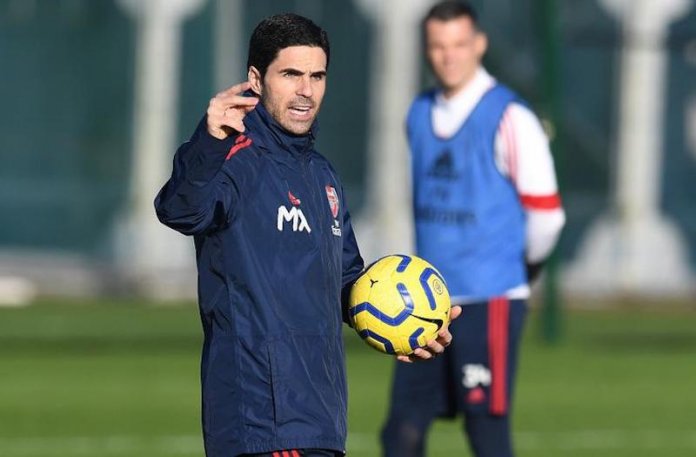 If the words of Arsenal Manager Mikel Arteta are anything to go by, the duo of England-born Nigerians, Folarin Balogun and Tolaji Bola will enjoy first team action for the Gunners not only because of their improved form but also due to the fixture congestion
With the Premier League back after three months break as a result of the Coronavirus pandemic, two Nigerian youngsters, Folarin Balogun and Tolaji Bola may be having their berth at Arsenal first-team after Manager Mikel Arteta has confirmed that promising youngsters will be considered for first-team roles for the remainder of the season due to the fixture congestion, with the Gunners playing five games in 15 days.
The North London club on Wednesday lost to Manchester City 3-0, then another Premier League match against Brighton today, followed by games against Southampton (June 25), Sheffield United (June 28) and Norwich City (July 1).
Balogun and Bola have trained with the Arsenal first-team several times this season and could be in contention to make their professional debuts.
A popular player for the U-23 squad, the 18-year-old Balogun was a non-playing substitute when Arsenal faced Nottingham Forest in the FA Cup in September, and the same goes for left-back cum central defender Bola.
On if new Premier League rules will give more young players a chance, Arteta told arsenal.com : "I think it will happen, for example in our case we have five games in 15 days, that's a game every three days.
"We don't know how the players are going to respond physically because we have had a really short preparation time.
"We have to use them, we have some really talented young boys that are asking for chances.
"I'm sure at other clubs the situation will be the same and I think at some stage we will be forced to use some of them with the amount of games that we are going to be playing in that space of time."
18-year-old Balogun has scored 10 goals in 16 Premier League 2 appearances so far this season.
The England U-18 international played the full 90 minutes of the development squad's league game against Manchester City on Friday night, scoring the Gunners' two goals in the 4-2 loss.
They were his second and third goals in two games, after he also found the net in the 2-1 loss against Chelsea.
The striker was one of Arsenal's highest rated players in the Manchester City game, with fans calling for him to be given a chance in the first team.
Meanwhile, most of the players who were in the same scholarship intake as Bola are now experiencing senior football of some description.
Donyell Malen, for instance, has played in the Champions League for PSV Eindhoven, while Eddie Nketiah has gained experience representing both Arsenal and Leeds United.
Bola, however, is, at the age of 20, yet to play a minute of senior football, competitive or otherwise.
There are some significant reasons behind that, with a series of injuries having hindered his progress, while Bola has never been the most reliable of defenders.
The youngster was an unused substitute in the Carabao Cup victory over Nottingham Forest earlier this campaign and has been training regularly with the first-team of late, even more so since the appointment of Arteta.
With Kieran Tierney and Sead Kolasinac both sidelined, Bola was selected to travel with the Arsenal squad for the game against Bournemouth as the 19th man. He may not have made the bench, but it was still a valuable experience for the youngster as he got to see how the first-team prepare for away games. Arsenal youth team expert Jeorge Bird has tipped Bola to become the next youngster to break into the first-team set-up in the near future.
"Bola would've been on hand if any last-minute injuries occurred ahead of the game at the Vitality Stadium, but that wasn't to be," Bird said.
As alluded to, Bola does have defensive deficiencies, but he has shown some significant improvements of late at U-23 level with regards to his positioning. In addition, he provides a significant threat with his teasing crosses.
It is difficult to envisage Bola succeeding at Arsenal in the long term but he may well be called upon at some point over the next few weeks.
However, Bola is a versatile defender and he's someone who could give Arteta a lot of options at the back. Originally starting out as a central defender, Bola was re-trained as a right-sided full-back after joining the Gunners at a young age.