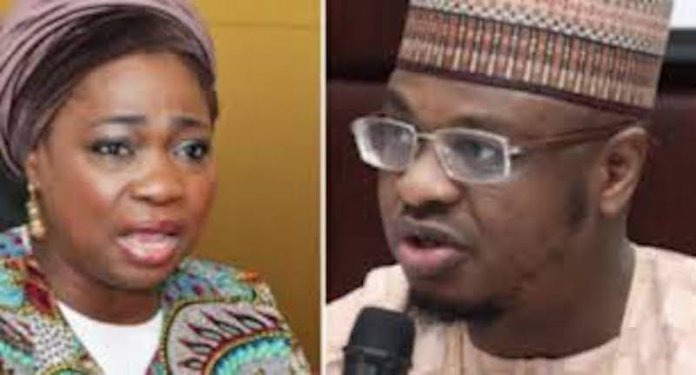 Social media was recently set aflame with the news of how a prominent and celebrated CEO was chased out of the office with arms and intimidation and then slammed with the 'you are a big fat liar' clause when the said CEO attempted to publish that information. This is the story of activist and human rights advocate, Abike Dabiri-Erewa, and how she has been bent over the knee of gender bias and oppression—and folks with the power to sort things out have locked their eyes and tongues inside their heads.
Abike Dabiri-Erewa—Chairman and CEO of Nigerians in Diaspora Commission (NIDCOM)—went on Twitter recently to accuse Isa Pantami (the Minister of Communications and Digital Economy) of preying on her and her staff by chasing them out of their commission's building sometime in February, and seizing their office equipment.
According to her, this directive was carried out with armed men, evidently looking to intimidate and 'teach a lesson.'
When Mr. Pantami responded, he claimed that the whole thing was a lie and that Dabiri-Erewa was a liar. Curiously, he didn't exactly address the claims—only the claimant.
It was after Pantami had essentially brushed aside the matter that Dabiri-Erewa labelled him a misogynist and went on to detail the awkward working conditions that she and her staff have had to undergo just to see their work done. A commission in charge of supporting and guarding Nigerians in the diaspora has been reduced to a handful of employees sitting on the floor to work.
The online Nigerian community has responded to the episode. While condemning both parties for washing Nigeria's dirty linen in public, they stated that it was really the fault of an idle and slumbering government.
The Human Rights Writers Association of Nigeria (HURIWA) is one of the few groups that have understood the matter as one of oppression and a violation of human rights. The group has condemned the conduct of Minister Isa Pantami and every silent institution, especially those bearing the mandate of human rights.
This is not the first instance of public oppression—not by a long shot. But perhaps, this demonstrates why most of these issues are never reported. Since Abike Dabiri-Erewa reported, what has been done? If Abike Dabiri-Erewa can be handled without regard for legal or moral constitution, who cannot?