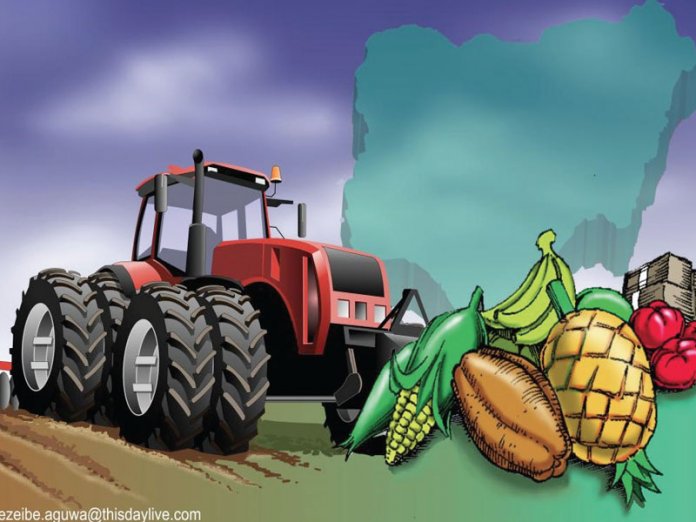 Oluchi Chibuzor writes on the need to reposition Nigeria's agricultural sector through improved funding.
In the face of dwindling oil revenue and the global economic challenges necessitated by the coronavirus pandemic, there is need for the federal government to focus on its economic diversification agenda.
This leaves the country with no other options but to urgently embrace the revival of the agricultural sector as the present price of oil clearly points to the fact that its economy can no longer be financed by the produce from crude oil again.
It is a known fact that agriculture remains the largest sector of the Nigerian economy and employs two-third of the entire labour force. But production hurdles have significantly stifled the performance of this sector and recently the coronavirus pandemic has further expanded its susceptibility and vulnerability to external factors.
According to Food and Agriculture Organisation (FAO), over the past 20 years, value-added per capita in agriculture has risen by less than one per cent annually and it is estimated that Nigeria has lost $10 billion in annual export opportunity due to continuous decline in the production of some commodities.
Factors undermining agricultural production experts said include reliance on rain-fed agriculture, smallholder land holding, and low productivity due to poor planting material, low fertilizer application, and a weak agricultural extension system and absence of long term accessible cheap funds amongst others.
But, according to the Director-General, Lagos Chamber of Commerce and Industry, Dr. Muda Yusuf, with COVID-19 induced lockdown in some states, the food situation was most likely to worsen with farmers having to cope with movement restrictions and paralyzed supply chains as transport restrictions and quarantine measures are likely to impede farmer's access to markets thus curbing their productive capacities and hindering them from selling their produce.
He also said, in addition, farmers might be hindered from working on their land and buying seeds or other essential inputs, adding that there is also the challenge of shortages of labour, which could disrupt the production and processing of food, especially for crops that are highly labour intensive.
However, the LCCI boss said the Nigerian agricultural sector needs a total overhauling to be able to propel food production and exports in the post COVID-19 lockdown era, adding that it is obvious that the current settings under which the sector operates lacks the required strength and drive to push the nation's agricultural sector to the required heights going forward.
According to him, "There is need for government to create an enabling environment for private investment in produce transportation and cold-storage facilities for on-farm and off-farm operations.
"It is incredibly sad that in this time and age, fruits, vegetable and other perishable food commodities are transported in crude and unsafe manner in Nigeria under the full watch of federal and state ministries of Agriculture," he added.
The DG advised that there should be increased efforts geared towards commodity value chain development to open up the various investment opportunities along each commodity value chain, saying this would drive investment in the agricultural sector and provide employment for the teeming unemployed youths who may become actors along the value chain.
He stressed that in a country where rural infrastructure is practically non-existent, government should consider a Public-Private Partnership (PPP) approach towards provision of infrastructures in the rural areas where over 70 percent of agricultural production presently takes place.
This, according to him would act a booster for and provide the needed infrastructures for agricultural development in Nigeria.
Muda acknowledged that, "while various efforts have been put in place by the government through the CBN to make credit available to farmers and other players in the agricultural sector over the years", believes that the "outcomes can be better if there were complementary interventions from the fiscal authorities to fix the structural bottlenecks in the sector.
The Central Bank of Nigeria (CBN) recognising that COVID-19 pandemic has led to unprecedented disruptions to global supply chains, sharp drop in global crude oil prices, turmoil in global stock and financial markets, noted that these outcomes have had severe consequences on households' livelihoods and business activities, resulting from drop in global demand, declined consumer confidence and slowdown in production.
This motivated the CBN to introduce the N50 billion Targeted Credit Facility (TCF) as a stimulus package to support households and micro, small and medium enterprises (MSMEs) affected by the COVID-19 pandemic.
The General Secretary, Nigerian Association of Small and Medium Scale Enterprise, Lagos Chapter, Mike Alade, said saving SMEs in the country was a matter of life and death, especially as they are the driving force of every economy.
He added: "It is obvious that agro allied SME's in Nigeria needs to be financed and with the N50b from the CBN, we will breathe a huge relief if accessed."
Alade said the facility would boost so many businesses as the nation.
"This will help in terms of expansion, raw materials, working capital, asset acquisitions, employment generation and value creation to mention just as a few. Overall it will impact on productivity level across so many agro chains in the country if effectively disburse in a timely manner.
"With the recent COVID-19, there would be a lot of vacuum and SMEs will cushion this effect, so to stimulate the economy SMEs as a matter of urgency needs to get this fund. Most of them are experiencing COVID-19 shock as we were not prepared," he said.
Also, the President, Cocoa Farmers Association of Nigeria (CFAN) Mr. Adeola Adegoke, called for immediate disbursement of fund to his members to enable farming activities progress in line with the commencement of raining season.
He agreed that stakeholders must wake up and see agriculture as the bedrock of Nigeria's economy, noting that the survival of from this pandemic was for agriculture to thrive.
"That is why as an association we are pursuing grants from the CBN for the small scale farmers in Nigeria to make inputs available and better credit facilities for the farmers to pay back," he added.
Reiterating the significance of increasing funding to the sector, the National president, Wheat Farmers Association of Nigeria, Salim Muhammad, noted output production may be 30 -35 per cent of expected output total 12,000 hectares cultivated.
The Catfish and Allied Fish Farmers Association of Nigeria (CAFFAN), National President, Mr. Oloye Rotimi, advocated for structural marketing in the fish farming industry. He, however, solicited for government to give exception status to the sub-sector, saying fish is a necessary protein required for attainment of the SDGs.