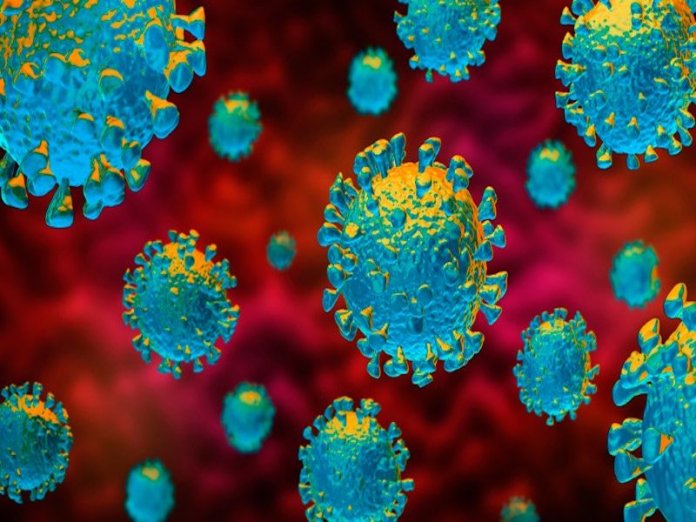 •Cases hit 1095
•NCDC: Nigeria still in danger zone, some states yet to submit samples for testing
•Frontline workers get premium life insurance cover
•Lagos discharges 10, 7 health workers test positive in Borno
•Fintiri imposes 14-day lockdown as Adamawa records first case
•Lagos, Abuja hoteliers reject bookings for returnees
•UK to evacuate stranded 900 citizens
•First patients injected in British vaccine trial
Onyebuchi Ezigbo, Olawale Ajimotokan and Adedayo Akinwale in Abuja
As the second 14-day total lockdown imposed on Lagos, Ogun and Abuja by President Muhammadu Buhari to curb the spread of the Coronavirus ends midnight Monday, the Nigeria Governors Forum (NGF) has asked that it be scaled down to partial mode with relaxed restriction.
In a letter dated April 24, 2020, and addressed to the Secretary to the Government of the Federation/Chairman, Presidential Task Force on COVID-19, Boss Mustapha, the NGF requested for, subject to the president's approval, internal free movement in all the states, but with restrictions on large gatherings.
The other things the governors want incorporated into President Buhari's impending pronouncement on the lockdown are: "Inter-state lockdown, excluding movement of essential supplies- food, beverages, medical and pharmaceutical, petroleum supplies and agricultural products; internal free movement but with restrictions on large gatherings and assemblies; overnight curfews; lockdown of flights; and compulsory use of face masks/coverings in the public."
The NGF's letter, signed by its Chairman, Governor Kayode Fayemi of Ekiti State, said its position was a follow up to a teleconference meeting with the Vice President on 22nd April 2020.
The NGF added: "Recall at the meeting it was agreed that the Nigeria Governors' Forum (NGF) articulates the issues that it would want to be included in the next Presidential Pronouncement on COVID-19 so as to have a Uniform and coordinated Policy on COVID-19 at both the national and sub-national levels."
On the same day, confirmed cases of COVID-19 in the country surpassed 1000, with the Nigeria Centre for Disease Control (NCDC) announcing that the number of people confirmed to be positive now stands at 1095, with 208 discharged and 32 deaths.
This latest data was tweeted by the NCDC at 11.30 PM, last night, stating: "114 new cases of #COVID19 have been reported; 80 in Lagos, 21 in Gombe, five in FCT, two in Zamfara, two in Edo, one in Ogun, one in Oyo, one in Kaduna and one in Sokoto."
Meanwhile, the Nigeria Centre for Disease Control (NCDC) yesterday warned that the country cannot afford to relax measures being pursued to contain the COVID-19 pandemic.
Director General of the centre, Dr. Chikwe Ihekweazu, who spoke in Abuja at the media briefing by the Presidential Taskforce on COVID-19, said the country ought to remain focused on implementing key response actions to arrest the spread and damage of the dreaded virus.
Ihekweazu said: "I recognise how difficult things are at the moment, many families I know have not been able to bury their dead, some have rescheduled their marriages, rescheduled their baptisms and have rescheduled everything they are doing. So, it is like life is suspended because we have suspended many things that we hold dear.
"Everyone on this side of the table recognises the great sacrifices being made by Nigerians but we only have to encourage each other to continue till we get to the position where we think we can relax. To get to that point we must continue doing what we are doing now," he said.
Ihekweazu said that among those who are most vulnerable to the COVID-19 infection at the moment are the elderly and those with underlying illnesses, adding that this segment of Nigerians deserves to be assisted and protected.
On how the centre has been dealing with the management of the virus spread in Kano, the NCDC boss said that test results for Kano, which was suspended due to exposure of some laboratory staff and subsequent decontamination of the facility, would be out by yesterday's evening.
While speaking at the briefing, the Minister of Health, Dr. Osagie Ehanire said that the federal government was worried that a good number of health workers may be knocked down by COVID-19, thus incapacitating the health sector, if they do not take adequate measures to protect themselves.
"I urge you to protect yourselves as prescribed and use the PPE judiciously. Do not attempt to treat COVID-19 patients without using adequate personal protective equipment (PPE), or if your institution is not accredited to do so. This is important because we need to keep health workers safe at this time and cannot afford the numbers testing positive to COVID-19.
Remain vigilant in the line of duty and maintain a high index of suspicion for COVID-19," he said.
NLC president, Comrade Ayuba Wabba, who led a team of labour leaders to interface with members of the COVID-19 taskforce yesterday, said that the number of health workers infected by the virus was a source of concern to the labour congress.
He said that NLC and its affiliates had set up a Labour and Civil Society Situation room to monitor developments and to intervene to assist workers where necessary.
On whether the contributory pensions could be used as palliatives, Wabba objected to such a move, saying that the contributed pension fund was solely savings by workers that they hoped to rely on at retirement.
NLC's intervention came on the heels of outcry by some pensioners who have waited in vain for PENCON to release fund to Pension Fund Administrators to take care of elderly Nigerians.
These retirees had sought ways to get the taskforce to intervene and compel PENCON, which they alleged was using the current lockdown as an excuse not act on their case.
Meanwhile, the Nigeria Medical Association (NMA) has expressed concern over the number of health workers already infected by COVID-19 in the country.
In a statement issued yesterday by NMA president, Dr. Francis Faduliye, the body frowned at what it described as recalcitrant attitude of some VIPs in the society who are refusing to report to and be admitted at Isolation and Treatment centres, adding that such behaviour was responsible for the level of infection suffered by health workers.
Some States Yet to Submit Samples for Testing
The NCDC head also disclosed yesterday that some states are yet to submit samples for test to know if they have COVID-19 cases.
While speaking during a television programme, Ihekweazu said the NCDC expects a number of tests to be conducted for each state.
As at yesterday, 26 out of the 36 states, in addition to the federal capital territory (FCT), have confirmed cases of the disease.
Ihekweazu said while the NCDC is improving on its testing capacity for COVID-19, it is worrisome that samples have not been sent by some states yet.
"It is a bit like pretending like the problem does not exist because you are not looking for it," he said.
"In every state, we expect a certain number of people to fit the case definition of an acute respiratory infection without an underlying cause.
"If you take away contacts with travellers and with confirmed cases, the third part of our case definition which says anyone with an acute respiratory infection for which there is no underlying cause should have a sample collected to know whether they have this disease or not.
"So, we expect every state to submit a certain number of samples for testing every day. We have seen that some states have not submitted a single sample."
Health Workers Get Premium Life Insurance Cover
The frontline workers risking their lives in the fight against the coronavirus pandemic have received premium life insurance cover to the tune of N112, 500,000.
The Chairman Presidential Task Force (PTF) on COVID-19, Mr. Boss Mustapha announced the receipt of the massive insurance boost for the frontline health workers during its media briefing in Abuja yesterday.
He said the insurance cover was fully paid for by the Nigerian Insurance industry in line with the principle of No Premium, No Cover.
While thanking the insurance industry for the payment, Mustapha, called on other sectors of the economy to rise up to support the efforts to fight COVID-19.
He also appealed to the frontline health workers to double their efforts, while reiterating government's assurance and determination to protect them.
Also at the briefing, the Minister of Foreign Affairs, Geoffrey Onyeama revealed the challenge and delay faced by the federal government to secure hotel accommodation for Nigerians to be evacuated from COVID-19 high burden nations. He described the challenge a major hiccup to the effort to evacuate the Nigerians abroad, who have indicated interest to return home.
Onyeama lamented that hotel owners in Lagos and Abuja had been rejecting bookings from potential returnees from the UK, out of fear that their hotel reputation would take a hit if they turn positive during the 14- day period of isolation.
"We have Nigerians who want to come back from all over the world .The number in the UK alone is about 2,000. We just don't have the isolation centres and hospital beds, hotels to accommodate them all. We have been looking for hotels in Abuja and Lagos. I spoke this afternoon (Friday) with the Governor of Lagos State and his real challenge even as the governor of a state is to find hotels that are willing to take these visitors for 14 days.
A lot of hotels clearly feel that it would damage their branding and have some effect on their business if some of them test positive for coronavirus. And that is a big problem for us right now," Onyeama said.
He stressed further that another alternative was for the people to come back and be isolated in their homes, but the PTF members were worried that large number would be difficult to quarantine and monitor at their homes for two weeks.
"This is the real dilemma that we are facing. And you can imagine when they start coming back and the numbers of positives start spiking, government will be now blamed by the public for bringing so many people back. These are all the issues we are grapping but hopefully we will find a solution to that," he reasoned.
He also refuted the 72 figures reported as the number of Nigerians that tested positive to the virus in China. The minister gave the official figure tabulated by the Nigerian consulate in Guangzhou to be nine, saying that a number of Nigerians in China were asymptomatic.
Amid the COVID-19 lockdown, the FCT Minister, Mallam Mohammed Musa Bello, has approved the extension of business hours for markets in the territory, from 8a.m. to 3 p.m. on Wednesdays and Saturdays.
This directive, which was issued yesterday, takes effect from the next market day Saturday April 25, 2020 against the earlier approved time of 10a.m. to 2p.m.
The minister also directed the decongestion of the existing markets through the establishment of Neighbourhood Selling Points in the various districts within the city centre by Abuja Markets Management Limited (AMML).
Lagos Discharges 10
Ten COVID-19 patients have been discharged from the Lagos State Isolation center.
The state's governor, Babajide Sanwo-Olu who announced this via Twitter yesterday, said the 10 discharged patients were three females and seven males, including three foreigners – two Indians and one Filipino.
But in Borno State, seven health workers have tested positive for Coronavirus as confirmed yesterday by Dr. Salihu Kwaya-Bura, Secretary, Borno Response Team on Convid-19's.
Kwaya-Bura, who is also the state's Commissioner for Health said the state had now recorded 15 cases including two deaths. The commissioner, who thanked Borno residents for complying with the lockdown order issued by the state government, said they were currently working on modifying the lockdown order following the declaration of Ramadan.
Fintiri Imposes 14-day Lockdown as Adamawa Records First Case
In Adamawa State, Governor Ahmadu Fintiri yesterday imposed a 14 day lockdown just after the state confirmed its first case of Coronavirus.
Fintiri said the lockdown order would take off midnight yesterday.
He said: "Painful as the decision is, it is the aftermath of the First COVID-19 index case recorded in the State through a returnee from Kano. The Adamawa State Government is therefore left with no option than to go for lockdown in the overall interest of saving lives and to contain the spread.
''Government has successfully commenced contacts tracing and testing which will be followed by isolation and treatment of positive cases.''
The Adamawa Governor also disclosed that movement and gatherings in whatever form are prohibited throughout the period, except for those on verifiable essential duties such as security, media, health and water services, as well as while financial institutions like banks, that will operate skeletal services.
"Others in this category include pharmaceuticals, and those selling food items only, as government will not allow the irresponsibility of a few to lead to the death of many. The Executive lockdown order would be backed by a mobile court to try and prosecute offenders."
UK to Evacuate Stranded 900 Citizens
The United Kingdom (UK) government has said that 900 more British travellers stranded in Nigeria are set to return home on three flights chartered by the UK government.
The Senior Press and Public Affairs Officer, Mr. Christopher Ogunmodede, in a statement issued yesterday said that once completed, these additional flights would bring the total number of people flown back to the UK from Nigeria on government charter flights to around 2,000, following flights arranged last week from Lagos and Abuja to London.
Ogunmodede noted that the additional charter flights had been arranged for British travellers, and their dependents, whose primary residence is the UK, adding that priority was given to the most vulnerable travellers, for example people with health conditions.
The British Minister of State for Africa, James Duddridge, was quoted to have said that, "our next phase of UK government charter flights will mean another 900 British travellers are able to return home from Nigeria. We appreciate this has been a difficult time and will continue to work closely with the Nigeria authorities to support those wishing to return to the UK."
In a related development, the first human trial in Europe of a coronavirus vaccine has begun in Oxford, United Kingdom.
Two volunteers were injected, the first of more than 800 people recruited for the study.
Half will receive the Covid-19 vaccine, and half a control vaccine which protects against meningitis but not coronavirus.
The design of the trial means volunteers will not know which vaccine they are getting, though doctors will.
Elisa Granato, one of the two who received the jab, told the BBC: "I'm a scientist, so I wanted to try to support the scientific process wherever I can."
The vaccine was developed in under three months by a team at Oxford University. Sarah Gilbert, professor of vaccinology at the Jenner Institute, led the pre-clinical research.
Gilbert said: "Personally I have a high degree of confidence in this vaccine. Of course, we have to test it and get data from humans. We have to demonstrate it actually works and stops people getting infected with coronavirus before using the vaccine in the wider p