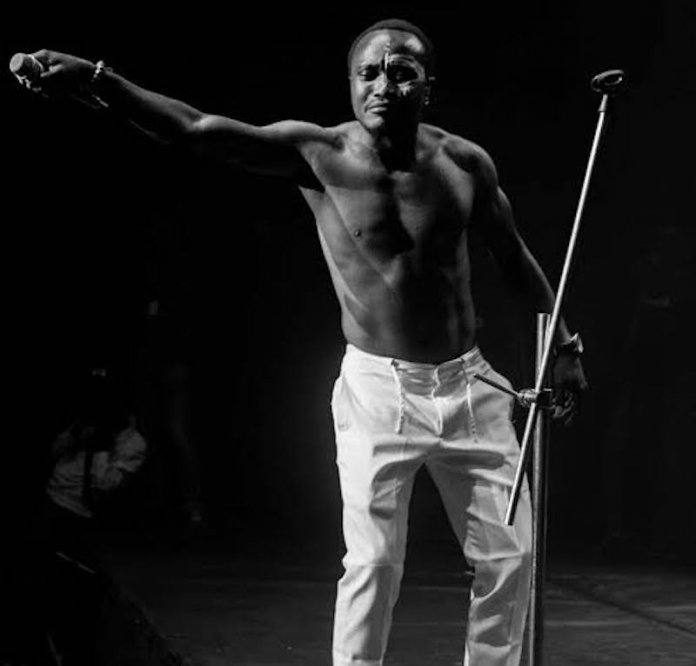 By Iyke Bede
Last month, Brymo announced his choice for Samuel Ancestor's painting (Insight and Frustration 2020) as cover art for his seventh solo studio album 'Yellow'. Judging from this reveal, it easily lets out the melancholy that describes the body of work.
This melancholy is depicted using an eerie half-faced female torso bearing no arm. Over a black background, a cheeky look spreads on her face with a lit cigar to her mouth. The image perfectly captures the angst, struggles, and liberation the protagonist experiences in the album's course.
Describing it as 'love and survival', the album was released at midnight on April 1, 2020. It comes just two years after the release of 'Oso', and a year after the release of his collaborative venture 'A.A.A.'. 'Yellow' comprises 15 tracks that are finely sieved into three different parts; each portion depicting subtle differences in tonality and plot themes.
The first part of six tracks predominantly explores subjects such as socio-political injustices, betrayal, ego, and unrequited love. A handful of tracks shelved here such as 'Esprit de Corps' exhibit a dual nature, genre wise. The track is a hybrid of hip-hop and opera.
The second part adopts a more mellow disposition from the singer; a space where he becomes vulnerable, addressing his love life. It accommodates a majority of the power ballads with generally positive themes that reflects a need to love and be loved. The last part is folksier than the other two. It strictly adheres to the use of vernacular.
A stark distinction from his early days with songs like 'Oleku' and 'Good Morning' — songs structured to woo commercial appeal — the singer launches with 'Esprit de Corps', a term that translates to a feeling of pride and mutual loyalty shared in a group. At its core, the song describes blackmail among members in a closed group just to curry favour. Interestingly, there is a track in the album titled 'Blackmail.'
Showcasing strong vocals on 'Esprit de Corps' he transitions from catchy trap/hip hop bassline to a haunting opera characterised by racing piano keys and violins. Another place he employs this pattern of switching between genres is on 'Blackmail'. The remaining tracks on part one are rendered with heavy gloom and regret but mostly stick to one major genre.
While proper instrumentation is vital to help him switch between his alter egos and genres, it is his vocal capabilities that make this process seamless. This seamlessness also affirms one thing: he has grown vocally to a point where he comfortably uses his vocals as a musical instrument. For instance, on 'Blackmail', he summoned his inner demons and let out a guttural scream that reflects his terrible ordeals at the hands of love and trust. The range at which he outputs his vocals make his delivery believable, thus, aiding him to properly reflect dark thoughts on tracks like 'Without You', 'Strippers + White Lines/Smart Monkey', 'Heartbreak Songs Are Better in English', and the narcissistic 'Ozymandias'.
Obviously misrouted, 'Black Man, Black Woman', a track that addresses gender roles and social norms that bear qualities similar to tracks lodged on part one of the album. With songs like 'Woman' that exploits chamber pop subgenre, sees an emotionally susceptible Brymo professing his undying love to his love interest. Another track that treads this path in terms of lyrics is the French pop track 'Gambu'. The radio friendly 'Rara Rira' is a celebration of good times with friends and loved ones. This second part also addresses topics such as immigration on 'Brain Gain'.
The third part of the album sees the singer switch brilliantly away from contemporary influences to embrace his folk roots. This marks the end of his journey on a quest for love and survival. Also, it became a point where he projects diversity through the Lindsey Abudei-assisted track 'Abu Ya' that features vocals in Igbo.
'Abu Ya' (translates to his/her hymn), is the first time his love interest speaks of their love. Bathed in acoustic guitars, she hopes their love ties are strengthened or at least, return to what it used to be. Positioned as track 15, it exposes their tumultuous relationship. Brymo, too, cites their relationship as a taboo on 'Black Man, Black Woman'. The other tracks on this part ('Adedotun', 'A Feedu Fan'na', and 'Orun n Mooru'), are delivered in Yoruba folk.
Though impressive with its story trajectory, sonically, it doesn't feel different from what we've come to know him by, especially on his last two albums: 'Klitoris' and 'Oso'. It is every bit Brymo. Not that this is a bad quality to have, in reality, it is indicative of how he has stamped his artistry in the industry with the pen of authenticity. 'Yellow' is not passé per se. As a matter of fact, it shows improvement in the way it marries strong emotions to sombre lyricism. However, tracks on 'Yellow' will fit snugly into any of his past albums without one noticing any seismic shift in sound, just a slight one.
On 'Yellow', it is difficult to pick one track and accolade it with the title of 'standout'. Depending on the story and emotion behind each, they all held their own. It would be safe to say the album was curated with the design of having minimal weak links. Here, the listeners are not given the option of filler tracks, this alone, makes the album stronger as a collective whole.
'Yellow' is a testament of years of continued honing of craft and sheer consistency, and not just another album. It is good storytelling. Moving at this gradual, progressive pace in his career, Brymo has yet to produce his best album.