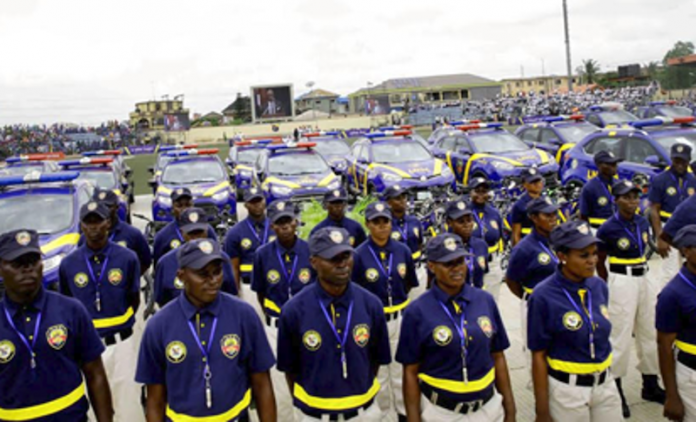 Ayodeji Ake and Sunday Ehigiator
An unknown gang has carted away three official bicycles tied to the 'Big Foot' garden belonging to the Lagos State Security Corps (LNSC), and a closed commercial shop air conditioner at Berger roundabout in the state.
THISDAY gathered that the theft happened in the early hours of yesterday.
An eye witness, who pleaded anonymity, told THISDAY that he suspected Berger garage thugs who have been parading the roundabout for three nights now.
He alleged that they were three thugs with hammer who forcefully broke into the roundabout and carted away two bicycles at about 3:00a.m., and that this early (yesterday) morning, they carted away the remaining bicycle.
"I stay here in Berger. I don't have any other place to stay, so I derive pleasure in looking after other people's property and they appreciate me in return. At midnight, I noticed some men at the roundabout trying to break in with hammer. They are three in number. I wish I could challenge them but they were hefty, and I know I can't handle the three of them so I stayed back.
"Although I didn't see their faces, I suspect the Berger garage boys. They are always roaming around at midnight. At first, they stole two bicycles and later they came for the remaining one," the eyewitness said.
Another trader, who also pleaded anonymity, told THISDAY that the eyewitness has been so active in securing the environment. According to her, he ensures things were properly kept and that no theft occurs in the area.
"I don't know what you asked him, but he is well behaved. Many times, some thugs have come here to beat him up either because he doesn't condone any form of illegal activity or theft," she said.
THISDAY on arrival at the scene, observed that the gate to the roundabout was wide open, pole where the bicycles were parked were marked, while the commercial shop where the air conditioner was carted away was scattered.