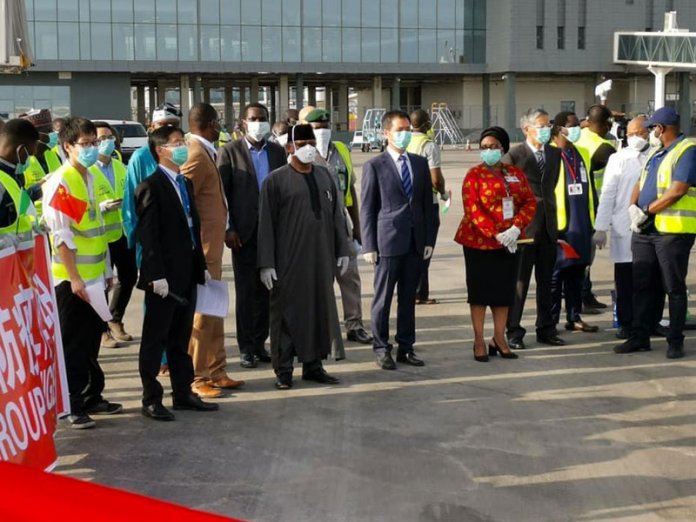 Onyebuchi Ezigbo in Abuja
Chinese doctors and medical supplies donated by Chinese construction firm, CECC, arrived the Nnamdi Azikiwe International Airport on Wednesday evening.
The Minister of Health, Dr. Osagie Ehanire, and the Chinese Ambassador along with other top officials from both countries received the medical supplies.
At the brief airport ceremony to receive the medical supplies, the Chinese ambassador said that the total value of the items was $1.5 million.
He explained that the medical supplies will be used to help contain the spread of Coronavirus in Nigeria.
About 17 medical experts accompanied the consignment which was immediately taken to a warehouse maintained by the ministry of health in Abuja.
Minister of State for Health, Dr. Olorunnimbe Mamora, who spoke during the press briefing by the Presidential Taskforce on Covid-19 on Wednesday in Abuja, pleaded with state governors not to issue directives or take decisions that may likely endanger public health and safety.
He also disagreed with those who had described the Covid-19 pandemic as a hoax, saying that no one should mislead Nigerians or try to trivialize what is now regarded as a major public health concern globally.
Speaking with reference to a statement credited to Governor Seyi Makinde of Oyo State that he recovered from Covid-19 after using herbal medicine, the minister advised that care should be taken to avoid compounding the pandrmic.
Makinde had tested positive for COVID-19 but after a period of time in self-isolation he tested negative.
" I am not aware of the treatment protocol his Excellency the governor of Oyo state had to test negative and I am not even aware of where he was treated to be able to make a categorical statement, " he said.
Mamora said he had received several telephone calls and text messages from people claiming to have developed herbal remedy against Covid-19 but that his response had always been to refer them to department of the ministry in charge of herbal medicine.
The minister said that before anyone can claim the efficacy of a drug in treatment of diseases, such a drug must have been subjected to clinical tests and declared effective.