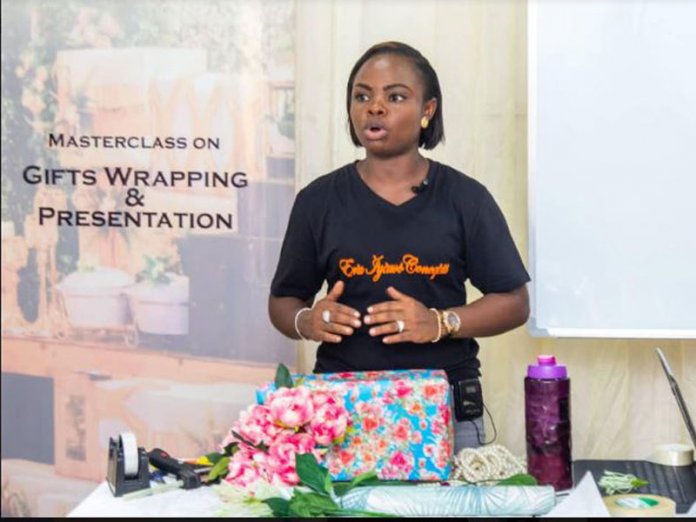 In Celebrating a decade in Nigeria's event industry space, the Creative Director of Eruiyawo Concepts, Omowunmi Abayomi-Johnson, has successfully trained about a dozen women in the art and craft of traditional wedding gift wrapping and presentation business.
The master class which was a hands on practical class for 3 days held recently in ikeja , Lagos . This training was an eye opener to the women participants who were impacted with a lot of creative skills by the convener who did not hold back any useful information that would aid their success in that line of business. According to the Eruiyawo concepts company boss, she said she found great fulfilment sharing her wealth of experience in the business with those who participated in the class as a way of commemorating the brand's decade anniversary which was last year December and also to impact the knowledge of what it takes to be successful in this line of business.
According to her, the training had three other facilitators, Funmi Adubi of Rolyne designs who exposed the students to the art of box making and paper crafts for presentations. Splendour Ighorodje of Splendour Arts Shop who took the crepe paper rose class did justice to it by igniting the creative spark in each of the students seeing the outcome of their own trial-concept which looked so real. And then Coach Bisi Sotunde of the Busybee Academy whose session on marketing and business strategy was insightful.
Omowunmi Abayomi-Johnson said the training was not just limited to the classroom, as part of the package, all participants were privileged to have on-site experience at two different venues of her clients as they were involved in all the process of execution. The first one was the geometric rustic and greenry themed presentation which was well interpreted. At the end of the three day class, each participants received their certificates.
Speaking on the master class experience the convener said,"It was a new experience for me and my team. Who would have thought I could teach and impact so well. Those who know me well, know that I like to stay in my shell. I really would say I have gained sisters as a result of the connection I had with my students. I held nothing back, I poured out my creative soul, taught them a lot of creative skills despite the limited time. One thing for me now is that I am holding on to see them through their respective creative journey. I look forward to it because it's a continuous learning process for us all."
Explaining some of the challenges in the business, she said sourcing materials can be a bit tasking but there's always a way around it as this has been exposed to the students. As part of the decade anniversary of Eruiyawo Concepts, participants of the maiden class also went with a group decoration props given to them by the company as a gift and also to support their business which they will take turns to use in full for their respective jobs.