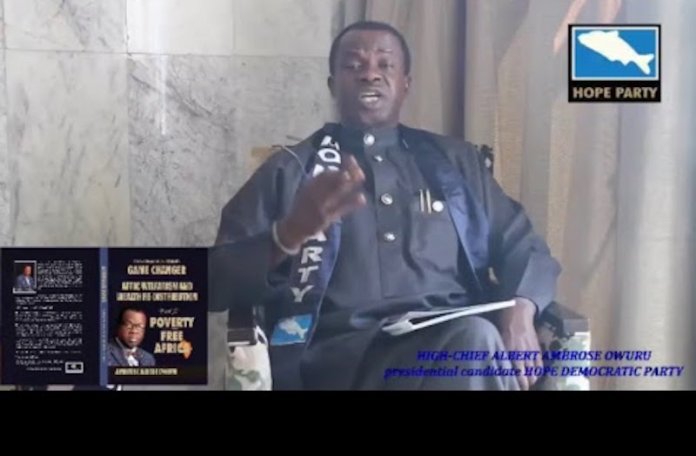 Chuks Okocha in Abuja
The President of Hope Africa Foundation (HAF), Chief Albert Owuru, has cautioned against Nigeria and African countries emulating the lockdown of other countries because of the COVID-19 pandemic, stating that it may not work here due to poverty and undeveloped economy of African states.
In a statement he signed and made available to journalists in Abuja, Owuru said there is no doubt the fear of the growing spread of the coronavirus disease in Europe and Asian countries, the epic centres of the disease, and around the world is real as economic activities, business and social life are being affected with almost all streets and cities are empty.
According to him, while the developed countries can afford to hastily shutdown and lockdown their cities and roll out welfare packages to contain and ameliorate the effect of this ravaging diseases, as they intensify effort in the search for its cure, the same cannot be said of African Governments with poorly developed economics, decaying health care system, bad leadership and high level of poverty already bogged down by economic down turns.
HAF President said: "It is, therefore, advisable that African Governments at all levels, institutions and organisation to rethink and adopt a strategy which should majorly restrict, control and quarantine incoming foreign personnel/ influence in the spread of this disease as well as have the courage and will power to thoroughly check all persons irrespective of their status; children of rich people, government officials and visiting foreign officials who might potentially spread the dreaded foreign disease across Africa."
Owuru said it must be noted that the level of poverty-induced death in Africa have over time far outnumbered all the Western hysteria of pandemic, without the world caring or pay attention to African poverty menace and predicament with the burden of bad leadership on the continent aggravating the problem.
Owuru, who was the presidential candidate of one of the political parties in the last general election, said: "Truth be told, we lack any developed economic system and health care programme to withstand any spread of this disease in Africa.
"At this point, copying hook line and sinker the European and American-styled lockdown or shutdowns will worsen our poverty burdens. We are not that disciplined, and do not have the facilities and caring governments in place with any plan to save the poor people across Africa countries, and the worst of all being Nigeria, which is the world capital of poverty, with near absence of leadership."
He rather advised that the governments should heed the advice of World Health Organisation (WHO) in Africa, and re-open and focus on restrictions in public places and close non-essential places and strictly police the borders, airports and entering points to check the spread of the disease as well as identify sick persons and carriers of this disease.
Owuru explained further that with discipline and control, "this coronavirus disease will be blown away and may not have much effect as did the Ebola under the African hot weather, just as the Europeans look towards the coming summer weather for possible break and answers."