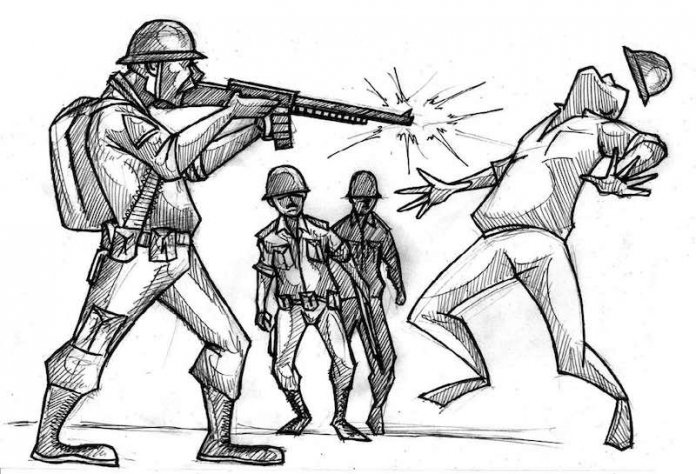 The authorities could do more to ensure sanity of soldiers in front line
The tragic instances of soldiers going out of their minds and wasting lives at both the front line and after returning home in different parts of the country are becoming worrying. The latest of this unfortunate incident occurred on 26 February this year, when a corporal attached to the Army Super Camp 15 at Malam Fatori in Borno State went berserk, killing four of his colleagues and thereafter shooting himself dead.
The list of these bizarre incidences is long. On 2 January this year, a soldier who had gone on a medical leave from the front line in the Northeast to Ede, Osun State, suddenly drew a knife and stabbed his wife and son.
Not done yet, the soldier left the room, descended on his neighbour, a nursing mother, and stabbed her several times until she died. On 23 September 2018, a soldier in Giri, Abuja, reportedly shot and injured his colleagues before shooting himself dead. Few days after, a staff sergeant attached to 192 Battalion in Gwoza, Borno State, also shot one of his colleagues dead, injuring four others and killing himself.
On 12th November, 2017, a sergeant shot dead an army captain, four civilians before taking his own life after an argument at a checkpoint in Chibok, Borno State. There are reports that the armed forces have now started deploying psychologists on the platform of Psychological Counselling Unit (PCU) to reduce suicide and murder cases among the troops.
It is also commendable that some medical experts have been deployed to address the emotional, psychological and mental health needs of the soldiers fighting terrorists in the North-east while the PCU is saddled with the responsibility of detecting and addressing cases of anxiety, depression and trauma.
However, it is not enough to send medical experts to battle fields: the main challenge is on the effectiveness of the move. Despite the establishment of the PCU since 2015, soldiers suffering from mental depression still remain on battle fronts until they engage in killings and suicide acts. The soldier who stabbed his wife and son before proceeding to stab a nursing mother in Osun State was said to have been suspected with a mental health challenge by his neighbours. That he was granted medical leave in that condition instead of being hospitalised and promptly treated is a serious indictment on the military authority.
Beyond deploying psychologists, the leadership of the military must address other issues culminating in mental health challenges for the fighting troops. For instance, giving soldiers antiquated weapons to fight terrorists has been identified by experts as one of the causes of depression. In the same vein, poor welfare package for soldiers on firing line every day is despairing. In the past, soldiers in the front line had protested their poor welfare while others had shot secret videos to keep the world informed about the indifference of their leaders to their well-being.
Also, soldiers are not supposed to spend too long a time in the heat of battle before they are recalled and replaced, but that is not the case. Many of the soldiers fighting Boko Haram have been there for the past three to five years without being replaced. The aftermath of this is the danger posed by such development to family members, colleagues and neighbours. We therefore advise the military to constantly bear in mind factors forcing soldiers into mental health challenges and promptly put in place the necessary machinery to nip them in the bud.