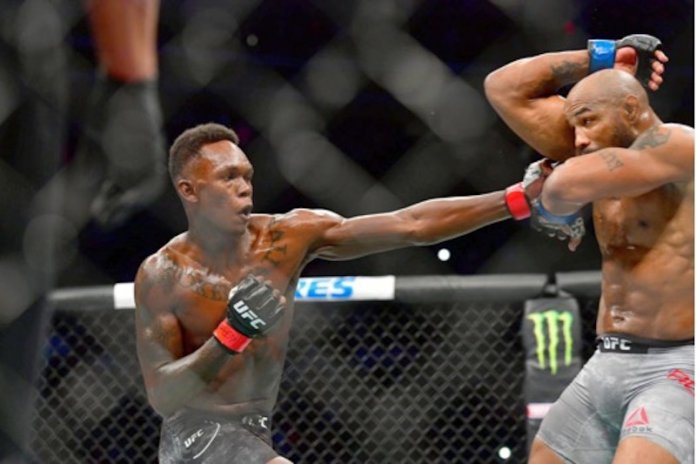 Having not been successful in his early years in his Taekwondo , Nigerian-born New Zealander, Israel Adesanya, turned out the undisputed UFC Champion of the world
UFC Middleweight champion Israel Adesanya last weekend retained his title with a unanimous decision victory over Yoel Romero.
While the fight was a letdown for most fans, the reigning champion was not going to let the crowd affect him during the fight. Making an appearance on The Luke Thomas Show penultimate Monday, Adesanya discussed why he wouldn't let the crowd affect him during his fight against Romero.
"I'm cool with you guys because you guys give me a fair shake. You have to ask hard questions, you have to be objective, but I appreciate that you give me a fair shake. You know me if this was my fault I'd be the first one to own up to it. I'd be so embarrassed. I let my team down, I let people down.'"
"Like for me, I didn't take the stupid risk that the crowd wanted me to take. You know why? Because behind me were four other men and behind them were a whole gang of other people who put everything into me. If I just deviated from the game plan and decided to oblige for what the crowd wanted or what the fans wanted, then I'm letting those four men down. All their hardwork they've put into me over the last three months I'm letting all that go to waste.
For what? Because some grongos in the crowd? No. They told me beforehand they need 25 minutes of focus, complete and absolute focus to beat this guy. It's not just about me. If it was a street fight, maybe I could get dumb enough to do that but nah, I've got Andre, Eugene, Twist, and Mike, and a gang of other people that put everything into me for me to be able to just like throw it all away and throw all their hard work away."
After acknowledging that he didn't want to let his team down and wasn't going to be affected by the crowd, Adesanya continued that he doesn't feel the lack of action was his fault against Yoel Romero.
"You know if it was my fault, I'm objective in that way. I know that wasn't on me that was on Yoel Romero and it's his last chance he's ever going to try and get gold, and he knows in his mind, he never went after it because he has no gas tank, he has no faith in himself. So he's going to be the one to have to sleep at night with that thought and live with that for the rest of his life."
Meanwhile, Adesanya has labelled his much-criticised win over Romero "the weirdest fight I've ever been part of".
Adesanya defended his belt against Romero in Las Vagas last Sunday in a bizarre fight that saw little action as the Cuban fighter often refused to go on the attack.
Adesanya sensibly kept his patience and worked his long-range game to see out a comfortable unanimous points decision.
The fight, in such contrast to Adesanya's usual all-action affairs has been slammed by fans and UFC boss Dana White. Adesanya understands why.
"One hundred per cent, the weirdest fight I've ever been a part of," he told ESPN with a couple of days' reflection on the bout.
"Even for me, as a fan, it's the most boring fight I've ever had, and I don't have boring fights. That's not my style, that's not my gig.
"You can just check my resumé and see that I come to fight. I'm not an actor. I'm a fighter."
Adesanya then explained his tactics to counter the strange approach of Romero that started from the outset as he stood in the middle of the ring with his hands guarding his face for the opening two minutes.
"For me, I was just thinking, 'Don't give in. Don't get frustrated,'" Adesanya said.
"So now, I thought, 'OK.' It sounds stupid. There's a guy standing there, not doing anything. You should go hit him, right?
"But, he's not doing anything. He's a hundred per cent defense, and he's waiting for that split second so he could unload that knockout blow. And he did. At one point, I had my foot from the outside, I attacked with my foot on the inside.
"And then as soon as I blitz in, he lets go of that left hand and cracks me. Never rocked me, never hurt me, never dazed me, never flashed me. But he cracks me with this… and I could feel the thud. I was like, 'Ooh, don't get hit by that again.'"
Adesanya felt Romero had missed his opportunity by failing to follow up that decent strike.
"When he cracked me, he hurt my eye. He compromised my eye (and) my vision," Adesanya told ESPN.
"I could see two Romeros. When Anderson Silva, who is an older guy as well, did that in the second round of our fight, what did he do? He pressed the action. He came looking trying to finish. And I was on my bicycle and then I started countering, as well.
"If you visibly compromise someone or hurt someone, or hurt their vision, you're not supposed to still just stand there and wait for them to come to you.
"I'm not stupid. After you just punch me, I'm not gonna be like, 'Alright, let me do that again'."
Adesanya now waits to see who his next title defence will be against but everything points to a fight with Brazil's Paulo Costa, possibly in July.
As a sporting nation, New Zealand has long punched above its weight. And pride in their champions has made the Halberg awards the country's sporting equivalent of the Oscars.
Last month, in the running for 'Sportsman of the Year' were shot-putter Tom Walsh, racer Scott McLaughlin (whose Ford Mustang ruled the Australian Supercars championship) and Kane Williamson, who led his team to the final of the World Cup and was adjudged player of the tournament.
In a shock to many, said achievers were overshadowed by a mixed martial artist — the reigning UFC middleweight champion Israel Adesanya and his remarkable 2019. Last year, the Nigeria-born, New Zealand-raised fighter defeated MMA legend Anderson Silva, beat contender Kelvin Gastelum in UFC's 'fight of the year' and became the undisputed champion with a sensational knockout win over trans-tasmanian rival Robert Whittaker.
The 30-year-old, who defends his title against Cuban Yoel Romero at UFC 248 last Sunday, said: "The award wasn't for me. This is for the young generation coming up who get to see someone they can relate to. They can feel like, 'Man, my sport, like Muay Thai or Jiu-Jitsu or Wrestling is up there with the All-Blacks, the Black Caps, and the Tall Blacks and New Zealand's top sporting teams."
Adesanya was born in Lagos, Nigeria to a family of five children. His father, Femi, is an accountant and his mother, Taiwo, is a nurse. He attended Chrisland Shool, Opebi, and enrolled in its Taekwondo after-school club until he was removed by his mother due to an injury.
In early 2001, he relocated to Ghana with his family for 10 months, but due to his parents wanting their children to receive a well-recognised higher education, he settled in Rotorua, New Zealand at age 10.
At the age of 18, Adesanya started training in kickboxing, after being inspired by the Muay Thai film Ong-Bak. He went on to amass an amateur kickboxing record of 32–0 before moving to and fighting in China. At the age of 21, Adesanya moved to Aukland, New Zealand, and began training under Eugene Bareman at city Kickboxing, with other established MMA fighters.