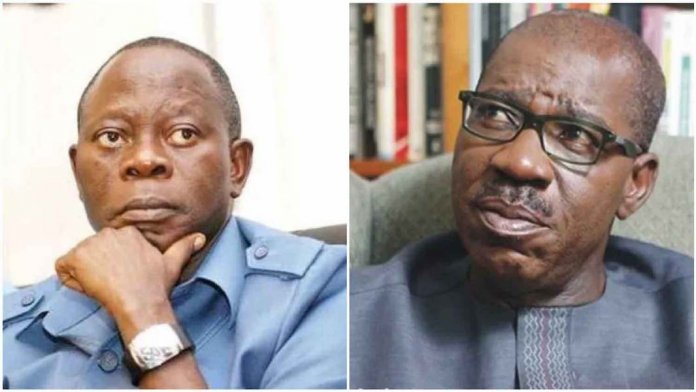 Chuks Okocha argues that the Edo State governor is simply doing his job
Not many people can say they know the origin of the now threatened friendship between the All Progressives Congress (APC) Chairman and former Governor of Edo State Comrade Adams Oshiomhole and the current Governor of the state Godwin Obaseki. However, no one has denied that, fresh from leaving the leadership of the Nigeria Labour Congress and desirous of becoming the governor of Edo State, it was Obaseki who presented the labour leader to a gathering of Edo professionals in Lagos and successfully persuaded them to part with billions of Naira in campaign contributions to the Oshiomhole. That is indeed a rich history between the two men.
Therefore, it was not such a surprise that Godwin Obaseki chaired the economic advisory team of Edo State throughout the eight years tenure of Comrade Oshiomhole as governor. Perhaps surprising was the coronation of Obaseki by Oshiomhole as his successor against the wishes of the professional politicians in the state because he was not one of them. But the then outgoing governor defended his choice vigorously with the argument that as head of his economic team, Obaseki was best positioned to continue with the development template in place. This winning relationship continued to manifest for all to see as Godwin Obaseki, buoyed by his predecessor's support, waded the internal storm of the APC primaries and won in the general election.
So, is there really a crisis in Edo State just because two close friends have a disagreement, that we on the outside might not have details of? Or is this the handiwork of the usual sycophants who will never tell the truth to their principal that a man has got to know his limitations? Perhaps we should finger the elders of Edo State especially those who are from the constituencies where the house of assembly members elect who have abandoned their duties and chose not to be sworn in to do their work on behalf of the people. Maybe a class war is at play here that many do not understand because we know family names that used to fill the social economic space pre-Oshiomhole and those that became empowered regardless of their background during his tenure. This is not as straight forward as it seems as there is a multi-layered social engineering taking place that only the true Edo eye can see and understand.
Blind loyalty mixed with sycophancy is a lethal combination that is not only dangerous, but a great recipe to keep a society motionless. Otherwise how do you explain that the so-called crisis in Edo is not a cry about policy neither is it a disagreement about whether the master plan for the state has been corrupted. Or that the institutions of state are non-functional. No. It is not about any of the aforementioned. Then what is it about? What is more important than the needs of the people that elected you to be their voice in the house of assembly? I have monitored all sort of media coverage about this abscondment and I have never heard this question asked. Are we saying it is okay not to be part of the budget debate and advocate for projects for your constituency because you are loyal to an individual that is obviously bigger than your constituents? This is why I am very worried that elders in these communities are not speaking out against this manufactured crisis. Unless we now believe the role of the assembly member is useless to a people. Remember, a man has got to know his limitations. Obaseki and his strategists where smarter and were able to install their speaker and sometimes you accept defeat and move on instead of punishing the people who stayed in line to vote for you on election day by depriving them of your services. Essentially, Comrade Oshiomhole is being goaded on against Obaseki by people whose only selfish grievance is that they were successfully schemed out of principal offices in the house of assembly.
There is of course another leg of this tripod of Edo political wrangling which is the feeble stand of those who believe perpetuity in the corridors of power is their birth right. I have heard them make the very laughable argument that Obaseki is monopolizing the political space in Edo State and has refused to work with party members. Anytime an elected executive takes office he gravitates towards party members and citizens who share his vision and have the capacity to deliver on this. This is a fact all over the world. Godwin Obaseki came in a celebrated technocrat and I would have been flummoxed if he decided to embark on this journey with a section of mediocre party leaders in the ruling APC. If the point the governor is making is that party in power doesn't mean riches in your pocket for being a mere party leader without commensurate work done for the benefit of the people, then the point is well taken. Once again, a man has got to know his limitations. Instead of whining, find a way to make yourself relevant to the vision of the governor.
Lastly, the Godwin Obaseki family name is as elitist as it comes in Benin. From intellectual to economics they are not pushover and if you are honest as a Bini man or woman it would have surprised us all if he decided to hobnob with agberos or subscribed to a new social order that all that matters is riches while watching the young impressionable children of Edo growing up, believing that academic or vocational attainment is irrelevant to future success. Oshiomhole should have gotten better tutoring on Bini social economic values and history; he would have opted for someone else. Believe it or not there is a redefinition of social economic status going on in Edo State under Obaseki and the coming election is a battle for the soul of the state and a referendum on how we choose to define and achieve success. Is it by allowing vain and hollow loyalists capture the apparatus of state again or a return to the values of yore where everybody knew where they belonged – based on their measured contribution to society? Remember, a man has got to know his limitations and maybe if the duo of blind loyalty and sycophancy can turn down the noise and vacate the space for a minute, perhaps there will be room for Governor Obaseki and Comrade Oshiomhole to rekindle the winning friendship that was of mutual benefit to both of them before thin minds came between them.
•Okocha wrote from Abuja