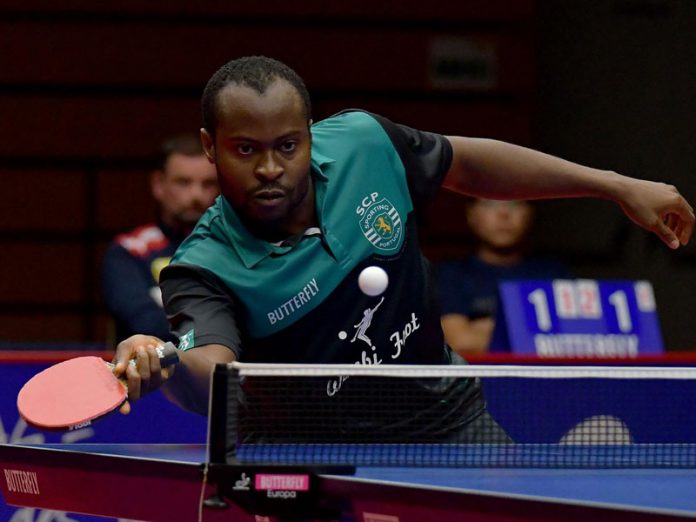 *Egyptians abort Toriola's quest for record 8th appearance at the Olympics
President of the Nigeria Table Tennis Federation (NTTF), Ishaku Tikon, has described the injury sustained by Aruna Quadri at the last Olympic Qualifying Tournament in Tunisia last weekend as unfortunate but not enough to prevent the highest ranked African player to miss the cut to the Olympic Games in Tokyo.
It was unfortunate that Aruna Quadri had to withdraw due to a recurrent thigh injury because he had the chance to qualify.
"But based on doctors' advice, he was asked to rest not to complicate the injury.
"Our consolation is that he can make it to Tokyo based on his ranking because he is rated 18th in the world and most of the players ahead of him have all booked their spots at Tokyo.
"From the qualification system, 13 players will be selected based on their world ranking and Aruna Quadri is the number one among the expected 13, so we are happy that he has worked hard to get this qualification through his world ranking," Tikon further observed.
The NTTF Boss was particularly thrilled with the qualification of some of Nigeria's players for Tokyo 2020, adding that this showed that they understood the importance of making the nation proud when it matters most.
"I am so happy with the performance of our players because they gave good accounts of themselves in the tournaments which started with the ITTF Africa Top 16 Cup. With the outcome of the first tournament, Nigeria remains one of the top table tennis playing nations in Africa and we are still there in terms of quality," he said.
Meanwhile, Segun Toriola's quest for a record eighth Olympics Games appearance was halted by Egypt's duo of Omar Assar and Dina Meshref. Toriola and Olufunke Oshonaike lost in the mixed doubles finals of the Africa Olympic Qualifying Tournament.
Toriola was aiming to become the first African and indeed table tennis world's first player to attend eight Olympic Games, an ambition the Egyptians halted in a thrilling encounter in the Tunisian capital.
Oshonaike had earlier on Friday booked her historic place in Tokyo 2020 as the first African female athlete to attend seven Olympic Games.
There was a hint from the start of the match that it might not go the way of the record-chasing Nigerians as the Egyptians raced to an 11-6 win in the first set. They cemented their hold on the match with same score win in the second set and eventually triumphed 11-7 and 11-2 in the last two sets to claim Africa's sole slot in the mixed doubles.
Toriola described the result as disappointing. He was however grateful to God for the opportunity to feature in seven Olympic Games for Nigeria.