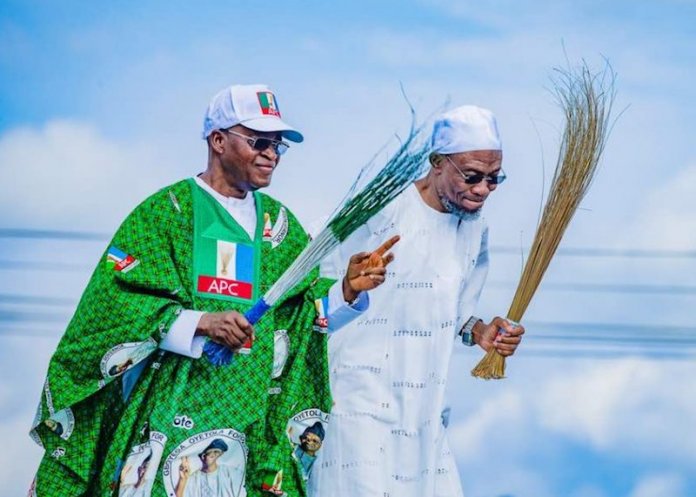 On 5 October 2013, there was a governor who, along with his deputy, took the state and nation by storm when he appeared in a primary school, properly uniformed and ready to exemplify the modalities of contemporary educational transformation. Although one green leaf in a forest floor of events, that single episode would come in later years to haunt the legacy that eight years bear witness to, and more and more.
In recent times, Osun State has had its spot in the polity and all the inherent reputation of silent canons and wars in places dark and air-conditioned. For folks who are close to the action, the citizenry has sat on the side-lines while rumours of a festering animosity trail the state governor, Gboyega Oyetola, and his predecessor, Rauf Aregbesola. It would appear that that rumoured conflict has come to a tight crescendo with Oyetola's move to reverse Aregbesola's most spectacular move in education.
That move, now over six years old, was designed to rectify the faults in the school system, including a school re-classification policy (which saw the merger of schools, and the setting aside from gender and religious-based attitudes and outlook). Then there was the thing about having a 9-3-4 system of education rather than the traditional 6-3-3-4. Then there was the O-Uniform policy, which had students from every school in the same uniform, the Osun State Uniform.
As far as policies go, it was challenged for more reasons than most people would like to look into. In any case, recent moves by Governor Oyetola in that same sphere have been received with mixed reactions. According to reports, Oyetola intends to reverse those policies following complaints and objections from stakeholders.
This has been allegedly construed by Aregbesola's camp as Oyetola's scheme to tarnish the legacy of his predecessor and former boss – something they consider betrayal and disloyalty. More so, it was also implied that the policy, which is under scrutiny now, was actually sponsored by Oyetola while still under Aregbesola, an obviously devious scheme to flush Aregbesola's most legible legacy of governance.
Oyetola's camp has reportedly washed their hands free of any such allegation. Those who have publicly addressed the issue maintain that Oyetola's government is a legacy of Aregbesola, and so no such antagonism is going on behind the curtains.
It does not help matters at all that there are continuing rumours that the past governor and his successor are not as chummy as they used to be and that words, policies, and counter-policies are being flung at one another with intent to malign.