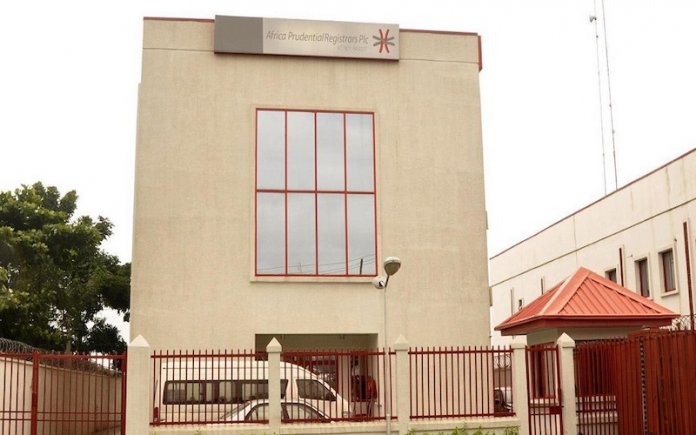 Goddy Egene
African Prudential Plc has recorded a profit after tax (PAT) of N1.68 billion for the year ended December 31, 2019, showing a decline of 13.9 per cent from N1.95 billion in 2018.
The audited results showed gross earnings of N3.902 billion, down from N4.485 billion. Profit before tax (PBT) reduced marginally from N2.394 billion to N2.389 billion. According to the company, the PBT reduced by 0.2 per cent despite the decline in gross earnings., explaining that reduction was on the back of an 89 per cent drop in the interest paid on borrowings which effectively reduced the company's finance cost by 88 per cent.
African Prudential Plc ended the year with PAT of N1.68 billion, out of which N1.4 billion has been recommended as dividend to the shareholders. The dividend translates into 70 kobo per share.
Commenting on the result, Managing Director/CEO of Africa Prudential, Mr. Obong Idiong said: "2019 was a challenging year in the money and capital market as businesses struggled to deliver positive results due to the drastic reduction in interest rates on treasury bills and other money market instruments. We were also affected by this decline which cause our gross earnings to fall by 13 per cent. We were, however, able to increase our revenue from contracts through a strategic increase in our retainership fee by 21 per cent. We remain dedicated to delivering quality registrar business to our clients while we slowly transition into digital technology."
According the MD/CEO, during the year, their Innovation Lab introduced a number of innovative products to the market, some of which include a new version of EasyCoop an enterprise resource solution for cooperative societies and EasyMall a cooperative market place.
"We have also continuously strived to improve how we currently serve our clients as evident in the recent upgrade of our Customer Experience Center and introduction of new customer channels. Our digital transformation journey on course as we change the way we create, deliver and capture value," he said.
"For us at Africa Prudential, the future is digital technology driven which is why we are integrating all our processes into a seamless system that offers world-class solutions to our customers and creating new revenue lines. In the long-run, this would reduce our huge exposure to capital market activities which has been on a decline of late. Our company would continue to innovate not only to improve capital market interactions but also to improve our top line in order to deliver superior value to all stakeholders."