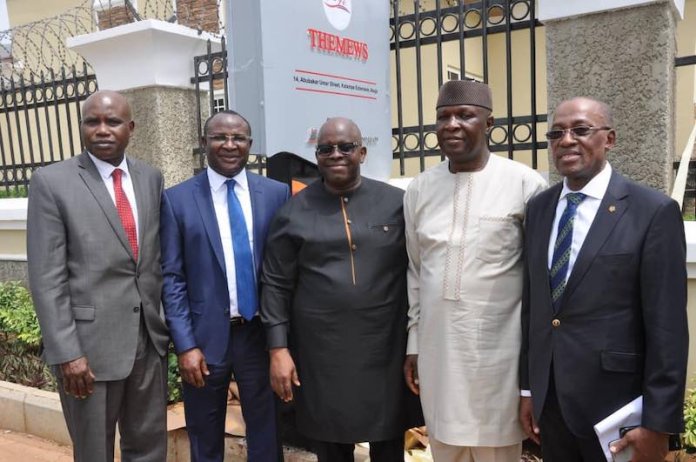 *As Eximia Unveils The Mews in Abuja
Bennett Oghifo
Prominent stakeholders in the real estate sector have again called on government to improve the investment environment in the sector because of the vital role it plays in the nation's socio-economic development.
This train of thought was put forward by Surveyor Ugochukwu Chime, the President, Real Estate Developers Association of Nigeria (REDN), Prof Charles Inyangete, Managing Director, Innovative Risk and Investment Solutions Limited, and Hakeem Ogunniran, Managing Director, Eximia Realty Company Ltd, at the unveiling of The Mews, an estate built by Eximia in Katampe Extension, Abuja, recently.
REDAN President Chime said the housing sector is incapacitated by structural issues of land administration. "We have not been able to manage land administration to make it efficient, in terms of transaction cost and transaction time. That is why you can build a house in six months and it will take you two years to get titles in some states. That is very terrible. Also we need to reduce the transaction cost to make it more liquid so that investors who have little capital appreciation of 15 per cent on their assets can as well exit that investment because every investor has alternative investment outlet apart from residential or commercial housing development."
According to the Managing Director of Eximia, Ogunniran, "The real estate industry mirrors the economy, when the economy is struggling, as we currently have, the real estate also struggles. In a struggling economy, your assets conversions cycle is much longer than what it ought to be ordinarily."
He, however, said the market was changing. There are some few initiatives recently, like the new Finance Act which will help to catalyse the real estate asset classes is a major development and the fact that coupon rates for treasury bills have dropped, that will now make the real estate to compete with other similar asset classes."
In spite of these challenges, he said it was still a right time to be in the real estate business, because "if you create the right product in the right location and facilities, you will still be able to fly with your project."
He said when Eximia was launched, their ambition was to deliver 5,000 units in five years and that they have started and had three major projects currently, Fiona Lawton in Lagos, comprising studios, one and two bedrooms; Lake City that will have 300 housing units; and now The Mews in Abuja.
He said "Real estate project is very challenging because land is too expensive, that is, the cost of land and cost of perfection of title, stating that they were a bit lucky with The Mews because the government provided primary infrastructure in its location at Katampe extension, adding that they still had to provide secondary infrastructure."
Another challenge in the housing development industry, he said was absence of funding, but stated that they used their own funds, which has given them the leverage to do things a bit at their pace.
He said, "Cost of fund is too high; the tenors of available funds in the market are too short, rates are too high. So, for a real estate developer, it is always a challenge, and also because as an asset class, real estate is always competing against other asset classes. Investors are rational and look for where to optimise their investments."
He said state governors must play their critical role in increasing the nation's housing stock, considering the fact that Section 1 of the Land Use Act vests all land within the territory of every state on them, "but they hold the land in trust they must understand that. What we have seen is that most state governors have turned the regulations to revenue generation frameworks and that has not worked very well, particularly in the area of affordable housing.
I've always maintain the point that if we are to tackle the housing deficit, then government must incentivised developers. They have to provide land at affordable rate, they have to provide primary infrastructure, then developers can source the fund and do other things and deliver at rate. But if I, as a developer, am to buy my land in the open market, source for fund in the open market, do my infrastructure in the normal way, it is difficult to deliver what they call affordable housing."
Prof. Charles Inyangete, Managing Director, Innovative Risk and Investment Solutions Limited, and former Managing Director, Nigeria Mortgage Refinance Company Plc., said state governors have a crucial role to play in affordable housing starting with providing lands under terms that are favorable to developers and that it was the duty of the governor to provide necessary approvals and consents that are needed for development.
"Every governor should be looking forward to set aside priority land for affordable housing development. State governments need to partner with developers to ensure that the process of approvals do not take long. There is need for incentives for developers to develop in ways that are affordable. "A developer ought to develop and have concession on issues like taxes, tax concessions are important for development and there is need to consider this in housing development.
The playing field is not level, titling is a big challenge and titling is critical for funding housing development for developers. If we have a legal environment that levels the playing field, if we have a mortgage and foreclosure law, any state that does that places itself as a state that is ready to do business and will rank very highly. We need to create the right environment for development to take place."