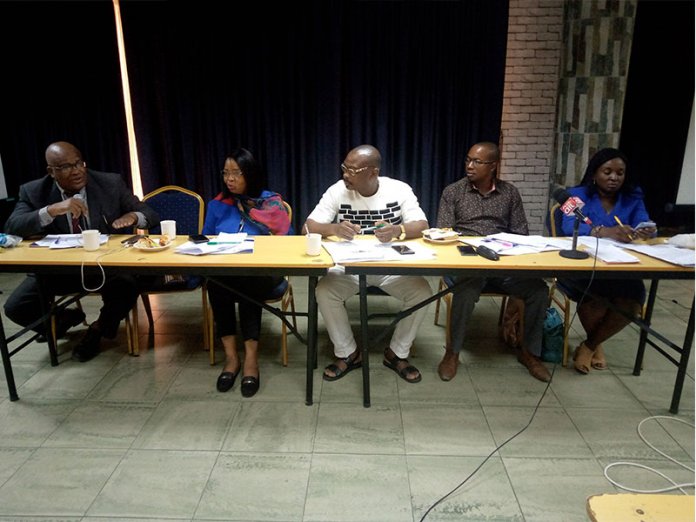 Sunday Ehigiator
The Rule of Law and Accountability Advocacy Center (RULAAC) in conjunction with other stakeholders have decried the rising cases of human trafficking in the country.
While proffering some key ways to tackle the scourge, they made this call recently at the stakeholders and media engagement forum on human trafficking, human rights and law enforcement in Nigeria, held in Lagos State.
In his address, the Executive Director, RULAAC, Mr. Okechukwu Nwanguma described human trafficking and its surplus attendant effects as an epidemic, with special considerations to abuse of children who are vulnerable and often subjected to indignities and deprivation.
"Trafficking of children is a form of trafficking and is defined as the recruitment, transportation, transfer, harbouring, and receipt of a child for the purpose of adoption.
"It is a growing global problem with over 40 million people at risk according to the International Labour Organisation (ILO). Nigeria is known as a source; transit and destination country for human trafficking victims, with over a million trafficked yearly, according to the Global Slavery Index (GSI)."
Human trafficking and slavery are illegal in most countries around, including Nigeria, said The African Unite against Child Abuse, United Kingdom and Center for Children's Health, education, Orientation, and Protection, Nigeria.
"Currently, stories of Nigerian trafficked to Lebanon are trending. A few have reportedly been rescued with the intervention of 'Nigerians in Diaspora Commission', led by Abike Dabiri and the Nigerian Embassy in Beirut.
"While cases of Nigerians trafficked to Malaysia for organ harvest are also rife, many of the victims fell for false promises of Eldorado in foreign counties.
"They are lured into slavery and human degradation such as sexual slavery and used for menial jobs, sometimes to death. Their traveling documents are usually seized by their slave masters or mistress (agents) upon arrival at destination.
"Stories also abound of syndicates who traffic children from state to state, i.e Kano to Anambra, Ebonyi and Akwa Ibom states to other states for houseboy and house-girl jobs.
"There also lies the scourge of child adoption or child laundering. Many Nigerians desperate to adopt children continue to come in conflict with the law due, partly to their ignorance of the legal procedures for child adoption as opposed to illegal purchase of children.
"There is need for a clarification of the law and procedures for child adoption in Nigeria. Child laundering is a scheme whereby inter-country adoptions are affected by illegal and fraudulent means.
"It may involve the trafficking of children, the acquisition of children through monetary arrangements, deceit and force. The children may then be held in sham orphanages while formal international adoption processes are used to send the children to adoptive parents in another country."
"According to Dabiri, 'Incidence of human trafficking would continue to be a problem, unless individuals and other facilitators were brought to book'."
Also speaking, The Zonal Commander, National Agency for the Prohibition of Trafficking in Persons (NAPTIP) Lagos Zone, Mr. Daniel Afokolo provided five key approaches to tackle the menace of human trafficking in Nigeria.
The approaches included; policy creation, partnership, prosecution, public enlightenment, protection and assistance.
The commander who was represented by the Head, Research and Programmes Department, NAPTIP, Comfort Sanni, disclosed that the agency developed the approaches having realised that human trafficking had different dimensions.
"Apart from trying to create awareness, you need to have plans on ground to provide financial assistance to the victims after they must have been rescued. We need to have plans on ground to create deterrent and that is the prosecution aspect of what we do.
"We have our trained lawyers who prosecute and we also have our in-house investigators. We work together with other law enforcement agents because we know the task is huge, human trafficking is huge, it happens in every community.
"NAPTIP operates from zonal offices, we have nine zonal offices altogether across the country. For instance, the Lagos zonal office covers Lagos, Oyo and Ogun States.
"Before now, it was all the states in the Western region but we realised that for us to respond in a timely fashion, the current Director General, Dame Julie Donli saw the need to expand and create Osun zonal command.
"We thrive so much on partnership with other law enforcement agencies like the Police, the Civil Defense, and the Nigerian Immigration Service even the Nigeria Customs Service. They have helped at different point in time to identify suspected cases of human trafficking.
"Going further on our strategy, on public enlightenment, we believe in creating awareness. We engage different parts of the society, different stakeholders; we work with governments, the state actors and non-state actors.
"We also talk about how to identify victims of human trafficking while they are on transit or in a work environment and we are always glad to share this information even at different forum.
"We go to schools, talk to potentials victims of human trafficking, because we have seen cases where undergraduates abandoned their education and off they go. Those that are fortunate, they come back alive to tell their stories.
"Furthermore, we also engage in protection and assistance of victims of human trafficking. For a victim that is rescued or intercepted, it is our duty to counsel them on the ills of what they are about to go into and for those who have had experience already, their experiences are traumatic. NAPTIP engage with the whole of government and whole of the society."