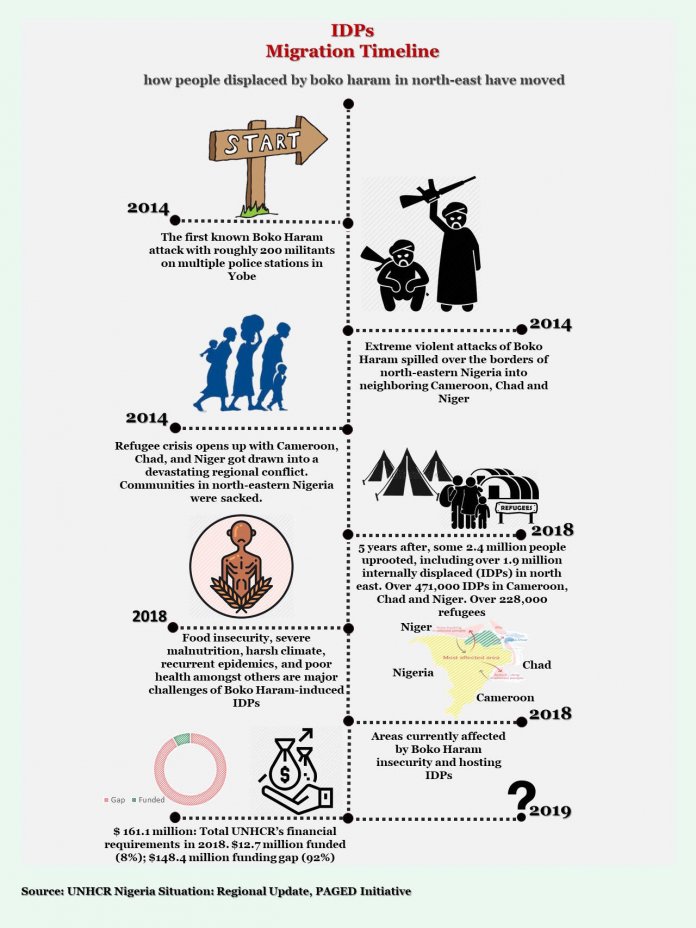 They'd never consider suicide or death by oneself because it is God's will they'd experience painful travails. Even though it is seldom talked about, Chineme Okafor, interacted with displaced families and people in North-east Bornu to understand their thoughts on this
Intentional suicide is becoming popular amongst Nigerians. It is a complex and challenging health problem that's impelled mostly by discontent – socially; mentally; or otherwise.
In Nigeria's choice cities, otherwise believed happy, successful people have willfully taken their lives, but that's not for people and families from communities displaced by the terrorist Boko Haram in Borno State, as such is never a choice for a transcendent reason – 'God's will', or as they put it, God's knowledge and approval of their discomforts.
Other than 'forced' suicide bombing by Boko Haram legionnaires, it is almost impossible to hear of people willingly taking their lives in internally displaced persons (IDP) camps in Maiduguri, capital of Borno State.
Possibly to square up with the tragedies of their forced migration by the terrorist Boko Haram and loss of livelihoods, a good number of the people living through the pains of a terror war they mostly have no contributions to could have ended their lives, but they are not, and have not considered that an option.
A recent refugee situation report from the United Nations High Commissioner for Refugees (UNHCR) put the number of Nigerians displaced by Boko Haram so far at about 2.4 million. UNCHR also stated that 1, 948, 3492 of such people live in Nigeria, while some others live within Chad, Niger and Cameroon who are Nigeria's neighbours.
On one of its recent visits to Borno, THISDAY met with some the displaced people living in Maiduguri, which has for years become the holding ground for the IDPs evicted from their homes and communities.
Almost every corner of the large multicultural, solar-rich town hosts camps recognised, and not recognised by the government, with hundreds – or even thousands of people living in them.
Because it is usually problematic gaining access to camps recognised by the government to document events, the paper working with the Participatory Communication for Gender Development (PAGED) Initiative – a non-profit organisation working to see that people of all demography are included in the everyday businesses of their communities through participatory communication, interacted deeply with people who lost to Boko Haram their livelihoods; dignity and sometimes even motives to live.
And, from the Kusheri; EYN; Doron Baga; Madinatu; Wulari; Jerusalem; and even Malakyariri amongst other IDP camps, it discovered 'God's will' was all that mattered to them. It is also perhaps the reason voluntary suicide is alien to a people already living on the precipice.
How is it they haven't considered suicide as an option? The paper asked Ummi Bukar, CEO of PAGED Initiative, and immediately out of curiosity followed up with: have you heard of any voluntary suicide since you started your work here?
"I have not heard about any suicide case apart from suicide bombers. I am not an authority on this issue anyway, but this is not unconnected to religious belief," Bukar said, adding, "They always say that this is a test from God".
Probing further, the paper had a conversation with a local photojournalist – Mohammed Ciroma, whose extensive knowledge of the issues in the IDPs came from his visual coverage of the Boko Haram crisis in the North east, particularly in Borno. Ciroma, explained it was regarded an absurd consideration by the IDPs.
He noted that firm family ties, religious conviction, and submission to fate have largely made voluntary suicide impossible amongst the IDPS who at one point fed, housed and clothed people, but now rely on tentative goodwill to survive.
"Islam does not condone suicide. They know this, and they won't consider it an option. If you also observe, you'd see a lot of the families or most of them migrate together; they are mostly from the same villages, communities and know each other deeply. There are strong family ties," said Ciroma.
"Whenever there is a reason for worry; like when it is observed the younger members of the camp are becoming unruly or cultivating unwieldy attitudes, the heads of the families rein in to stop such behavior," he added, without actually stating the obvious – which is everyone's eyes are on each other.
Why Suicides Happen 
According to the World Health Organisation (WHO), every year close to 800 000 people take their own life, with 79 per cent of this arising from low and middle-income countries like Nigeria. Lagos – Nigeria's commercial and most successful city has had recent records of suicides by its residents.
The WHO however pointed out that ingestion of pesticide; hanging; and firearms were the most common methods of suicide globally.
In addition, it explained that moments of crisis which results to a breakdown in ability to deal with life stresses, such as financial problems; relationship break-up; or even chronic pain and illness could lead people to take their own lives.
It even stated that people going through conflict; disaster; violence; abuse; or some kind of isolation are strongly vulnerable to suicide.
Further Looking through an article – Mental and Behavioural Disorders, it published in 2000, the WHO said suicide has been ranked among the top 10 causes of death in every country, as well as one of the three leading causes of death within the age brackets of between 15 and 35 years.
As a multidimensional disorder, the WHO said it happens from a complex interaction of biological; genetic; psychological; sociological and environmental factors, adding that the lifetime risk of suicide in people with mood disorders – chiefly depression was between six and 15 per cent.
People suffering from alcoholism equally had a seven and 15 per cent risk of committing suicide, while those with schizophrenia – psychotic disorders described by distortions of reality and disturbances of thought and language and withdrawal from social contact, also had a four to 10 per cent risk of ending their lives.
Even migration, the WHO said, with its attendant problems of poverty, poor housing, lack of social support and unmet expectations, often increases the risk of suicide.
Faith and Fate on an Interplay 
Seated on a large multicoloured rubber mat spread out in the front verandah of a private home around the Jiddari Polo area of Maiduguri, which had become camp for impacted families from his local government – Marte Local Government, 50-year old Mallam Abbatom Jidda, told THISDAY that fate and faith were on interplay in the condition he's found himself.
Averagely built, and a bit travelled on account of his trade, Jidda whose wife and 15 children also fled his Duhuwa village with him to Maiduguri, recounted how he lost herds of cow and sacks of grains to Boko Haram. His loss left him high and dry he now begs to eat.
He joined his other kin to tell of their travails with Boko Haram after seeing a PAGED Initiative documentary film of Boko Haram's survivors, and would repeatedly justify his loses with an 'it is Allah's will' declaration.
In more interactions, this phrase was predominantly used by community members in the camp to express their thoughts about what they had lost, and it described and affirmed their collective resolve on fate and faith in overcoming their pains, and not by suicide.
"Boko Haram attacked first and wanted to take my cows but my children resisted. We subsequently tried to take them out of the village but were stopped on the outskirt of Monguno by Boko Haram – they were on bike with arms and ammunition," said Jidda.
He further said his children tried again to resist the cow raid, but were not successful this time, and the terrorist took over 200 of his cows.
"I also had over 62 bags of corn stored in my house for family consumption when the terrorists came but not anymore. We lost all of that.
"Now I beg and depend on people to live. I also depend on what my children and wife bring home from their activities here in Maiduguri. When I sleep and remembers what has happened, I pray to God. I accept it because it is the will of God," Jidda, explained while noting he would do nothing but trust God.
40 years old Aisha Sosa, also moved into the camp with her husband and five children from Marte. She told THISDAY her husband and children have basically turned beggars – almajiri, in Maiduguri, and often beg to survive. They lived well before they were sacked from their village, but now don't, she indicated.
Though with commitment to God's will, she complained, "the money they get from begging, I use to buy Okro and beans to sell," but it is never enough to cater for their needs. She equally believed God knew about and allowed their sufferings.
Similarly, before Hauwa Mohammed, 40 years, and family moved into the camp three years back, she said they had enough to give out to people who needed help. However, she now relies on N3, 000 (approximately $8.31) she earns every month from washing plates to cater for the family.
She told the paper her husband was a big vegetable farmer who farmed and sold essential vegetables like onions and pepper, but not anymore because their home and farmland had been overran by the terrorist.
"We were the ones helping people before, but now we are at the mercy of people. We used to have things to ourselves but now families share things," Mohammed, said believing it was God's will they lived that way.